Xiaomi Redmi Note 12 and Xiaomi Redmi Note 12 Pro 5G phones are two highly-rated phone versions of Xiaomi. Here are the information about the price, detailed reviews and advice to buy a good phone that you should refer to.
Join the channel

Telegram

belong to

AnonyViet

???? Link ????
Review Redmi Note 12 and Redmi Note 12 Pro 5G
Both products make a good impression with their powerful configuration, lightning-fast 5G connectivity, vibrant screens and outstanding battery capacity. Find out the details of each product right away before making a decision to choose which phone to buy!
Design
Xiaomi Redmi Note 12″ together with Note 12 Pro 5G All of them have a beautiful, luxurious design, soft rounded edges and good water resistance and dust resistance. In Redmi Note 12, there are 3 color versions: Green, Matte Black and Mystic Blue. While Note 12 Pro 5G has a more prominent version: Starlight Purple, Emerald Green and Onyx Black.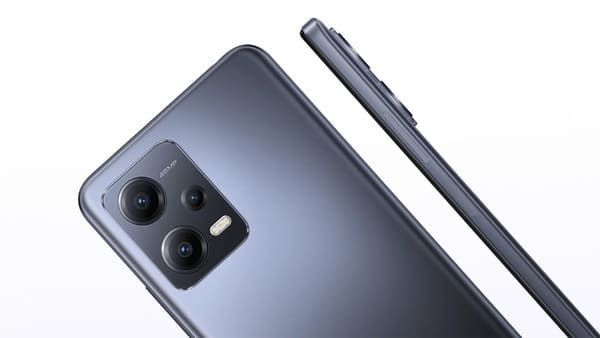 Configuration
In terms of configuration, Note 12 5G is equipped with 1st generation Qualcomm Snapdragon® 4 processor with Adreno™ 619 GPU. Meanwhile, Xiaomi Redmi Note 12 Pro 5G has a 6nm MediaTek 1080 processor and ARM GPU. Mali-G68 MC4. This shows that the Note 12 Pro 5G can meet the needs of heavier applications and games than the standard version.
Camera
2 super products from Xiaomi own a cluster of 3 sharp rear cameras to help capture memorable moments. More specifically, the Pro 5G version is equipped with a trio of 50MP + 8MP + 2MP rear cameras, integrated with Sony IMX766 sensor and optical OIS stabilization technology. Although the resolution and technology are not equal to the high-end version, Redmi Note 12 can still bring an interesting shooting experience through the 48M+8MP+2MP camera cluster.
Battery capacity
These 2 products in the new Series 12 have a capacity of 5000mAh, enough for users to use for a long time with just one charge. However, Note 12 supports 33W fast charging while the Xiaomi Redmi Note 12 Pro 5G up to 67W, for fast charging, 100% full battery in just a short time.
How much is the price of Redmi Note 12 and Note 12 Pro 5G?
Besides the design, configuration, battery capacity or camera, the price of the 2 products has attracted the attention of many technology followers. In India, the starting price of Redmi Note 12 Pro 5G is Rs 31,999 (about VND 9.1 million) for the 8GB + 256GB version, Rs 29,999 (about VND 8.6 million) for the 8GB + 128GB version and Rs 27,999 (about VND 8 million) ) for the 6GB+128GB version.
As for the Redmi Note 12 Pro 5G, the versions are priced at: Rs 21,999 (about VND 6.2 million) for the 6GB + 128GB version and Rs 19,999 (about VND 5.7 million) for the 4GB + 128GB version.
Should buy Xiaomi Redmi Note 12 or Redmi Note 12 Pro 5G?
Depending on different preferences, budgets and needs, users should choose the right product for themselves. If you want to own a product with a powerful configuration, many advanced features without being too concerned about the price, the Redmi Note 12 Pro 5G is the optimal choice.
In the event that the specifications are not too high, just listen to the call to shoot and play basic games, the Redmi Note 12 will still meet. With this product, customers only need to spend less than 6 million to get it right away.
Hopefully, through the above article, you have gained more information about the advantages and prices of Xiaomi Redmi Note 12 and Xiaomi Redmi Note 12 Pro 5G, and also made a decision for yourself which product to buy. Stay tuned for more readings on our website!