After Open AI, Google in turn launched artificial intelligence tools that resonated like ChatGPT, Bard AI. This time, it is Microsoft's turn to join the race by releasing the tool Bing AI. So what outstanding features does this tool have? Let's AnonyViet learn how to use Microsoft's Bing AI Chatbot
Join the channel

Telegram

belong to

AnonyViet

???? Link ????
What is Bing AI?
Bing AI is a search engine (similar to ChatGPT) on Microsoft's Bing and Microsoft EDGE browsers. This engine is integrated with artificial intelligence (AI) to help users have a more efficient search experience. Using Bing AI Chatbot is also quite simple.
You can use Bing AI on your computer's web browser or on a mobile app.
Bing AI support multi-language, it can understand and respond in many different languages, such as Vietnamese, English, French, Chinese, etc. Besides, it is easy to create creative content such as stories, poems. , stories, codes, songs, etc.
Instructions on how to use Microsoft's Bing AI Chatbot
Step 1: To use Bing AI Chatbot you use a browser Edge access to Bing address. Click on "Join the waiting list".
Tip 1: Edge is the built-in browser on Windows 10/11
Tip 2: To quickly get approved using Bing AI Chatbot, you should download Edge and Bing browsers on your phone, then sign up for the waiting list on your phone. That would be preferred.
Step 2: Sign in to your Microsoft account. If you don't have an account, click "Create an account"
Step 3: After completing the login, you can experience the Bing AI tool by clicking "Chat now".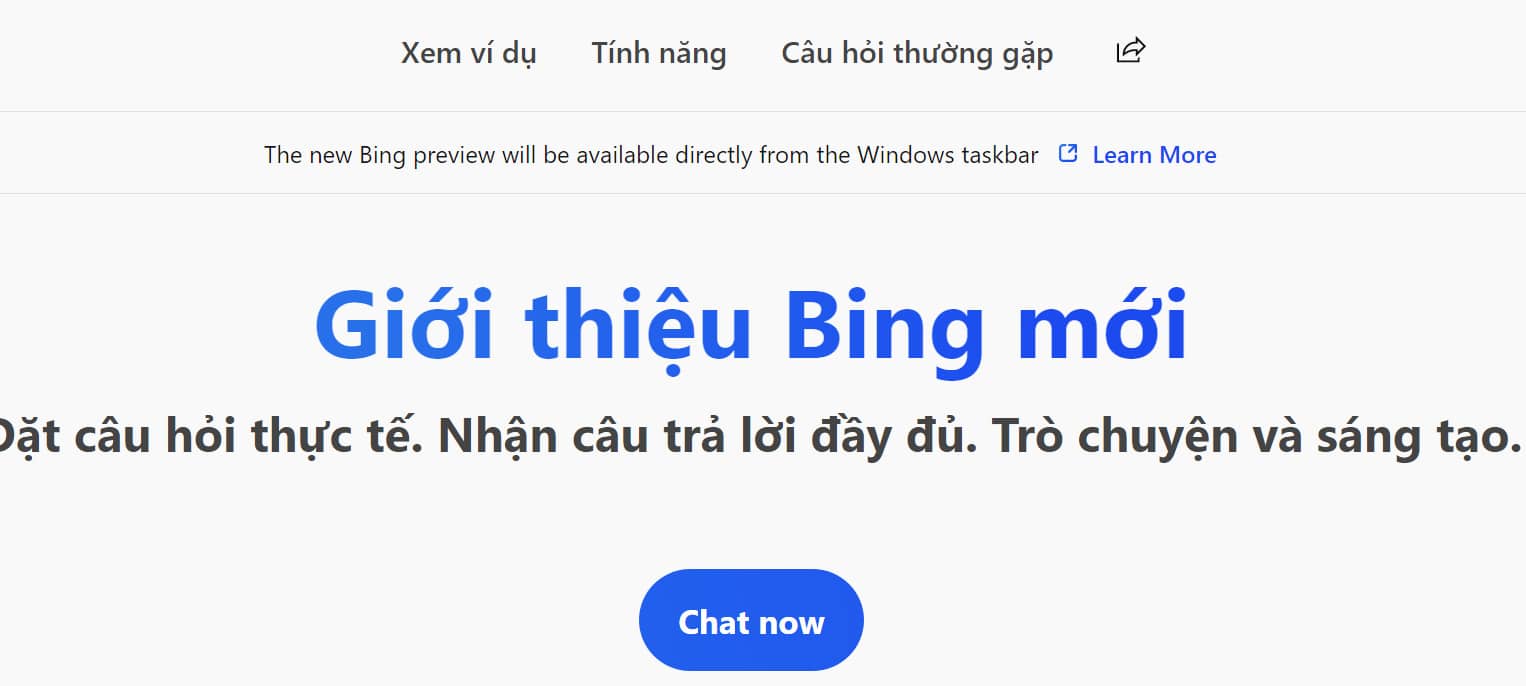 Outstanding features of Bing AI
Intuitive interface, easy to use
Bing AI owns an intuitive, neat and beautiful working interface. Usage is very simple, you just need to enter the question in the blank box, press Enter and then wait for a moment for the AI ​​to answer.
Example I want Bing AI Introducing "AnonyViet", it will proceed to retrieve data on the internet and give answers based on links.

As you can see, Bing AI describes quite accurately because it gets information from the homepage and group of Anonyviet itself.
Support finding information right on the web easily.
For example, you want to find information "gold price today" on the Bing search bar. In addition to extracting links, it also provides more relevant information "summarized" by AI on the right side of the screen, making it easy for users to find information quickly and accurately.
Latest updated information
Information by Bing AI Offers are updated in real time. For example, if you ask it "Vietnam stock market 2023", it will answer blatantly as follows:

Attached is a picture of the VN-Index on March 17 (the time of writing this article was March 19).
Thereby, the data Bing AI provides is extremely "fresh", with links to specific articles for your answers, ensuring accuracy and objectivity. You can also rate Bing's response, through the "Like" and "Dislike" icons to improve efficiency in the future. Also, you can "Copy" or "Share" Bing answers if you find it interesting.
Natural language processing
Text content provided by Bing AI is considered to be quite human-like, more natural than other AI Chatbots.
Ability to summarize website content
Bing AI can summarize a web page for you without using a "copy-paste" tool.
To do this, visit any website, remember to use the Microsoft EDGE browser, click on the Bing AI icon right on the top right corner of the screen.
Click "Yes, enable" to activate the ability to interact with website content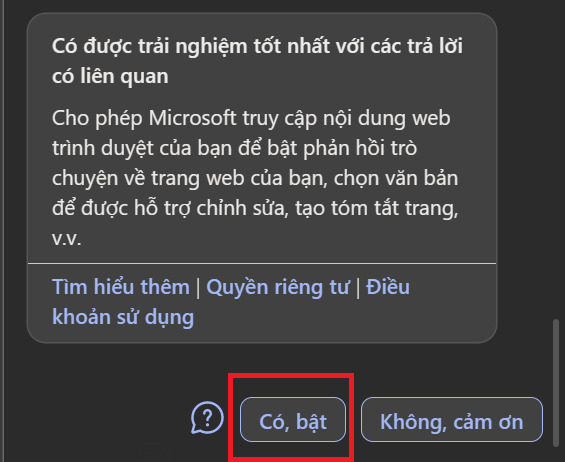 Then, you do not need to drag the mouse to select the text area like normal tools, but just type the command into the chat box "summary of website content" and Bing AI will immediately summarize the main ideas for you. .
Support writing emails, blogs, ideas
Step 1: First, click on the Bing icon on the website, select "Compose"
At this point, you just need to enter the subject in the empty box
Step 2: Choose the tone that represents the content, which can be:
Professional
Normally
Enthusiasm
Information
Funny
Step 3: Select the format and text layout you want, for example:
Paragraph
Email
Blog post
Idea
Step 4: Select text length:
Step 5: Finally click "Create draft" for AI to do as your request
For example, I want to send an email to Crush, with an enthusiastic attitude, I get the following results: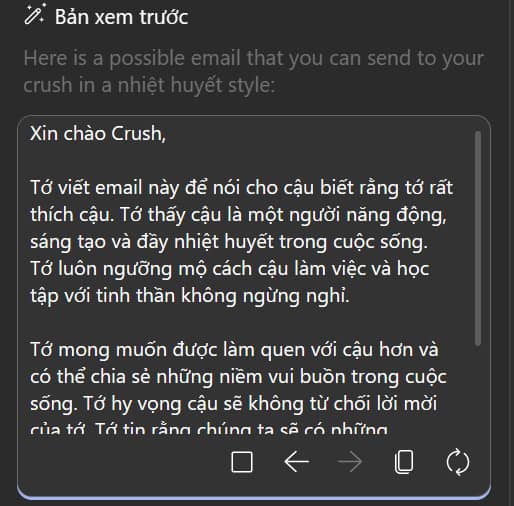 Also interesting isn't it! Use Bing AI It's also natural to write "messy" writing, no one would have thought it was written by a Chatbot!
Outstanding advantages compared to ChatGPT
Bing AI and ChatGPT are both tools that support searching and processing useful information for humans. However, the two have different points, namely:
About data
ChatGPT uses data on the internet that is only updated to 2021. That is, when you ask about events that happen after 2021, it will not know or will "fake up" the answer.
Bing AI uses a constantly updated data source on the internet, so it can provide more, newer, accurate and reliable information.
About the interface
ChatGPT has an interface of a question input box (input) and an AI answer box. Users can only chat with ChatGPT in chat mode.
With Bing AI, users can choose to see results in search mode or chat mode.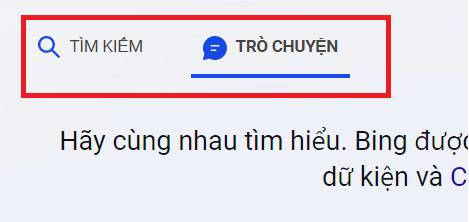 Limitations of Bing AI
Besides the outstanding advantages, Bing AI also has some limitations, such as:
Each topic (topic) can only be asked 15 times. Then you have to click on the broom icon to switch to a new blank page.
Some questions are not answered right away, but it will give you a link to find out for yourself
The response time is quite slow compared to ChatGPT
Write paragraphs that are not as long and optimal as ChatGPT
Epilogue
Although there are some limitations, but Bing AI also proved the attraction and ability not less than ChatGPT of Open AI. Just launched not long ago, Bing AI will be updated and improved, bringing more effective and enjoyable experiences to users.