Today I will SHARE with you the Windows security document file (Vietnamese)
Join the channel

Telegram

belong to

AnonyViet

? Link ?
This set of documents is very useful for those who are new to Windows, especially the document file is saved as .docx (Word File) which is very necessary for anyone who is working on an operating system or security project.
Windows overview:
Windows 7 is Microsoft's latest desktop client operating system, it builds on the strengths and overcomes the weaknesses found in its predecessors, Windows XP and Windows Vista.
Every aspect of the operating system like, how services are run and how applications should be loaded, have made it more secure than ever. All services are enhanced and new security options are more reliable.
However, fundamental improvements to the system and new services, Windows 7 It also provides better security, enhanced authentication and auditing features, and the ability to encrypt remote connections and data, and it also has many enhancements for security. Protects internal components, ensuring system safety such as Kernel Patch Protection, Service Hardening, Data Execution Prevention, Address Space Layout Randomization and Mandatory Integrity Levels.
These basic security issues
Before diving into the details of Windows 7we want to introduce you to some of the basics of security and how to plan for its applications.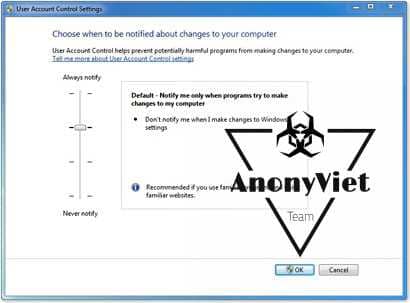 Next you also need to know why check to maintain confidentiality is so important and how to properly test security services to find problems. More importantly we also need to know how to check and discover if we are open to the attack easily raging no.
Security not something you can arbitrarily plan and then quickly put into practice. It is a concept that must be applied to every technical aspect in implementation as well as in practice. It is also something that needs to be carefully considered before implementation and then tested and managed after adoption.
Download documents
The Word file is okay, very suitable for anyone who does projects about Windows security
AnonyViet-HanPhu