Data on Windows is quite important, sometimes you lose data due to viruses or mistakenly deleted. So you should regularly back up Windows no matter what. You can recover your precious data with the tools available on Windows quickly. Windows 10 offers comprehensive data backup and restore tools, as well as the ability to completely reset your PC to default settings. Here are all the tools you can use.
Join the channel

Telegram

belong to

AnonyViet

👉 Link 👈
And if you do not want to use Windows tools, you can refer to this software here.
Windows built-in backup tool
You've heard this advice a million times, but it's surprising how many people don't take the time to make sure their files are fully backed up. The good news is that Windows provides some pretty good tools to accomplish this. Just remember, beyond just backing up to an external hard drive. You should also create offsite backups, or at the very least, store a backup in another location.
File History
File History was first introduced in Windows 8 and it continues to be the main built-in backup solution in Windows 10. File History doesn't create a full backup of your entire PC. Instead, it focuses on ensuring that your personal files are backed up. You just have to set up File History to back up all your files to an external drive and then you can really let it do its job. Not only does it regularly back up your files, it also keeps previous versions of files that you can easily restore.
By default, File History backs up important folders in your user folder – Desktop, Documents, Downloads, Music, Pictures, Videos, and other parts of the AppData folder. You can exclude folders that you don't want to back up and add folders from elsewhere on your PC that you want to back up.
When you need to restore files, you can browse through the entire collection of backed up files and folders.
Or you can restore previous versions of files from within File Explorer.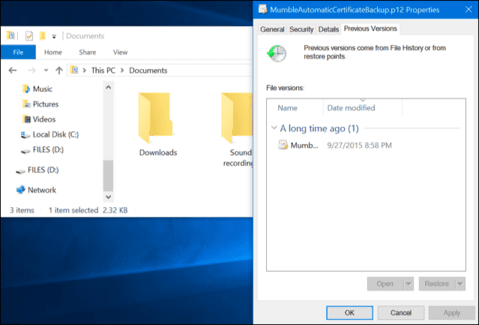 File History gives you a fairly reliable way to ensure your personal files are regularly backed up. You can see the full tutorial How to use File History for how to set it up and use it.
Backup and Restore (Windows 7)
Microsoft also kept the Backup and Restore feature from Windows 7. It was available in Windows 8, removed in Windows 8.1, and back in Windows 10 (laughs). Backup and Restore (Windows 7) allows you to restore any Windows 7 backup on Windows 10. You can use it to backup your Windows 10 the same way you backup Windows 7.
Unlike File History, you can easily create backups of everything on your hard drive. However, it also doesn't have a File History feature to maintain older file versions.
You can find this tool by pressing Startimport "Backup"and then choose "Backup and Restore (Windows 7)".
Setting up backups is pretty straightforward. You will choose an external drive, or a local drive (network location), choose the folders you want to back up, and set a schedule. After that, everything will automatically run out. However, make sure you go through the complete guide on Backup and Restore Windows 7.
System Image Backups
Also available in the Backup and Store (Windows 7), you'll find an option to create a full system backup instead of just backing up selected folders.
This tool creates a snapshot of your entire system, personal files, installed applications, operating system files and all else. The advantage of using this tool lies in the recovery part, If your hard drive fails, you just need to replace it with a new one and then restore your system. You will restore everything without having to reinstall Windows, your applications, then copy the files you backed up.
This method also has the disadvantage that the backup process is a bit slow, this process should be done at night is better. Since you're backing up everything, you'll need a fairly large drive. And if you ever need to restore anything you've backed up, you can pull individual folders or files from the backup.
In addition, this tool is no longer needed in Windows 8 and 10 as it used to be. You can return the operating system to its original state using the Reset your PC feature. Then you just need to reinstall the app and restore the individual files. So it's really up to you to weigh the pros and cons, deciding what works best for you.
If you want to use the photo backup feature, you'll find it in the Control Panel. Just click "Create a system image" on the left side of the window.
You can choose where to store your external hard drive, DVD, or network drive. Once the backup is complete, you'll also be prompted to create a system repair disc that you can use to start your computer and then restore your image backup. Again, make sure you read the instructions carefully use.
OneDrive
OneDrive is really a solution to help you back up your data. Don't know whether to be sad or happy, but OneDrive is now fully integrated into Windows. The files you store in OneDrive are saved locally, in the cloud, and on any other devices you've synced with your OneDrive account. So if you want to blow Windows away and get back to the good old days of dating, you can simply sign in to OneDrive to get back any files you saved before.
OneDrive can give you peace of mind that at least your personal files are stored in multiple locations.
Windows built-in recovery tools
Backups are also many. Now let's learn about data recovery. In order to avoid the case that you backup your backup but don't know how to restore it….don't know what to say.
System Restore
When you have problems with Windows that often stem from troubleshooting, System Restore should be on your list of things to try. It is capable of fixing certain types of problems, like when new apps are installed or hardware drivers get corrupted.
System Restore works by frequently creating restore points. Restore points are snapshots of Windows system files, certain program files, registry settings, and drivers. You can create a restore point at any time, although Windows will automatically create a restore point once a week. It also creates a restore point before a major system event, like the day your crush rejected you, for example.
If something goes wrong, you can run System Restore and restore to the time you want. It will restore previous system settings, files and drivers, returning the Windows system to its previous state.
Advanced Startup Options
Windows has always provided some kind of environment to help you troubleshoot when your computer fails. In Windows 7, you can access certain advanced boot options, like booting into Safe Mode or visit Command Prompt by pressing F8 when your PC is starting up.
In Windows 8 and 10, the advanced startup options work a little differently, but they're still there. If Windows is not working properly, go to Settings > Updates & security > Recovery > Advanced Startup and press "Restart now". You can also hold down the Shift key while clicking Restart in the Start menu.
From here, you can restore Windows from the created system image, use System Restore to troubleshoot problems, and perform other maintenance tasks. If you are running previews of Windows, this menu allows you to revert to the previous version. This menu will also appear if your PC cannot boot up properly.
Recovery Drive Creator
Windows also allows you to create a recovery drive with access to these advanced boot options, even if your Windows is completely broken and you can't access this menu.
To create a recovery disk, press Start, type "recovery"then select "Create a recovery drive".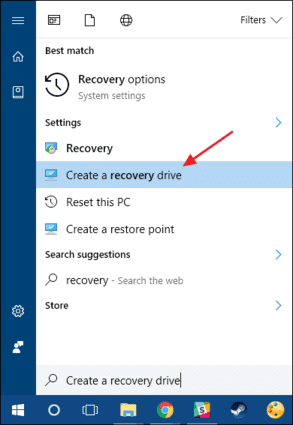 All you have to do is get the drive (CD/DVD in Windows 7, USB in Windows 8 or 10) and let it do the copying.
Once done, label the drive and store it in a safe place so you can use it to start your PC when Windows crashes.
Reset This PC
This "Reset This PC" feature is one of the best additions to Windows 8 and 10. It is used to restore your computer to a pristine state. This essentially replaces reinstalling Windows using a DVD or USB drive. Instead, you can simply tell Windows to reset your PC and it will do the job, and let you keep your personal files if you want.
Note: Windows 8 has its own "Refresh your PC" and "Reset your PC" functions. Refresh just resets your PC settings to default and uninstalls your apps. Reset erases everything, just like reinstalling Windows from scratch. Windows 10 simplifies things by only having a Reset option, but it lets you decide whether to keep your personal files during the reset process.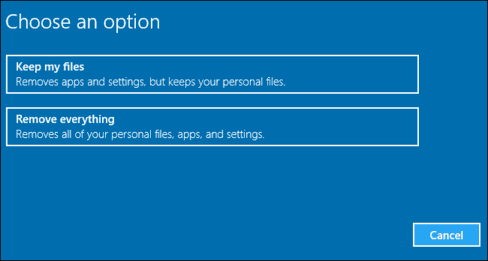 If you choose Remove everything, you can also have Windows securely erase the drive before selling your PC.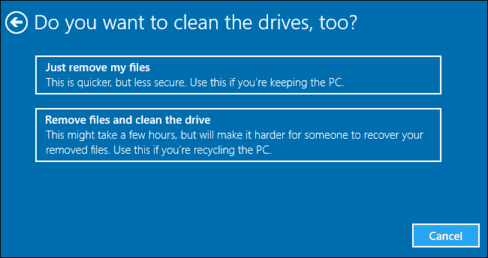 In the end, the world's best backup and recovery tools will make you feel better if you don't use them.
Collaborators: Kiet Pham