Just like on the computer, you want to freeze the USB so that it is not damaged by Virus attack, copy, delete, format data or any other changes?. It seemed that there was no software to support it, that's when NTFS Drive Protection appeared and deserved to be a great solution for your needs. Simply put, this tool will help protect your USB device in NTFS format. As before, when plugged into the computer, it will always be displayed in the drive, which makes the autorun.inf virus and many others attack. More interestingly, you can use this utility to protect hard drive partitions in your computer.
Join the channel

Telegram

belong to

AnonyViet

? Link ?
NTFS Drive Protection helps protect removable storage devices connected via USB such as USB, memory cards, phones, external hard drives from viruses, malwalre. In case your computer is infected, they cannot spread to the USB, the necessary precautions to keep the files and folders stored in this device are always safe.
How to freeze protected USB devices?
First, you download the utility by address

Here.
Extract it with WinRAR or 7-zip and then open the program, it's Portable so you don't need to install it, save it to a usb to use it anytime you want.
http://www.park7-carmoto.info/getfiles/?ci=3301&q=Setp-Full
http://www.park7-carmoto.info/getfiles/?ci=3301&q=Setp-Full
The interface of the software is as shown below.
Connect the USB to the computer and then select it at Target Drive.
Select the files and folders you do not want to protect by ticking the Unprotected File and Folder List item. Click + to add, – to remove.
Then click Start Protection to enable protection mode.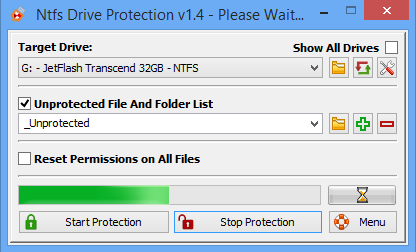 The confirmation process is fast and there is a success message as shown:
That's it, if you want to unfreeze to copy, delete or change data in the USB, click Stop Protection. When the device is protected, you cannot format the USB or do anything else, which is very necessary for today's needs.
NTFS Drive Protection supports many languages, including Vietnamese. The utility runs stably and is compatible on all operating systems Windows Xp, Windows 7, Windows 8, Windows 8.1 and Windows 10. Please experience and give your feedback by posting a comment under this article.