Besides ChatGPT, a tool is also popular because of the convenience and interesting features that it brings. That is Notion AI. Today, AnonyViet will guide you How to use Notion AI in a simple and effective way!
Join the channel

Telegram

belong to

AnonyViet

? Link ?
What is Notion AI?
Notion AI Developed by Notion Labs – a Silicon Valley technology company. The aim is to help users improve their productivity by providing a multi-purpose integrated tool.
Notion AI is a virtual assistant that helps users create content and perform other tasks quickly and easily. You can use Notion AI to solve complex problems such as analyzing data, automating tasks, scheduling work, creating links, finding information and many more.
Features of Notion AI
Brainstorm ideas: Make a list of ideas
Blog post: Write a blog post
Outline: Devotion, script
Social media post: Create posts on social networks
Press release: Create a press release
Creative story: Write a creative story
Essay: Write an essay
To-do list: Suggest a to-do list according to the task you pick
Marketing agenda: Plan a promotional meeting
Pros and Cons list: State the advantages and disadvantages of a certain keyword.
Job description: Create a job posting with the desired position, it will display the professional requirements and main tasks of that job.
Sales email: Create a sales email
Recruiting email: Create recruitment email
Instructions for using Notion AI
Step 1: First you need to register for a Notion AI account here
Step 2: To get started, type the Space key or the "/" to select the type of article you want Notion AI to write
How to use Notion AI to update knowledge
You can type any question for Notion AI to answer for you.
For example, if I want to ask "How many cards does the deck have", press Enter and get the answer as below: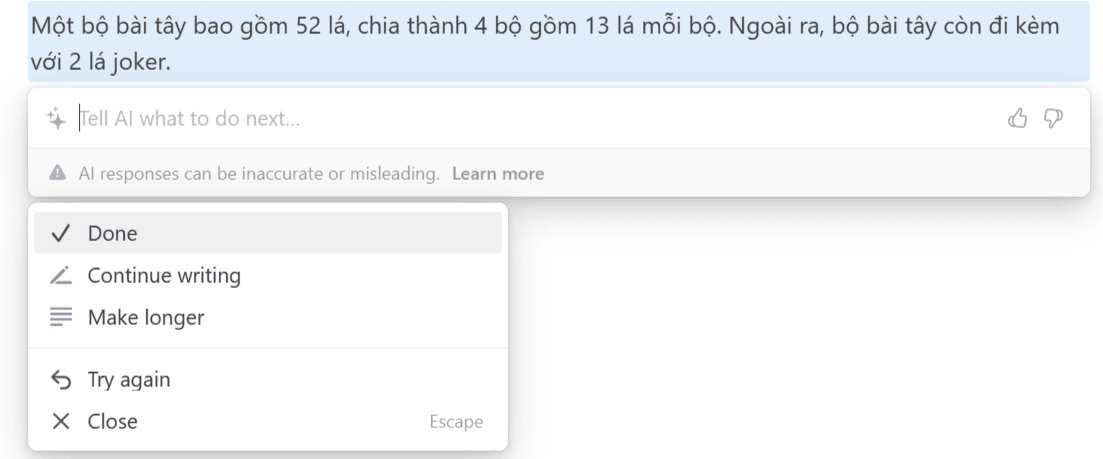 You can click "Done" to end Notion AI's answer
Continue Writing: Command Notion AI to continue writing information
Make longer: Show more information, more details
Try Again: Ask another question
Close: End the conversation
In addition, you can also edit Notion AI's answers directly without having to copy – paste to the Word platform and then edit.
In addition to adding and removing text, you can highlight the paragraph you want to format and then click to select the tool you want to use
How to use Notion AI to blog
I'll try using this app to write an article about "Washing machine manual" and see how it goes
First, you press "Space", scroll down and select "Blog Post", type "Washing machine manual", and then press Enter.
And the result looks like this:
How to use Notion AI to summarize text
When you have a text that is too long and you want to summarize the main idea, you just need to highlight the paragraph you want to summarize, select "Ask AI", select "Summarize", we will get the following results:
How to use Notion AI to create a comparison table
You can compare the features of any two products. For example, I type the command "create a table comparing iphone 11 and iphone 14", Notion AI will display details about the configuration and features of these two models, of course presented in tabular form, so it's easier for users to compare.
You can create a comparison table from a piece of text, by highlighting, select "Ask AI", type the command line "create comparison table" and you're done. For example, I want to compare ChatGPT with Notion AI from the paragraph below: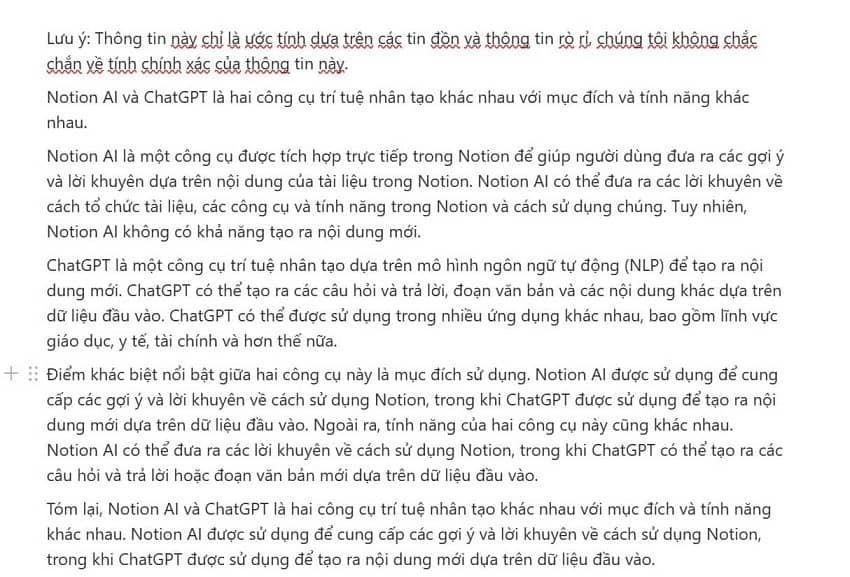 After doing the above steps, I got the result like this:
How to use Notion AI to translate text
The way to do it is also very simple, you just need to highlight the paragraph to be translated, select "Ask AI" > "Translate" > Select the language you want to translate into, and the result is as shown below.
Using Notion AI to write poetry
As long as you give a keyword, Notion AI will write poetry for you. For example, I want to write a poem about a cat:
If you want to change the word "cat" to "dog". Instead of manually editing each word or copying to Word and then using Replace, you can edit it right on the Notion AI interface.
You just need to highlight the paragraph, select "Ask AI", type "replace from cat to dog" and press Enter.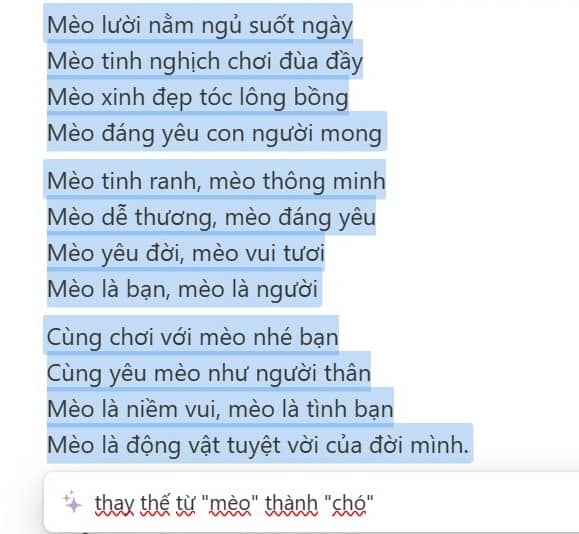 As a result, the word cat was changed to "dog" in a short time
Using Notion AI as a thesis
First, click Space > Essay, type the keyword you want Notion AI to write. For example, here I want to write about the topic of environmental protection:

The result is a rather long text like the picture
As you can see, the article by Notion AI Created quite well-organized with full opening, body, and ending. In addition, to make the interface more lively, you can change the cover image (change cover), change the icon (change icon), add a comment (add a comment).
The limitations of Notion AI
Besides the above features, Notion AI still has some shortcomings such as:
Some of the output information is not very accurate
Haven't updated new information in the last 6-12 months, so the information Notion AI gives is often outdated
Epilogue
So Anonyviet has guided you How to use Notion AI It's the easiest way that I believe anyone can do. Despite many limitations, the potential of Notion AI in the future is still very large. I believe this is an equally interesting tool ChatGPT Anyways, let's try it out!