I just found a nice AI website called IdeasAI to find new ideas for your project. I think this AI will be very suitable for those of you who are looking for a start-up to find a topic for your thesis, you can refer to ideas from the IdeasAI website.
Join the channel

Telegram

belong to

AnonyViet

???? Link ????
What is IdeasAI?
All ideas on IdeasAI are created by GPT-3 of OpenAI. Initially, IdeasAI's database was supplied with 100 startup ideas. From there GPT-3 will begin to generate more ideas based on the provided data set. These ideas will then be rated by you and other users by clicking like or dislike. And that data will be fed back to GPT-3 to retrain the model. That is, over time, the ideas that GPT-3 generates will get better and better.
You can press ❤️ ideas that you feel like and ✖ for bad ideas or already on the market. The Likes/Dislikes of that idea will be fed back to OpenAI, so you and other users will indirectly train the good-bad idea model to improve the next idea this AI generates.
How to get project ideas from IdeasAI
First, you visit the IdeasAI website here. After visiting the site, you will see this month's top rated ideas.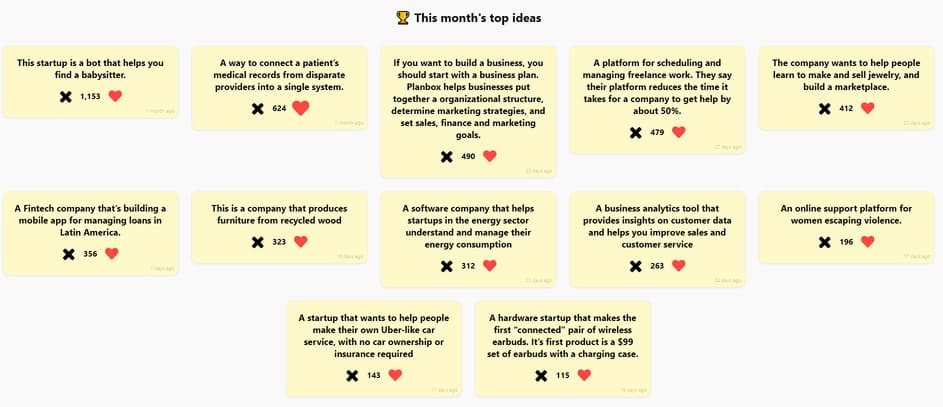 You can choose the ideas you like here. Or you can also rate the idea by pressing ❤️ or ✖. The ideas that you think have potential, are the ideas that you should consider. Conversely, you can press x for ideas that are not realistic or already on the market. Your reviews will help IdeasAI become more complete.
IdeasAI doesn't always come up with good and positive ideas. Because while I was looking for ideas, I found some pretty bad ideas, like creating a d*m trading app, or a s* :v trading app.
Scrolling to the bottom of the page, you will see ideas organized by many different topics such as software, apps, data, etc. You can select those topics to see the specific ideas of the owner there.
A few ideas that I find good in IdeasAI that you can apply: Build an app that finds parking where you're goingcalculates how long you need to park and tells you how much you need to pay.
In Vietnam, this idea is a bit difficult to implement because in big cities there are quite a few parking spaces. Mainly parking spaces in apartment buildings and commercial centers. If the parking space is quite far from where you want to go, it is also very difficult to convince users. I think this idea will be more suitable for developed countries.