If your computer is not powerful enough to install photo design software, then DesignCap is the solution for you. DesignCap is a free website to design, edit and edit photos with many available themes. This is also a generic product of FotoJet. DesignCap is an online graphic design software, to help people create professional designs such as infographics, banners, business cards and social media graphics.
Join the channel

Telegram

of the

AnonyViet

? Link ?
A good design not only helps speak your message, but it also attracts more attention and gets great results. However, creating an outstanding graphic design is not easy and it often requires a lot of time, talent and money. But DesignCap will make your design easier, as it is designed to simplify the cumbersome process of graphic design and significantly reduce costs. It also offers thousands of high-quality photo templates and a large collection of stylish illustrations, shapes, and fonts to choose from. Even if you are a design novice, you can create professional designs without difficulty.
Instructions for designing photos online using DesignCap
main feature
DesignCap There are 3 types of accounts Free, Basic and Pro Plus. For the Free account you can save up to 5 photos and export the file as JPG. Paid accounts have more resources to use.
Gift! AnonyViet will give 10 Acc VIP of DesignCap worth $84/year For 10 people who guessed correctly Match results: Vietnam – Thailand at 8pm on November 18, 2019 (Predicted time before 8:00pm). (First 10 people counted).
Currently the Website supports you with features such as:
Lots of photo templates for posters, social media, infographics, etc.
A large library of free stock photos and illustrations
Fully customizable image flexibility
Store on computer or Cloud. Share on social networks.
How to design photos online with DesignCap
First you go to the page DesignCap select Sign up To register an account. Then go to the page https://www.designcap.com/app Select the model you want to design.
Eg: I will design Youtube Thumbnail (representative image for Video on Youtube)
Next, I will choose a subject for the photo: Tutorial, People, Food, Landscape, Travel.…. The website will list some templates for your reference, and editing. If you don't like it, you can redesign it yourself.
Friend click on each layer of the image, text to change: Font, color, size, transparency, shrinkage of the text.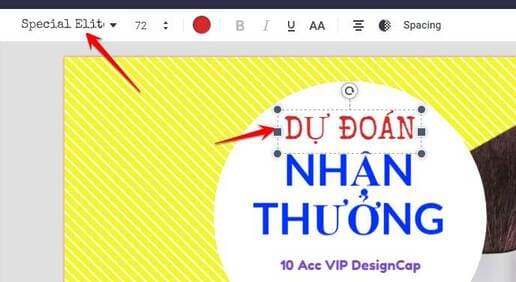 In the right toolbar will give you more options to design: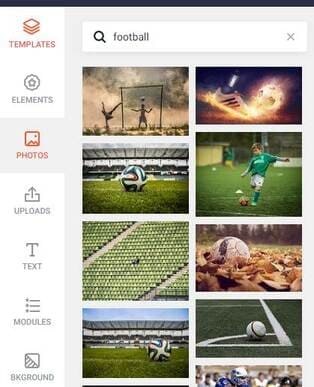 TEMPLATES: choose a model to design
ELEMENTS: more available cubes
PHOTOS: Choose a sample image from the available gallery
UPLOADS: Upload images available on your computer to DesignCap to design
TEXT: letter designs
MODULES: schematic designs
BKGROUND: wallpaper patterns
After the design is done, you can save it or click the . button Download to download photos to your computer.
AnonyViet really find this app useful just like DesignEvo, Fotor. It is quite simple to use without having to read the documentation. In addition, the templates are quite useful; you just need to download one of them and change a few things to achieve your own poster design. DesignCap is one of the pretty good Web-based design applications for you to use.