Google Drive is a famous cloud storage service from Google. With a Free account, you will get 15Gb to store data in the Cloud. With Google's services, you can rest assured that there will be no loss of files or termination of operation. Unless because you violate policies such as copyright infringement, the law. The advantage is Google's service, so the extremely fast Up / Download speed is popular with many people. Currently, more than 90% of users use Google Drive's service, so the amount of resources is very rich. If you want to save a shared resource, you will usually Download it to your computer and then Upload it back to your Drive? Let's simplify by using Google Drive Copy Folder to Copy the entire Drive of others to your Drive.
Join the channel

Telegram

belong to

AnonyViet

? Link ?
Distinguish "Add to My Drive" from "Google Drive Copy Folder"
On Google Drive there is a button Add to My Drive, this is just a form of creating a Drive Shortcut to your Drive. That is, when the owner deletes the file, your account will also be deleted.
For Google Drive Copy Folder, you will Copy the entire Google Drive of others to your Google Drive. That is, you will be the owner of that document. Instead of Downloading the document to your computer and then uploading it back to Drive, the App will do it for you through Google's Server. The app works completely on the server, so after declaring it, you can turn off the browser to do other things.
Copy the entire Google Drive of others to your Google Drive
Note: When Copying the entire Google Drive of others, your Drive must be equal to or more than the size of the downloaded File/Folder. If the space is full, when it is copied to Google, you will not receive mail
First you need Sign in to Google Drive mine. Then visit App Google Drive Copy Folder to authorize the account. Chon Review Permissions -> Allow
If you're having trouble signing in to the app, try one of the following:
Use another browser
Use an incognito/private window
Clear your cookies and cache (Ctrl+Shift+Delete)
Copy the link of the Folder/File that you want to bring to your Google Drive to save.
Next, choose a location to save the File on your Google Drive. Should choose Root of My Drive (first location of Google Drive) for easy finding.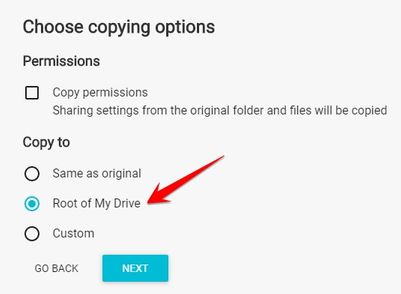 Name the folder that will contain the data saved to your Google Drive
Select click select Copy Folder. If successful, you will receive a notification "Copying has started in background". There is a log file for you to check the Data Copy progress of the App. At this step, you can close the browser to do something else.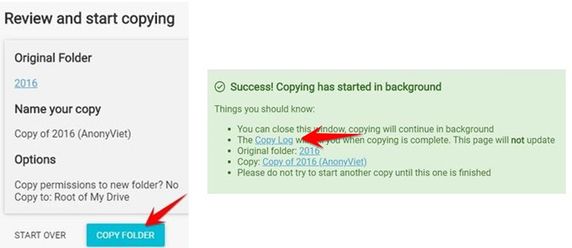 Note:
Go to your Google Drive you will see a folder "Copy of" xxxxxxthis is the folder it is copying from the root directory as "xxxxxx". In the folder there are 2 files called "DO NOT DELETE OR…." And "Copy Folder Log xxx". The head, ignore it, when it's done, it will delete itself.
Now sit and play games, watch movies so that it automatically downloads to your Drive. From time to time, go to Google Drive to check Copy Log to see if it's done. Done, put another link in to Copy all other people's Google Drive to your account.