Are keyloggers legal? According to the Harvard Law website although keyloggers were created to steal privacy, they are also used legally in some areas. On a personal level, many parents use this software as a way to protect their children online. So it can be seen that this is a reasonable job and should be encouraged for parents. The article below will introduce the 8 best Keyloggers to help parents monitor their children.
Join the channel

Telegram

belong to

AnonyViet

???? Link ????
With the question of legality resolved. As a parent of young children, do you know what your children are doing online? Do you know who your child is chatting with on Facebook and Whatsapp? This is where Parental Control with Keylogger collects keyboard data and monitors your child's activity on your Computer, Mac, iPhone or mobile phone and generates detailed time tracking and performance reports online. You can use a keylogger to do that. The Keyloggers introduced below all work well on Microsoft's Windows 10 and Apple's MacOS.
Main features of Keylogger
Shows you how many of your children are active on PC or Mac.

Create a list of your most used apps and websites.
Track employee time. Track productivity at work.
Displays the most used contacts on the phone. (Call, SMS, chat, email, skype).

Online employee monitoring solution.

Track phone GPS coordinates.
Remotely monitor PC and Phone.
Keyloggers and Parental Control
You can have access to your child's Whatsapp or Facebook to manage, if you ask your child for the password. But this doesn't mean they won't have a second secret account or delete any chat content as soon as they finish chatting. Therefore, using Keylogger is necessary. You will secretly monitor the messages they type. Managing and monitoring your children will be much easier.
Are keyloggers legal? If yes, under what circumstances?
Are keyloggers legal? A keylogger is illegal if it is installed on a computer that does not belong to you, especially if the intention is to steal credit cards, passwords and personal information. Keyloggers are ideally used in the following cases:
Parents are concerned about the websites their children can access on the Internet.
System administrators want to know exactly what happened on the system.
Executives check time spent by employees away from work or other tasks. Practical keyloggers give you full control over your company's computers.
Computer teachers and Internet cafe owners want to better understand what their users are doing.
Note: In some countries such as Germany, the law requires informing your employees that key monitoring software has been installed.
8 best Keyloggers to help parents monitor their children
Best Free Keylogger is an active PC monitoring utility completely confidential in your computer. This software can monitor keystrokes; Chats, Internet activity, URLs visited, Clipboard text copies, File copies and screenshots. This software is the best solution to monitor what children are doing on the computer when parents are not at home.
Record keyboard shortcuts
Record Internet activity
Chat and login password
Monitor clipboard
Application monitoring
Take screenshots
Email, FTP, LAN, USB delivery
Stealth mode and password protection
100% undetectable
Follow the schedule
Automatically log in
Windows Keylogger is the leading monitoring software on Windows. Thousands of users worldwide use Windows Keylogger to secretly monitor their children's computer use.
You can easily read keystrokes with the "Easy Read" feature provided by Windows Keylogger.
It can be configured to monitor selected users and monitor only in selected applications.
You can filter the logs you need, using advanced search.
Can be configured to uninstall automatically, on a previously selected date.
Actual Keylogger is a program that monitors computer activity. You can discover what other users are doing on your computer when you are not around. Keylogger software tracks programs run or closed, websites visited, and any key pressed, and can also record screenshots and content copied to the clipboard. Features and characteristics:
Which applications are running and closed
All keystrokes pressed (shortcut recorder)
All printing operations
All websites visited
Screenshots over a set period of time
Encrypted log files for all activities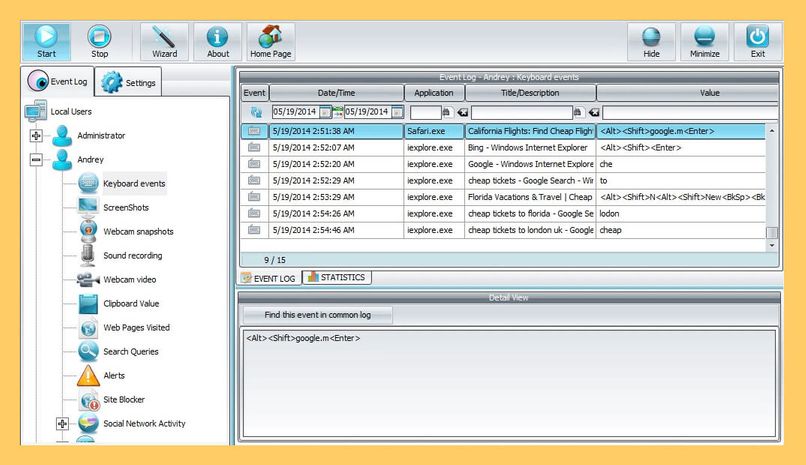 Spyrix Keylogger is a software that allows to record and track all keystrokes. This freeware can also take screenshots of active programs at specified intervals so you can keep an eye on all the activities going on on your PC. It can also generate reports about running programs.
Remote monitoring via secure web account
Keyboard logging
Take screenshots
Undetectable with anti-virus software
Voice Monitoring Microphone ($80)
WEB Camera Surveillance ($80)
05 – Kidlogger Free | Free | Windows, Mac, Android & iOS
Parental Control – Keep your children safe in cyberspace. Find out when your child is talking on the phone or in cyberspace. Monitor and track employee time. Improve employee discipline. Your personal auto diary. Track notebook or phone location with GPS.
Record keystrokes
Create screenshots
Monitor web history
Voice recording (for Windows)
Time tracking
Chat Monitoring (Windows and MAC)
Phone location tracking (Android, iOS, BlackBerry, MAC OS X) records point-to-point navigation during the day, by GPS or WiFi coordinates
SMS (Android, Nokia, BlackBerry) Records all incoming/outgoing SMS messages with phone number and recipient name.
Revealer Keylogger Free is a simple keylogger. It can run at startup, hide itself from users, and protect access with a password. But basic features like screenshots and email notifications aren't available in the free version, and the program doesn't log IP addresses.
Monitor conversations for Skype, Facebook, MSN, AOL, ICQ, AIM, GTalk, etc
Keystroke Recorder Record text, passwords and conversations
Password protection Prevents others from opening the program
Take screenshots (Pro version $50)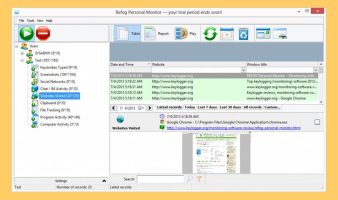 Refog Free Keylogger beats all other competitors because: it's simple to use and it's completely free. AnonyViet have seen too many spy products that are cumbersome with unnecessary bells and whistles and cannot be used by moms and dads. Not this. It's easy to install and use, and it costs nothing. The list of things has been recorded, recorded and recorded for so long it almost makes no sense at all. These are just a few of the many features of Refog Free Keylogger
All keystrokes are entered in all windows, including passwords
Sent and received chat messages
Websites visited
Logout and signout events
Skype chats and voice chats
Launch of programs and games
Screenshot of what's on the screen
AnonyViet once had an introduction about Ardamax Keylogger 4.x Full Version. A powerful KeyLogger with full features of the Keyloggers introduced above. Ardamax Keylogger is a small, easy-to-use keylogger that records user activity and saves it to a logfile. The logfile can be viewed as a document or web page. Use this tool to find out what's happening on your computer while you're away.
Keyboard logging – Record all keystrokes, passwords, and hidden characters.
Browser Capture – Logs of all websites visited for all browsers.
Webcam recording – Periodically takes webcam images and stores them for logging.
Send email logs – Keylogger can send you recorded logs via e-mail delivery at certain times – perfect for remote monitoring!
Microphone recording – Record voice from microphone with real-time compression.
Visual Monitoring – Periodically make screenshots and store compressed images for logging.
Chat Monitoring – Ardamax Keylogger is designed to record and monitor both sides of the conversation in the following chats: AIM, Windows Live Messenger, ICQ, Skype, Yahoo Messenger, Google Talk, Miranda, QiP
Why is Keylogger to manage children necessary?
Computers can be useful tools for entertainment, education and communication, but in the wrong hands they can be dangerous. Children can connect with predators online. Teens may provide inappropriate information on social media profiles. It is very dangerous if parents do not promptly take measures to manage their children online. In addition to the 8 child management keys shared above, you can download a total of 20 The strongest keylogger previously shared by AnonyViet for use.