Checking your computer keyboard helps you understand whether your keyboard is working well? This job is quite simple but not everyone knows it. The article below will give detailed instructions on how to easily test a computer keyboard with keyboard test.
Join the channel

Telegram

belong to

AnonyViet

???? Link ????
Keyboard test- Specialized computer keyboard testing software
It is not a coincidence that people have researched software to check computer keyboards. Because, the accuracy of these methods is almost absolute. For those who specialize in computer repair, then keyboard test is an indispensable and effective tool. This is computer keyboard testing software that many people love and choose because of its accuracy, convenience and professionalism.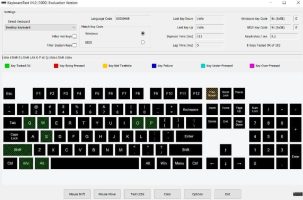 Using keyboard test software is also relatively simple. First, you need to download the keyboard test software to your computer. Then, start the software and check for keyboard errors. Similar to other software, the keyboard test interface is an image of a virtual computer keyboard. To check, users just need to type the keys on the keyboard one by one. Keys that work normally will be marked in blue, stuck keys will be marked in red, faulty keys will be dark blue, and keys that cannot be tested will be displayed in yellow. Thus, according to the correct display color, you will easily detect what condition your computer keyboard is in and find ways to fix it.
Outstanding advantages of keyboard test
The outstanding advantage of keyboard test is the ability to check the operating status of Caps Lock, Scroll Lock, Num Lock, etc. To conduct a new test, users just need to press the Clear button to delete the test. old is done.
Different from other free testing software, https://keytest.online/pt/ also allows users to check the operating status of the mouse. In addition, they also support checking the operation of LED lights, these are features that other software cannot support.
Keyboard test allows testing the 3 most popular keyboard models today: Dell Int, Dell US, AT 107, etc. The advantage of keyboard test software is that it consumes extremely low CPU and RAM, and is simple to install. Simple, easy to use, modern interface. Users can use it easily without encountering any problems.
The basic features of keyboard test software are:
Highlight keyboard problems with different colors. Each problem corresponds to a pre-installed color to help users easily identify it.

Measuring the repetition level of a computer keyboard is equivalent to the number of times the keyboard is pressed down.

Displays BIOS keyboard codes and Windows scan codes.
Allows creating keyboard layouts depending on the user's preferences.

Use BIOS scan codes for language independent testing.

Supports up to 100 keyboards.

Has batch test mode display, records keyboard serial number, pass or fail result, ID, displays options to check rows, columns, key response level, etc.

Ability to check the operation of mouse buttons, keyboards and even mice connected from the outside.

There are cards for all types of connections

Measure the delay between computer key presses.
A small note for users who want to install and use the keyboard test is that the computer must have over 16MB of RAM and 4MB of free disk space.
Should I replace the keyboard with a new one when an error is detected?
Users should stay calm and not panic when they discover their keyboard is faulty. Because, in fact, replacing a keyboard on a computer costs a certain amount of money. Therefore, first you need to identify the error and clean the keyboard first. When you have tried every possible method and it is beyond your understanding, quickly take your computer to a reputable, quality repair center for support.
The keyboard is an important part that ensures the best working performance. A good keyboard doesn't stop there, it also brings great experiences to the user. To minimize errors, you should focus on finding a computer with a quality keyboard from the beginning, combined with careful use and regular cleaning to ensure Best keyboard longevity.
In short, keyboard test is quality, easy-to-use and highly effective computer keyboard testing software that you can refer to.