You regularly organize your cluttered folders. And you're fed up with that. The only solution to this problem is to bookmark your favorite folders on Windows for easier access. Here are some ways to help you do that.
Join the channel

Telegram

of the

AnonyViet

? Link ?
Assign a shortcut (Shortcut) to a folder
The easiest method to link to your folder is to create a shortcut. Windows allows you to create bookmarks to any folder in Windows File Explorer. When you double click on the shortcut, it will immediately take you to the location of that folder. Like teleportation.
After you create your bookmark folder, you can put it somewhere more convenient to access later. Could be Desktop or folder containing other shortcuts.
To create a shortcut, right-click the folder you want, select "Create Shortcut".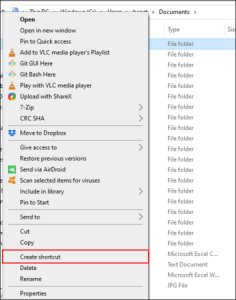 It will create a shortcut in the same location as your folder. You can then move it to another location.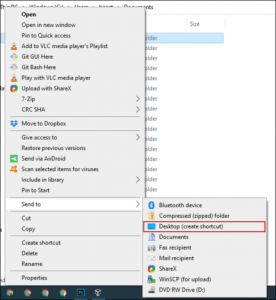 The shortcut you just created is now on the Desktop.
Create Jump Lists on Task Bar
Taskbar is the horizontal bar at the bottom of the desktop. So if you have pins Windows File Explorer on the Taskbar to create Bookmark Folder. you can quickly access your favorite folders with Jump Lists (Task Bar jump lists).
What are Jump Lists? Right-click Windows File Explorer in the taskbar, a list of your recently accessed folders will appear. For convenience, you can bookmark your favorite folder at the top of this list.
By default, Jump lists of Windows File Explorer display about 12 items. But you can increase this number. To add a folder to this list, you must drag and drop it onto the Windows File Explorer shortcut on the taskbar.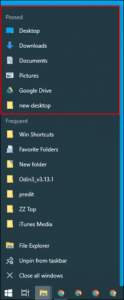 If you want to remove it, right-click the Windows File Explorer shortcut, move your mouse over your pinned folder, and then click the Un-pin appears on the right.
Quick access list (quick access)
Similar to Jump lists on taskbar, Windows File Explorer there is a navigation bar on the left side which is Quick access. Quick access lists also provide your jump lists. When you pin a folder to Quick access, that folder will also appear when you right-click File Explorer in the taskbar.
You can add folders to the Quick access list in several ways. Right click on one of your favorite folders, then click "Pin to Quick access" to create bookmark folders.
Or you can also drag and drop those folders into the Quick access section in File Explorer.
Start Menu of Windows 10 does more than just provide a list of your installed programs. You can customize the list of programs displayed on the right of the Start Menu with the application's shortcuts.
This makes the Start Menu a great place to bookmark some of your favorite folders. Open File Explorer and locate the folder you want to bookmark. Right click on them and then press "Pin to Start".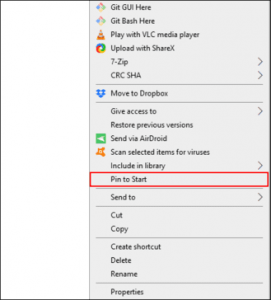 Your folders after pinning will appear as squares at the bottom of the list. From here, you can move your folders to more convenient locations or create groups to organize them.
To do that, move the mouse to the top of the list. Dialog box "Name Group" will appear, click on it and then enter a name for your group of favorite folders.
When you're done, move your folder shortcuts to that group. You can then rearrange the group containing the folders to a more convenient location for manipulation.
Upper taskbar Windows 10 gives you access to additional features or shortcuts. For example, you can create a toolbar to easily access all the files in your folder.
To create a bar tootbaryou right click on the taskbar, select "Toolbars"and then click "New Toolbar".
Choose one of your favorite folders, then click "Select Folder".
A new toolbar appears. Click ">>" next to the toolbar name (the toolbar name is also the folder name you selected earlier).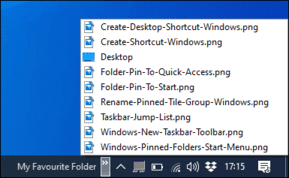 A list of all files and folders will appear for faster access.
You can create a folder containing all the shortcuts of other folders. Then also create a Toolbar for that folder. Unlike jump lists, which only list 12 items, the Toolbar can hold as much as you want.
File Explorer Libraries
Microsoft decided to hide the Libraries tab from File Explorer, but the feature is still pretty useful. To use it, simply bring the gallery tab back to your navigation pane.
To re-enable access to Libraries, right-click a space in the File Explorer navigation pane, and then click "Show Libraries".
Next, tap on the tab "Libraries" appears in the navigation pane. From here, right click on a space in the Libraries window, select "New"and then tap "Thư viện".
Name your new library, then double-click it to open it.
Your new library doesn't have any folders yet, press "Include a Folder"and select the folder you want to add.
Your library displays folders in a list for easy access. To add or remove folders, click "Library Tools" in the File Explorer menu, and then press "Manage Library".
From here, you can add or remove folders. When you're done, press "OK".
Your new library has been updated. Now you have instant access to the folders you have selected.
Collaborators: Kiet Pham