Network operators in Vietnam are starting to block access to depraved, reactionary, gambling websites… Therefore, some of you have the need to view the banned Web but can't access it. Below is a summary of ways to access websites that are blocked by network operators. You can use it on your phone, tablet or desktop computer, laptop to access the banned Website in the simplest way.
Join the channel

Telegram

belong to

AnonyViet

? Link ?
Access to blocked Web sites on your computer
Using VPN software
For computers, there are quite a few ways to access blocked websites. The fastest is using VPN software. The task of this software is to connect to an intermediary server to get data from the blocked Website, instead of you accessing that Website.
AnonyViet has guided some Free VPN software like: Proton VPN, Seed4me, Tunnelbear, Windscribe…
After installing the VPN software on your computer, select Server needs to connect to (should choose Singapore, HongKong for high speed). And open the Website you need to visit, you will be able to watch movies comfortably!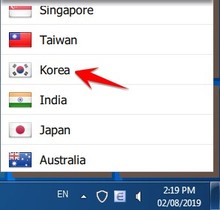 Also, if you don't want to install, you can use UltraSurf, the legendary tool used to access when Facebook was still blocked by Vietnamese carriers. Chinese people use this software a lot to bypass the Great Firewall.
Use VPN Extension for Browser
Extension, also known as an extension (Chrome, Coc Coc, Edge ..), on FireFox called Addon. Currently there are a number of Extensions that help your Web browser connect to VPN to access blocked Web sites very effectively.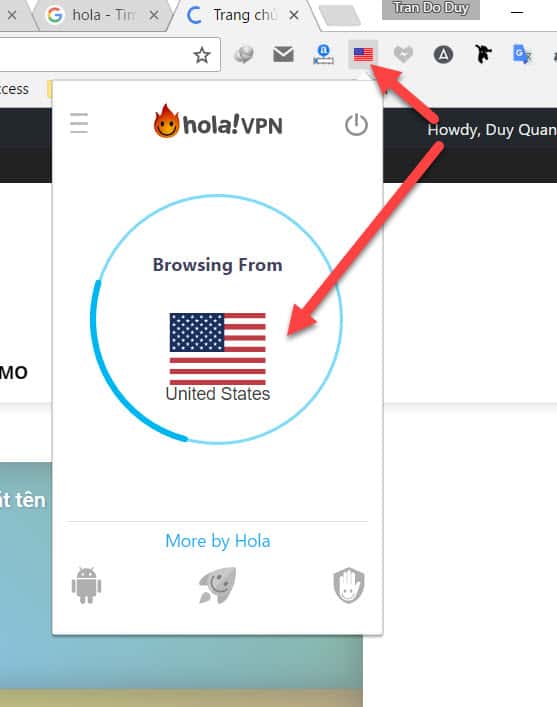 You can check out the article TOP useful VPN software on Google Chrome to select the appropriate Extension.
I often use Hola Extension to connect VPN to access websites blocked by network operators because Hola supports quite a lot of Servers and gives quite fast connections.
Use Google Translate to access blocked websites
It sounds infertile, but it's very easy to get pregnant. Google Translate has the function of translating the entire Web page. You can take advantage of this feature to make Web Proxy access blocked Website quite simple. Just type the Website address you need to access in the left box, then Click on the Link in the right box to access the blocked Web.
Use intermediate Web proxies to access blocked websites
If you don't want to install complicated software, use Web proxies. Just enter the address to access Web Proxy sites, you will see blocked websites. These Web Proxies will help you connect to prohibited Web sites.
Some Websites also let you choose a connection server like Hidemyass:

Some Web Proxy for fast connection speed:
How to access banned websites on mobile phones
On iPhone or Android phones, many VPN software is supported. This feature is similar on computers, the connection data will go through an intermediary server to help you access the Website blocked by the network. Some VPN software for fast connection speed like:
1.1.1.1 [Android|IOS] of the CloudFlare for super fast VPN connection speed. For IOS (Iphone, Ipad), after installing App 1.1.1.1 you need to add configuration for the application as follows:
Switch from Disconnect to Connect
Select Install VPN Profile
Allows adding VPN configuration
Seeing the Connected message is successful.
Now you can access blocked websites on your phone.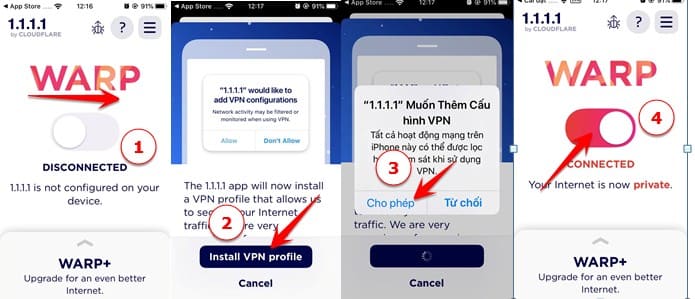 Some famous VPN software on SmartPhone helps you to access blocked Website such as: TunnelBear, Hola, ProtonVPN… You can find it on CHPlay of Android or AppStore of Iphone, Ipad.
Epilogue
By method VPN, Web Proxy you can view blocked Web in a simple way. Please choose free services and servers with high connection speed near Vietnam such as HongKong, Singapore… to watch videos without interruption. According to Vietnamese law, if accessing the Website is blocked, it will violate the law. Therefore, you need to consider when accessing political, reactionary, gambling websites…
access blocked xxx site
can't access thiendia
thiendia is blocked
can't access thiendia website
access to xvideos page is blocked
How to enter xxx is blocked
can't login xxx
can't login to p0rnhub