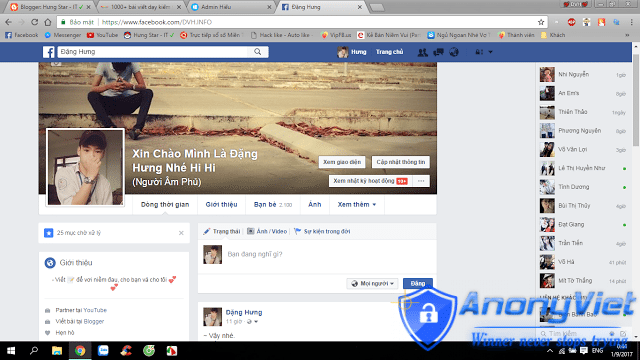 You can refer to this article, there is also another one:
It's simple, you do it with 3 steps as follows
– Grapefruitwish 1: Fake IP Spain (Instructions: Using Hola On Chrome Or Coc Coc To Fake)
– Step 2: Log in to the account that needs to be renamed. (Note: This account still has the right to change its name)
Join the channel

Telegram

belong to

AnonyViet

👉 Link 👈
– Step 3: Go to Settings => General => Name
–
Important
The key point is to use the space character Batang font inserted between words instead of spaces and then facebook will understand it is just 1 word. You can get this character in Microsoft Office Word Insert / symbol or copy it here: ( ) I put it between those two brackets.
FOR EXAMPLE : You want to change your name to "Hello I'm Dang Hung Hi Hi". Do the following.
After each word you paste the white letter you put above. After pasting we get the following name "Hello, I'm Dang Hung Hi Hi". (You can see that the word spacing is longer, because I just used the character " " to change the long name. )
———————————————————————
It's as simple as that, now you divide it into 3 parts and paste it into the box to enter a new name in Facebook:
First Name – Middle Name – Last Name.
Attention
You may not need Fake IP, but the name will be shorter because the Spanish IP can be real 4 times while Vietnamese can only be 3 times, you guys make the most of the real way to get a long name! Good luck with your name change.
Source: Dang Hung
Good luck !!!