During the holidays, you often send congratulatory messages to many people. You usually choose each person to copy and paste the content and send. But this method of sending manually is very time-consuming. Recently, you Vu Dang Tinh Shared mass messaging tool with optional friends. You can select from the list of friends who you want to send to. And select the content to send. With 1 click you can send it to all selected friends
Join the channel

Telegram

belong to

AnonyViet

👉 Link 👈
You can use the tool to send mass messages to send New Year wishes, happy birthdays, and March 8 to each target. For example, 8/3 can filter by female gender to send. (Don't send mass messages on February 14, otherwise you'll get hit). For people who have the same birthday, you can send a series of wishes to each person. The time to send each message will be randomly spaced 5-7 seconds apart.
This tool is different from Tool sends New Year messages to all friends is using Token. Using Token to get friends list and gender. Still Tool sends New Year messages to friends You can only send it to the friend who sent the message most recently.
Instructions for using the Tool Send mass messages
First, you Download code to send message by Author Vu Dang Tinh.
Upload Code to Hosting (use Host Free that's OK). Or use Xampp on your computer to simulate the php environment.
The content you edit is in the messages.txt file (content is random, each message content is in 1 line).
You need to send a message. Then click Get your friends list. Check to select the friends you want to send mass messages to and click Send Message. Wait a few seconds for the message to be sent.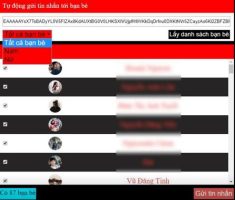 Attention: Sending mass messages to many people may cause the feature to be locked for several days.
If you have any questions, please contact the author, I'm just an introducer.
You can watch the Instructional Video here: