Following the "seismic" called ChatGPT, recently, technology lovers are spreading rumors about a website called ChatGPT. Futurepedia. Let's AnonyViet Discover what is so interesting about this website that causes such a "fever"!
Join the channel

Telegram

belong to

AnonyViet

? Link ?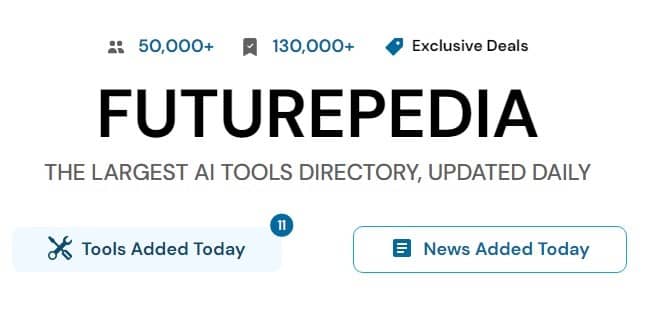 What is Futurepedia?
Futurepedia is a website that aggregates a lot of useful AI tools. What is special is the number of tools Futurepedia Ownership is always updated regularly and increasingly diverse. You can even post your own AI tools on this site.
Owning a minimalist interface, neat layout, user-friendly, Futurepedia making it easy for even those who are not so tech-savvy to discover the gadgets.
AI tools are used a lot in Futurepedia:
Uberduck: Create a virtual voice with about 5,000 different voice expressions
Looka: Logo Design
Durable: Website Design
Fliki: Create videos from scripts or blogs
Mubert: Making music
Codeium: Write code
Andy: Support smart search
How to use Futurepedia
To experience the features that Futurepedia First, please "Login" by clicking "Log in" in the upper right corner of the screen, select your email address and you have completed the login.
To discover the new tools added today, click on "Tools Added Today". Or you can follow the latest news in the "News Added Today" section.
You can add tools to the favorites list by clicking on the white box with the heart icon as shown below:
To open the favorites list, click "Favorites" on the menu bar, this makes it easy to find the tools you like without having to spend too much time.
In the menu bar, in addition to "Favorites", there are other options such as:
Discover: Discover Random AI Tools
Submit: Here you can post your own AI tool on the website, it will be added to the Waitlist (waiting list), after it is approved successfully, it will be displayed on the system.
Community: Follow the latest from Futurepedia via Email, Discord, Linked In, Twitter and Youtube.
When you click on the search bar, Futurepedia will display a list classified by each function of the AI ​​tool and the number of each type.
For example: There are currently 67 AI tools for entertainment (Fun Tools) on Futurepedia
You can search and filter tools through the "Filters" feature, with the following options:
Pricing – About the price:
Free: Free
Free Trial: Free trial for a period of time, then pay a fee if you continue to use
Contact for Pricing: Contact for pricing
Freemium: Free for some functions, if you want to use the entire tool, you have to pay.
Paid: Paid
Deals: Enter a discount code
Features – About features:
Waitlist: Not released yet, still on the waiting list
Mobile App: Tools for phones
API: Can connect with other application
Browser Extension: Search Extension
Open Source: Use open source code
Discord Community: Has Discord Support
No Signup Required: No registration required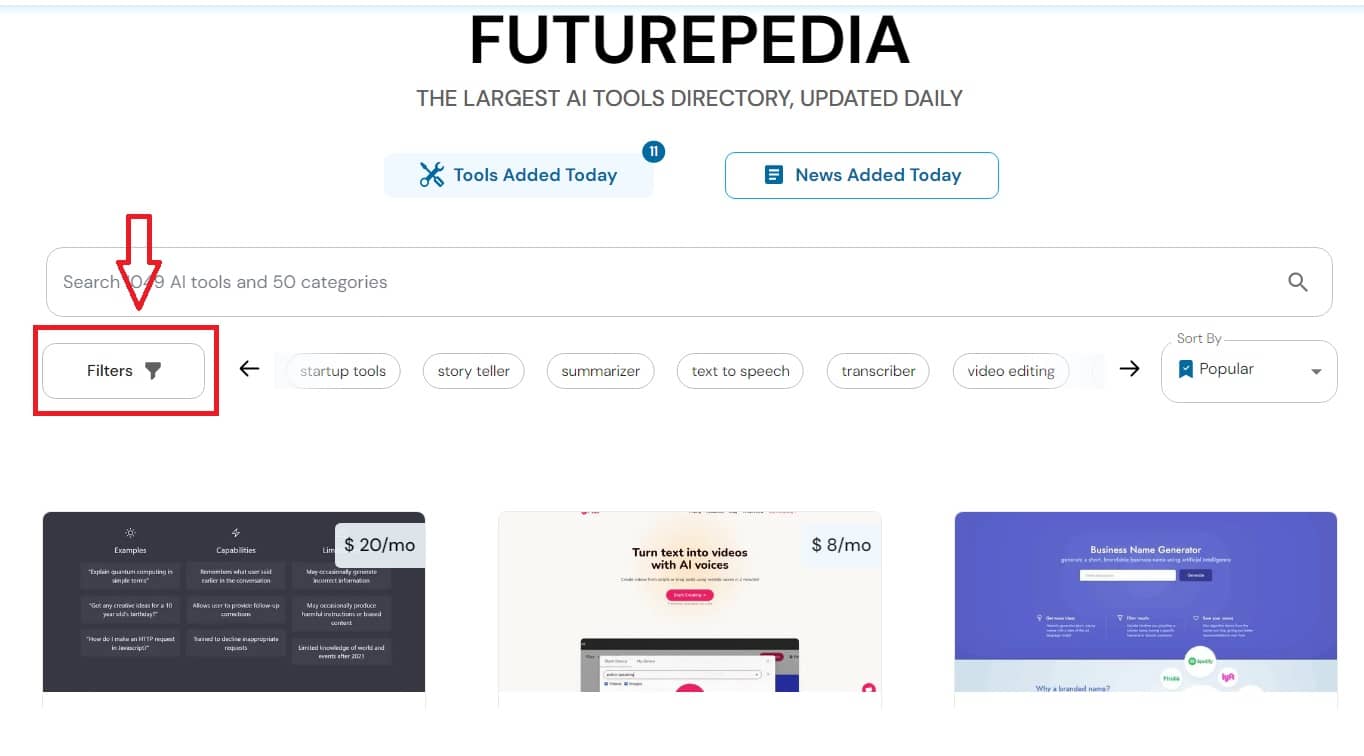 Then, you click "Apply Filters" to have the system search and display AIs that own the features you have selected.
Or click "Clear" to reselect.
Besides the Filter button, there are also suggested keywords to make your search easier
The "Sort by" button to filter apps by the following options:
Verified: The tool has been confirmed, has a green check mark
New: New tools
Popular: Popular Tools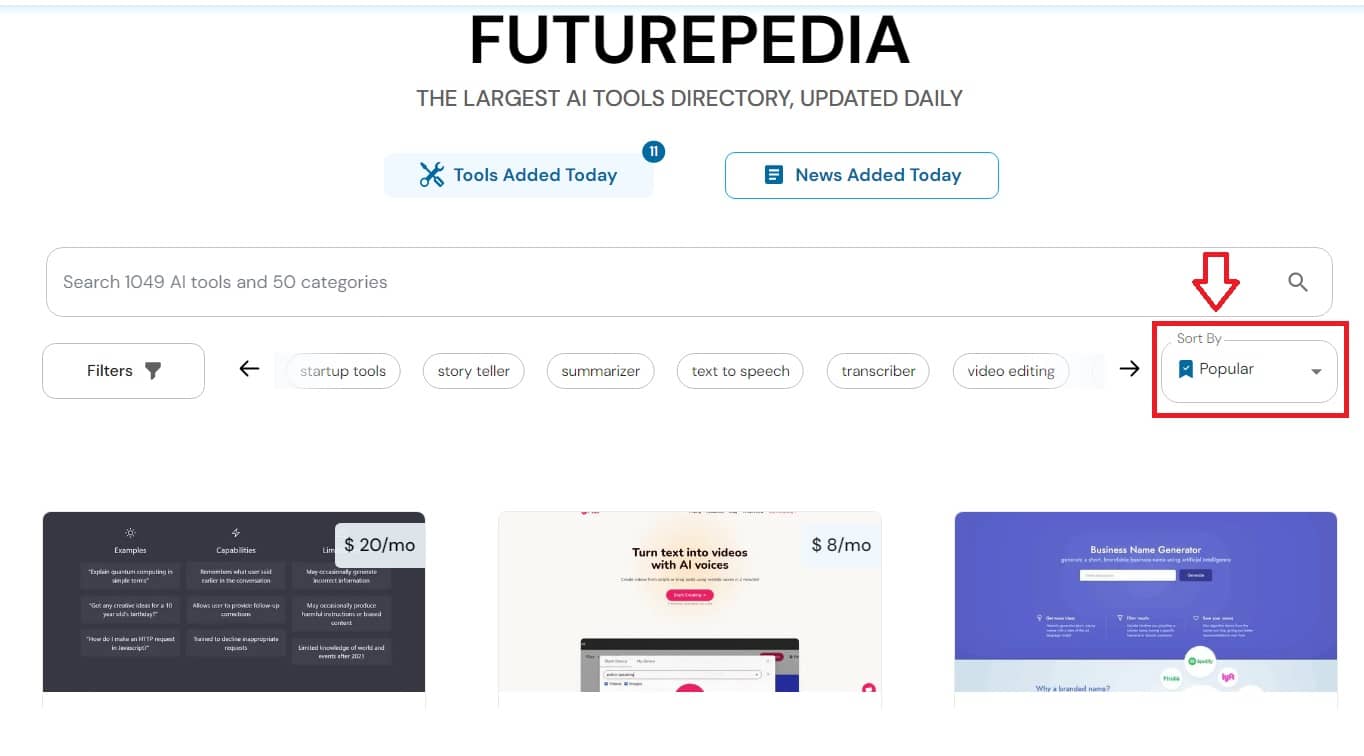 In each tool, the system will also display details of its use and characteristics. Eg "fliki" under
1 – This application has a fee, specifically $ 8 / month
2 – Number of saves to favorites
3 – Tags
Freemium: Some features are free to use, if you want to use them all, you have to pay
Deals: There is a discount code
4 – The tags summarize the main function of the tool
Text to speech: Text-to-speech
Video Generator: Make a video
Up to the present time Futurepedia already have more than 1,000 AI tools and this number will continue to grow, more than 50,000 members. A very impressive thing for a new platform launched only 4 months.
Epilogue
In short, Futurepedia is a huge treasure that converges a lot of interesting AI tools that AnonyViet thinks you should try at least once. Maybe you'll find a tool you like. Hope you apply it successfully and share it with everyone!