Don't talk much, no problem. Share the secret of a girl's life with 100% certainty for FA subjects, shy girls, low self-esteem….
Join the channel

Telegram

belong to

AnonyViet

? Link ?
Any man who has just seen a girl whose hands and feet are trembling, his mouth is full of words, or sees a beautiful girl who wants to get acquainted, ask for a phone number but do not know how to start the story, this secret life will save him. for you.
During a coffee trip, you come across a pretty female friend and want to approach and get acquainted. If at that time you do not have the skills to ask for her contact information such as phone number, email, facebook, you can only laugh and then regret to let her go and almost never have the opportunity to meet again.
Why is it that some guys are said to be very charming, always easy to fall in love with women, others are not. In reality, there are many boyfriends who love sincerely but lack confidence, do not know how to express their feelings, so they cannot reach the girl they love.
Love is like business. There is no single book or course that can help you succeed 100%. However, there will always be basic principles that anyone can learn. As long as you master those basic principles, your chances of success will be much higher. Explore the course to grasp those principles and apply to win the girl you notice.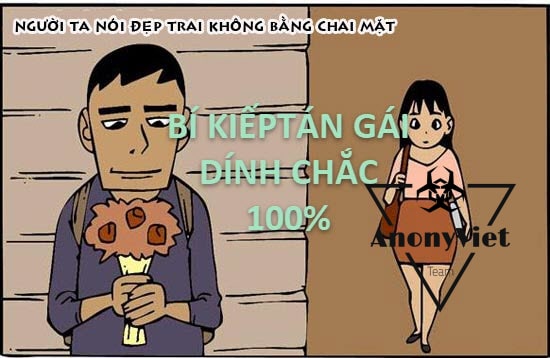 PART 0: WORD FROM THE TEACHER

Lesson 0: Introduction to the course

PART 1: THINKING RIGHT

Lesson 01: Choose the right playground for you
Lesson 2A: Choosing the right audience
Lesson 2B: Choosing the right audience (continued)

PART 2: GETTING FRIENDS

Lesson 3: Improve your appearance and prepare for a natural look
Lesson 4: Getting to know each other in different contexts
Lesson 5: Ask for phone number, email, facebook
Lesson 5b: Reality clip: Em! Can I have your phone number

PART 3: PUSH EMOTIONS SUPERIOR

Lesson 6: Determine the distance to conquer the object
Lesson 7: Trick for texting, chat chit, facebook
Lesson 8: A. Asking for a first date
Lesson 8: B. Information form to collect
Lesson 9: See you more times

PART 4: Formalizing the RELATIONSHIP

Lesson 10: How does "opening up" formalize the relationship?

PART 5: COURSE SUMMARY

Knowledge test
Quality evalution
Related courses and offers for you
Final harvest exercise
Download Full Girl's Secret
Bound: How to get girls on Facebook Zalo