Dubbed a fully-deserved "replacement" for the old Windows Widget feature, Rainmeter is also considered an indispensable component in the field of Windows interface customization. Light capacity, does not affect system performance, easy to customize, beautiful interface, diverse widgets and many features are advantages that users can find in this software.
Join the channel

Telegram

belong to

AnonyViet

? Link ?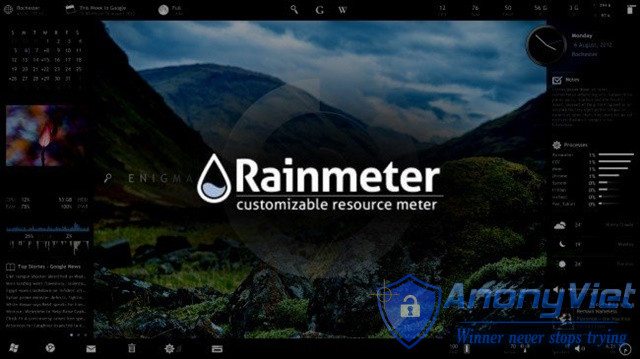 If you are planning to try Rainmeter, please refer to the following tutorial article.
Install Rainmeter
Rainmeter is open source software and is provided completely free, users can download it at the official website of this software. here or on the Github page here.
After downloading, run Rainmeter's EXE file (Run Administrator) to launch the software installation interface. It is quite interesting that this software also supports Vietnamese.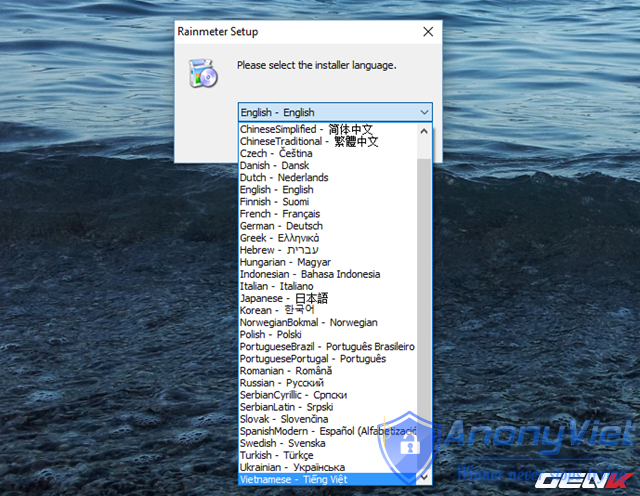 The installation and configuration process is relatively simple and doesn't come with any components installed.
After the installation is finished, keep the Run Rainmeter option to start this software.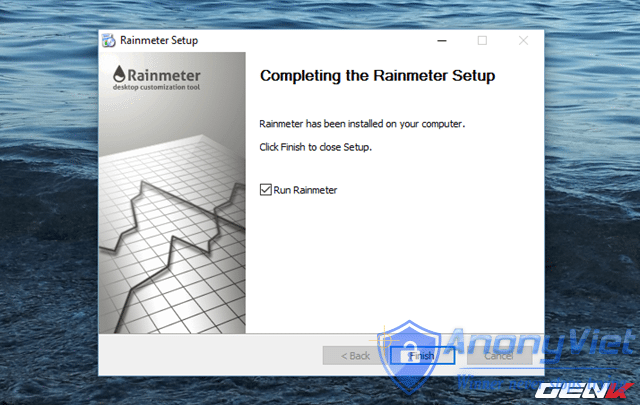 Basic customization
A few seconds after the installation finishes, Rainmeter's default skins will appear on your desktop.
To close the intro widget in the middle of the desktop, right-click it and choose the Unload Skin command.
Next, to open Rainmeter's main management interface, right-click on any widget and select the Manage Skin command.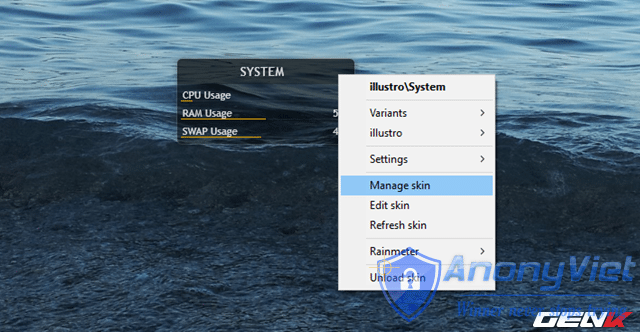 In the Manage Rainmeter dialog box, you will see a list of the current Rainmeter skins and editing options.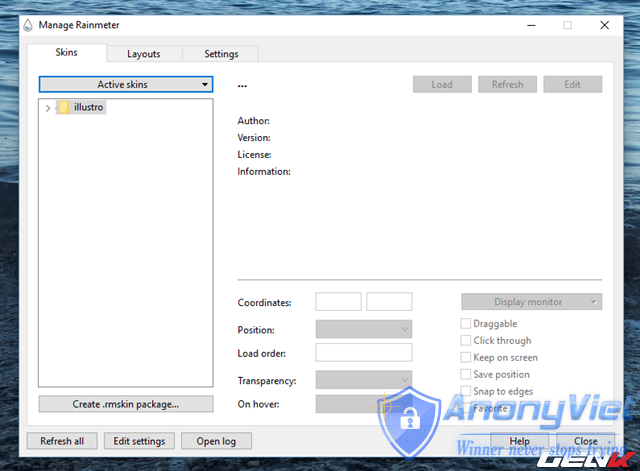 Now click on the Active Skins option and choose which widget element you want and proceed to customize it to your liking. The Unload/Load option button will allow you to enable/disable the widget, Refresh allows you to refresh the widget state and Edit to open the widget editing dialog with lines of code.
To re-customize a certain widget, in addition to the options provided in Manage Rainmeter, you can customize it right from the code that builds it. Specifically, right-click a widget to be edited and select the Edit Skin command, Notepad will appear, automatically open the widget source code and ready for you to edit.
Find skins for Rainmeter
In addition to the Rainmeter skins that are available from the official Rainmeter website, users can also find and download more from other authors that are provided for free on the website. DeviantArt, Customize.organd Rainmeter subreddit.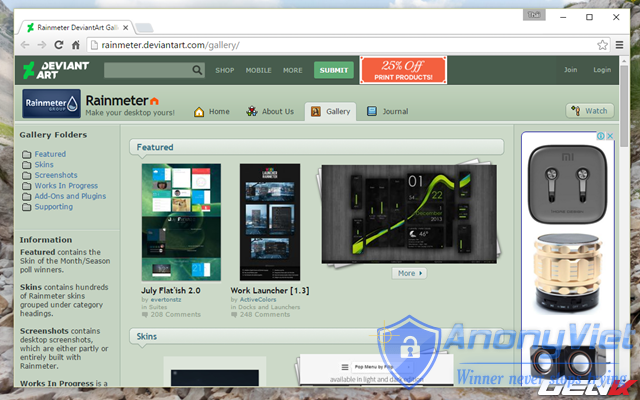 Once you find a theme you like, download it and you will have a file in the format ".rmskin". To install, simply double-click it and click Install in the dialog box that appears.
That's it, the rest of your work is simply to customize it to your liking. Hope you will create yourself a very "unique" desktop with Rainmeter.
Source: GenK