Linkbox.to is a cloud file storage service similar to Google DriveMediafire, Onedrive… Each registered user will receive 5Gb of free storage, but in this article I will guide you to upgrade your account to 10TB for free to store data.
Join the channel

Telegram

belong to

AnonyViet

???? Link ????
What is Linkbox.to? Is it safe?
Currently, there is not much information about the Linkbox.to website, but according to Similarweb, this website has a high ranking in the web. Egypt (#421) and the world is #8298which shows a lot of user traffic to this Web site.
On the other hand, when I check the domain, I see linkbox.to is registered since 1997, the last update was 02/2023, showing that this domain has been used for a long time, not just registered.
After registering for a 10TB linkbox.to account, I tested the Upload and Download speeds as follows:
Upload: 15-17Mb/s
Download: 700Kb/s
One downside is that this site has a lot of ads and the interface is a bit dull.
So should I use Linkbox.to for storage? In my opinion, it is not very secure to hand over data to Linkbox, but you can take advantage of it to share files, send files or store unimportant files.
Instructions for getting 10TB of storage on Linkbox.to
First you need to visit the registration page of linkbox and choose Sign up with Email
Enter Nickname and Email then press the button Send to receive Verification Code in Emaill
Enter the Code sent to your Email in the box Verification Code
Import Password 2 times
Check the button By continuing, you agree to our Terms of Service and Privacy Policy
Click Sign up
After this step you will be redirected to the Login page, proceed to enter the newly created account.
At the management screen, select Menu My Account or access the link https://www.linkbox.to/admin/account
Scroll down to the bottom and click on the button Special Account Authentication
Press the button Start Certification
At the next step, enter the Edu or GOV Email you are using, without Mail Edu or Gov Then see the instructions at end of post.
Then access your Edu Email Click on the confirmation link and you're done. Go back to the linkbox page to check and you will see your account upgraded to 10Tb for free.
How to register 10TB linkbox without Email Edu
This tutorial is from Group 3S-Team guys (you can see the full article at this page (https://getupnote.com/share/notes/GvUMdSROBsNk8boSkpu8l9GuEpu2/9c256a0b-8922-4294-b126-785a1d83a002). as follows:
Step 1: Please click on some of these sites moneycase.io. Register an account, after registration it will send a mail verifyPlease verify this email, guys.
Step 2: After successful account verification, please go to the "My Account", Umbrella "Get Linkbox Account" This is the email to receive the linkbox account. then press the button"Get"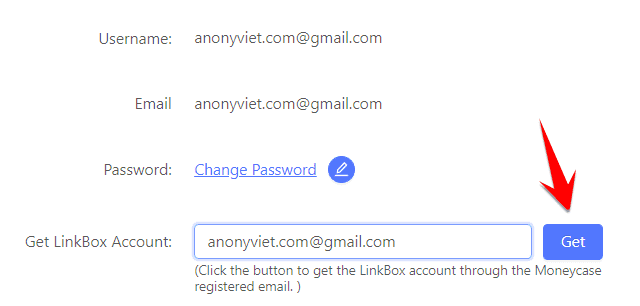 Then go to Check mail, you will see the Linkbox login account sent to you. You can log in at https://www.linkbox.to/email and use that account to upload and store files.
Instructions for changing information
Another note is that after everyone is done to the last step, change the account information to your Email. You need to download the mobile app: https://www.linkbox.to/download
Then log in the newly granted account to the App on the phone. Go to the "ME" tab at the bottom and then select your Name to open the profile. Here you can change your email and password.
The article is referenced from many sources vn-zoom, 3S-Team, PITVN…