Yesterday, I introduced everyone to the service of making money online with VNURL. Currently, AnonyViet is also using VNURL's link shortening service for web links. You can participate in shortening the link to make money online at VNURL.info
Join the channel

Telegram

belong to

AnonyViet

👉 Link 👈
Details how to make money online fast with VNURL you see here.
Tips to share a lot of shortened links on Facebook without being deleted
After a day of activities, I received many responses from the members. Many of you shared many shortened links and were blocked by Facebook. So, in this article I will guide you to fix that!
Step 1: Go to VNURL.info website to create an account (if you don't have one) and shorten it as usual.
Step 2: One thing you should know is that facebook does not block links to large note pages like notepad.com, GoogleDocs.
Please shorten your link, then write content on one of the 2 pages I mentioned above.
How to do with GoogleDocs to not be locked when sharing multiple links
Sign in to Google Docs with your Gmail account.
Remember to skip the ad to support anonyviet!
Then check the box Go to Google Docs and sign in with your Gmail. Remember to sign in with which gmail you can use to manage documents later.
Then click the plus sign in the lower right corner to create a new document.
Now follow what I recorded in the image below. This is also the way I often use to make money with shortened links on Facebook when I don't have my own website. You can completely blog without building a website.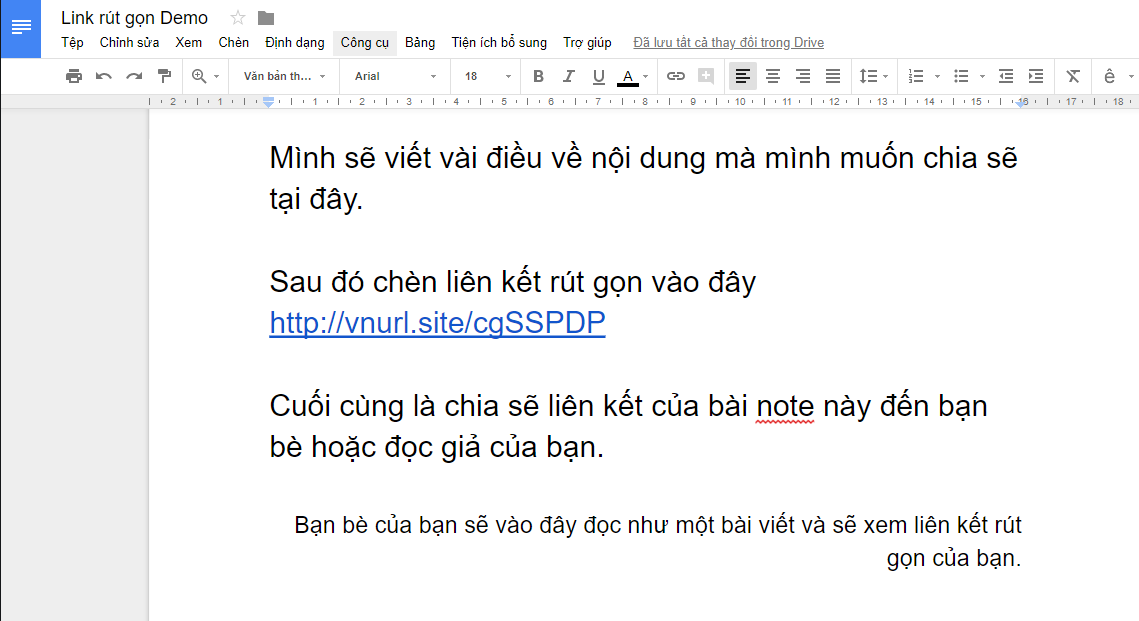 After writing, click the Share button in the upper right corner.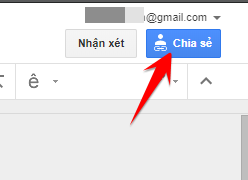 Select "Anyone with the link can see" mode and copy (copy) the share link.
You see, you don't need to have a blog or a website. But it is still possible to create a complete article (with shortened link) and share it with everyone. This is how it can be said to be a double job!! An article you can write many issues and include many shortened links.
When you share on Facebook, users will see it as a Blog post and read it. During the reading process, they will be able to click on the links you have shortened.
If you want to grow stronger. Let's create a Fanpage on Facebook and post these Blog posts on it.
Tips to share many shortened links without being deleted with Anotepad, Inotes
https://anotepad.com

http://notes.in

https://fnote.me
This is an online note-writing page that can be used for the purpose of sharing many shortened links without being deleted by Facebook. However, I often use Google Docs because its interface looks nicer and more professional. Okay, now I will show you how to use Anotepad!
You should register an account at anotepad to manage note files later. Just click the Register button in the upper right corner to proceed with registration.
Fill out the form above if you want to register a new account. Sample article below if you want to login.
After you have an account, you can proceed to log in and write notes.
After writing the content, click Save in the bottom corner.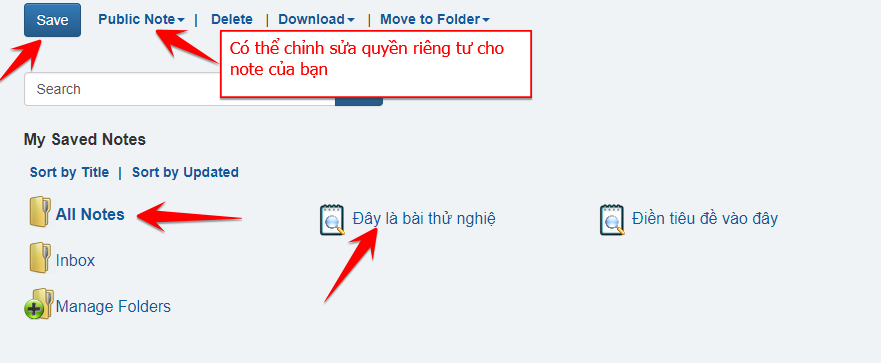 You can manage your notes and edit the privacy of that note. However, I still prefer the beautiful interface and high security of Google Docs.
Finally, click on the post you want to share and copy the link and then send it to your friends.
Your friends can view and share to continue for more people.
Note
However, you still have to be careful not to share continuously for a short period of time. This way Facebook will know that you are spamming and block your comment feature. Therefore you must post the link in a valid way.
Rules for posting links so as not to be blocked
Trust account (long operation, interactive).
Links should be posted at least 10 minutes apart.
Each post should include different content.
For example:


First time

– If you like to eat ice cream, come in…. that see.


2nd

– Interesting sharing for those who like to eat ice cream. Check out my post at….


3 times

– Check out my post…. Who likes to eat ice cream is addicted to it!!
Here are a few tips that can help you never get blocked from posting links. Apply it smartly!!!
If you want to invest bigger, make more money by shortening link. I recommend you to create a youtube channel or a website to fight!! This is what I said in the previous post. If you haven't seen it yet, click the button below to watch it.
Remember to skip the ad to support me!!
Good luck
Lmint.