Have you heard about the growing complexity of online scams and threats to our information security? Don't worry, to help you protect yourself against these dangers, the Information Security Administration (Ministry of Information and Communications) has released an important tool. Please download handbook to identify and prevent online fraud Contact us today for detailed information on current scams and how to avoid them!
Join the channel

Telegram

belong to

AnonyViet

???? Link ????
What is online scam?
Online fraud is a fraudulent activity that uses tricks to defraud users on the internet. From impersonating trusted organizations, through spoofing websites or sending phishing emails, bad actors can steal our personal information or money.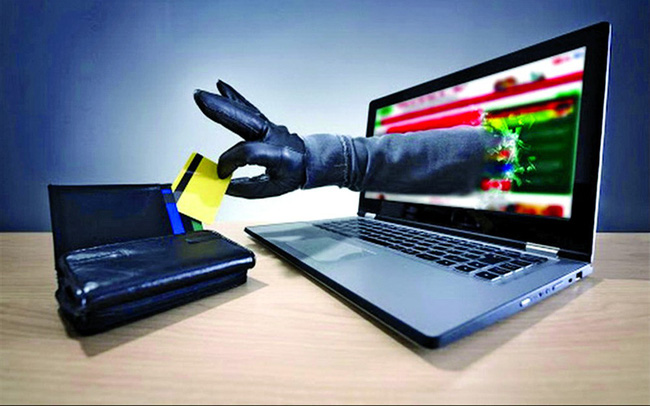 Common forms of online fraud
There are many forms of online scams, especially:
Email scams: Phishing emails often include an invitation to share account information or request a money transfer.
Phishing through fake websites: Fraudsters create fake websites that are identical to known e-commerce websites to get user information.
Phone call scams: Bad guys can make phone calls pretending to be companies and organizations to get your personal information.
In Vietnam's cyberspace, there are 24 types of ongoing fraud as outlined in the Handbook on Identification and Prevention of Online Fraud. Here are some examples:
Scam selling "cheap travel packages".
Use Deepfake or Deepvoice technology to make fraudulent video calls.
Fraud through "SIM lock" because the subscriber has not been standardized.
Forged successful remittance receipt.
Pretend to be a teacher or medical staff to notify loved ones in need of an emergency.
Fraudulent recruitment of young models.
Using tricks to impersonate financial companies or banks.
Installing apps or advertising links related to gambling, betting, black credit, etc.
Forging websites of agencies or businesses (eg: social insurance, banks).
Phishing through fake SMS from brandnames.
Scam in the field of investing in securities, virtual currency, or multi-level.
Fraud in recruiting online collaborators.
Steal social media accounts and send phishing messages.
Impersonate police agencies, procuracy or court to make fraudulent calls.
Selling fake or imitation goods on e-commerce platforms.
Stealing personal information from ID card to borrow credit.
Fraud by wrongly transferring money to a bank account.
The money back service scam has been scammed before.
Scam to get OTP code in Telegram app.
Scam by spreading fake news about losing money call like FlashAI.
Scam in Facebook account recovery service.
Emotional fraud, financial investment example, mailing requests, or winning announcements.
Create phishing links to scam or seed untrusted Facebook ads.
Fraud in consulting numbering.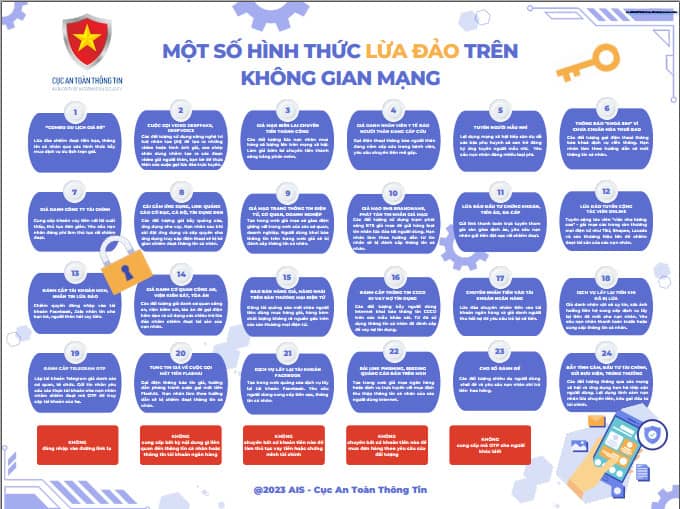 Consequences of being scammed online
Being scammed online can have serious consequences such as:
Loss of money: Online scams can lose your money by transferring money to the wrong recipient or buying fake goods.
Personal Information Disclosure: When scammed, your personal information can fall into the wrong hands and be used for malicious purposes.
Loss of trust and psychological impact: Being scammed online can make you lose faith in the internet and be wary of other online transactions.
Download the handbook to identify and prevent online fraud
Recently, the Ministry of Information and Communications has released the Online Fraud Prevention and Identification Handbook, an important source of information on information security.
In this guide, experts have pointed out specific signs to recognize and how to avoid each form of online fraud. Fraudsters take advantage of cyberspace to carry out different forms of fraud, becoming more sophisticated and targeting many different target groups.
These target groups include the elderly, children, students, workers and office workers. With each group of objects, the bad guys use their own tricks to cheat, but their common goal is still to gain trust and appropriate users' assets.
In addition, the handbook also provides guidance on how to deal with an online scam. It also provides contact information for agencies, organizations and businesses specializing in cybersecurity and information security to receive support when needed.
Handbook to identify and prevent online fraud 41 pages are beautifully presented and easy to understand. The table of contents of the manual includes:
General situation
Target
Signs to recognize and how to avoid
What to do when you have been scammed online?
You can download a completely free online fraud prevention and identification guide.
Download the manual HERE
Epilogue
Handbook to identify and prevent online fraud is an important step for you to protect yourself online. This is a reliable source of information, helping you to recognize and stay away from dangerous scams. Share this handbook with your family, friends and colleagues to build a safer cyberspace together!