Affiliate marketing is a popular and lucrative way to make money online by promoting other people's products or services. You can earn a commission for every sale or action your referrer takes through your affiliate links. It's simpler than selling your own goods or services, you don't have to risk the stock.
Join the channel

Telegram

belong to

AnonyViet

???? Link ????
Want to create an affiliate marketing website? Start!
Step 1: Choose a niche
The first and important step to affiliate marketing is choosing a niche, it can be challenging. A niche helps you focus on a specific audience, product, or service that you can effectively promote. It also helps you stand out from the competition and builds trust and authority in your field.
To help you choose a niche, you can do a quick self-assessment with these questions:
What do you like to do or learn about?

How popular is your niche among online users?

Can you produce fresh and engaging content for your niche?

Is your niche evergreen or seasonal?

How strong is the competition in your niche?

Are there profitable affiliate programs in your niche?
These questions will give you a clear picture of the niche that suits you best.
You need to create content regularly, whether it's blog posts, videos, or social media posts. If you don't have a passion for your niche, you could lose momentum.
Step 2: Create an affiliate site
How do you create an affiliate website that attracts visitors and converts them into customers? Can you build an affiliate website without spending a dime? Is it even possible? The answer is yes, it is possible, by FigCube website builder.
FigCube is a powerful and easy to use website builder that allows you to create professional and beautiful websites in just minutes. You don't need any coding or design skills to use FigCube. You can choose from different style templates, customize them with your own content, images, videos, etc and add features like contact forms, social media buttons, newsletters and of course, affiliate links.
FigCube also helps you optimize your website for SEO, speed and mobile-friendliness, so you can rank higher on search engines and reach more potential customers. Plus, FigCube provides reliable hosting, security, and support for your website, so you don't have to worry about anything.
Here are the steps to create an affiliate website with the FigCube website builder:
Sign up for free on FigCube.com
Create a member account by this link, fill in some necessary information and you will get a domain name xxx.figcube.com, you can customize the prefix. If you already have a domain, you can also switch to FigCube.
Choose a template that fits your niche and audience
Customize your template with your own content, images, videos, etc. You can drag and drop elements, change colors, fonts, layout, etc. You can also add pages, sections, menus and other elements to your website.
Add affiliate links to your site
You can use text links, banners, buttons, widgets, or any other format that works for you. Make sure to use your unique affiliate ID or tracking code for each link. You can also use tools like cloaking or shortening to make your links look more attractive and trustworthy.
Publish your website and start promoting
You can use social media, email marketing, blogging, guest posting, paid advertising, or any other method that works for you. Make sure to track your traffic and conversions with analytics tools.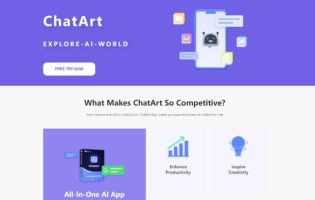 Enjoy passive income from your affiliate site
As long as you continue to update and improve your website, you can earn commissions from your referrals as long as they remain customers of the products or services you promote.
Creating an affiliate website with the FigCube website builder is easy and fun. It saves time and money by using FigCube's all-in-one solution for your website needs.
Step 3: Create good content
Creating good content for your affiliate site is essential to attracting and retaining your audience, building trust and authority, and increasing your conversions and revenue. Here are some tips on how to create good content for your affiliate site:
Know your audience
You should understand who your target audience is, what their needs and problems are, and how you can help them with your affiliate content and products. You should also use language and tone that resonates with them and is relevant to your niche.
Provide value
You should create content that is useful, informative, entertaining or inspiring for your audience. You should also provide honest and unbiased reviews, comparisons or recommendations of your affiliate products, highlighting their features, benefits, pros and cons. You should also include a clear and compelling call to action to encourage your audience to click on your affiliate link or buy your affiliate product.
Is the original
You should create unique, fresh, and engaging content. You should avoid copying or filming content from other sources, as this can harm your reputation and SEO. You should also add personality, voice and style your content, making it stand out from the crowd.
Format your content
You should format your content in a way that is easy to read, scan, and navigate. You should use headings, subheadings, bullets, lists, tables, images, videos or infographics to break up your content and make it more engaging. You should also use whitespace, fonts, colors, and contrast to enhance the readability and design of your content.
Update your content
You should keep your content up to date and relevant to your audience and niche. You should check for any changes in the information, pricing, availability or features of your affiliated products or services. You should also add new content or update existing content based on feedback, comments, or questions from your audience.
Conclude
Creating an affiliate marketing website is a good idea for an online business because it has low cost and high profit. You can earn passive income and grow your online reputation using this method.
This article explained how to create a free affiliate website from choosing a niche to building a website and writing content.
If you are interested in starting your website but don't have the coding skills, start with FigCube Currently!