Buster – CAPTCHA automatic solving tool is a small utility that you can install into your browser. Buster will help you solve CAPTCHA tests quickly and easily. How to install and use? Let's find out with AnonyViet!
Join the channel

Telegram

belong to

AnonyViet

👉 Link 👈
What is CAPTCHA and its effects
CAPTCHA is a completely automated testing method to tell computers and humans apart, short for Completely Automated Public Turing test to tell Computers and Humans Apart. CAPTCHA is used to prevent robots from accessing websites and services that are intended only for real users.
Typically, users must solve a math problem, puzzle, or enter a short string of characters to access website content. The purpose of CAPTCHA is to protect websites from fraud, spam, and robot attacks.
Disadvantages of CAPTCHA and how to overcome them
However, CAPTCHA sometimes causes difficulties for users because the puzzles are too complicated or difficult to answer. Having to solve the same CAPTCHA code over and over again can be annoying and time-consuming for users. Especially when users want to access multiple websites at the same time.
However, you can also use some free extensions on Google Chrome to automatically solve CAPTCHAs. These extensions will help you solve CAPTCHAs using Google's voice recognition feature. You only need one click to access the website without needing to enter a CAPTCHA code.
How to install an automatic CAPTCHA solving tool
Among the extensions that automatically solve CAPTCHA on Google Chrome, one of the most highly rated extensions is Buster: CAPTCHA Solver for Humans. Buster is released for free on the Chrome Web Store platform and has more than 1 million users.
To install and use Buster, follow these steps:
Step 1: Access this link and click the 'Download' button

Step 2: Confirm the extension installation by clicking the Add extension button.
After installation is complete, you will see the Buster icon in the right corner of Google Chrome's address bar.
Every time you visit a site that requires a CAPTCHA or reCAPTCHA, you'll see the Buster icon below (next to the Back and Switch to audio icons).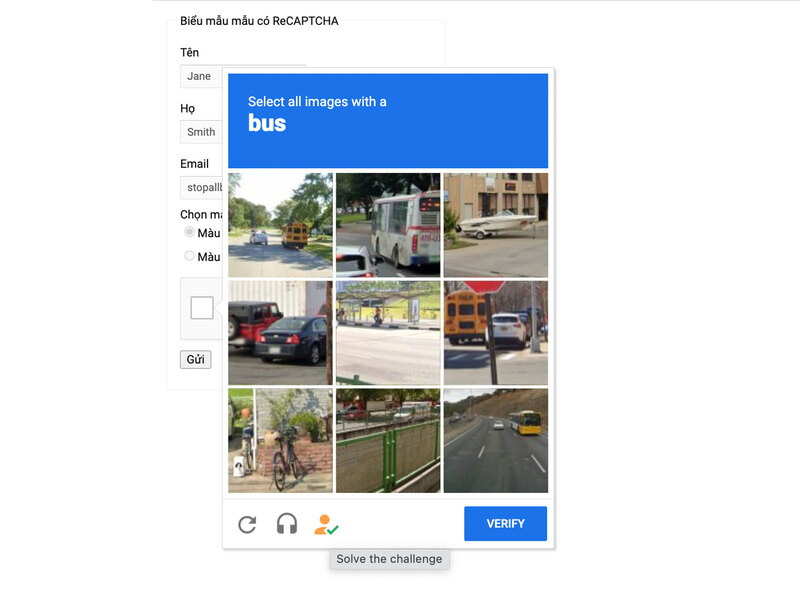 Step 3: You click on Buster's icon, then Buster will automatically solve the CAPTCHA by completing audio challenges.
If Buster successfully solves the CAPTCHA, you will be redirected to the destination website without needing to enter the CAPTCHA code.
Epilogue
Buster – CAPTCHA automatic solving tool is an effective solution to the CAPTCHA problem. Buster will help you save time and effort when encountering difficult CAPTCHA tests. This tool works with many different browsers and is completely free. You just need to install Buster into your browser and use it when needed. Wishing you a successful application!