If you're looking to troll your friends, you don't need to know much about computers. There are many fun trolling websites that you can use to prank your friends.
Join the channel

Telegram

belong to

AnonyViet

👉 Link 👈
8 fun websites to troll your friends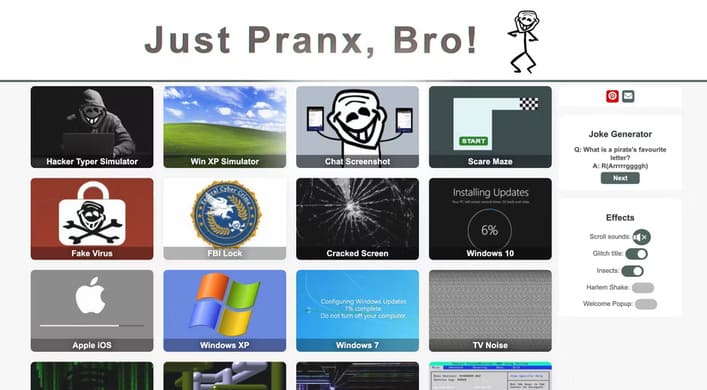 Pranx is one of the most interesting troll sites. As soon as you log in to the site, you will be able to choose from a bunch of different weird jokes.
At the top right, you will see different icons, such as:
Interpol database.
Nuclear power factory.
Password cracking software.
Mining Bitcoins.
Rain of code.
DOS emulator.
The site has a simple, white background and allows you to choose from a variety of jokes. It may seem like a gaming site, but you can easily troll your friends by clicking on any of the available options. The site also works well on mobile devices.
Pranx's hacker simulator makes it look like your computer is being hacked. There is even a funny joke about constantly repeating Windows updates on the computer. If you open the "Fake Virus" program, it will show you a screen that simulates the screen being attacked.
It has a relatively clean interface, but that's what makes it more convincing. There are plenty of alerts you can set up on this hacker emulator, including things like:
Installing malware.
Self-destruct countdown.
Download personal or confidential information.
Confidential warning.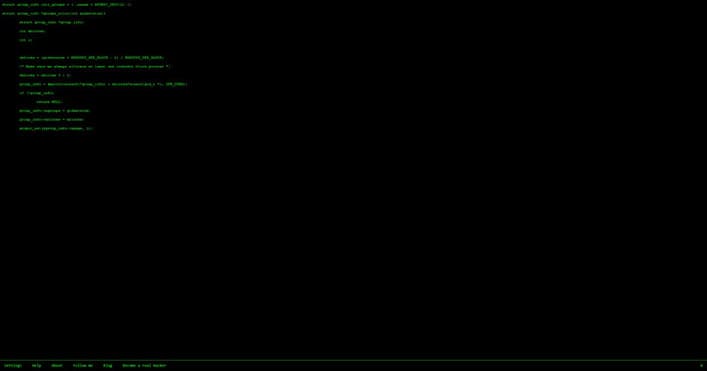 If you want people to think you're a hacker, Hacker Typer is what you need to do it. This is the joke that makes your colleagues constantly staring at your screen. Even if you don't know a single line of code, Hacker Typer will ensure that you become a coding expert.
The website has a black background, with a flashing cursor at the top left. Press any key and you will start coding like a professional coder. This code is meaningless, but your friends won't know it.
After a short period of time, the website automatically displays an "Access Denied" error, making it seem like you are trying to break into some top secret database.
You can customize the font, size, speed, and color of your website as you see fit. This site also has a bunch of links for those who want Learn more about cybersecurity.
GeekPrank is another silly website you can use to troll your friends. The interface looks exactly like Windows XP, so this is another fun way to make your friends think you've replaced their operating system.
There are a bunch of options for trolling like:
Fake virus warning.
FBI key.
Screen is cracked.
The screen is noisy.
Hack warning.
Matrix rain.
It even displays the Blue Screen of Death at random intervals. The cursor will be automatically hidden on the web page. If you leave it full screen, your friend will never know what happened to their computer unless you tell them, or they minimize the screen.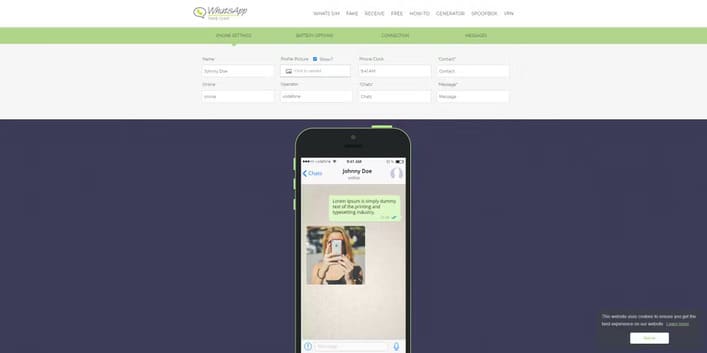 Next on this list is WhatsFake. Simply put, this is a fake chat generator. You can customize every detail of the screen, from the chat's profile picture to the phone's clock.
If you want to create a really convincing WhatsApp message to prank your friends then this is a fun site to use.
If you want to be a classic web user before your friends, try Google Terminal. It was created to illustrate how Google looked in the early 80s. You could add a search string and press keys to search.
It even references relics like the Commodore 64 and Apple II. In keeping with the theme, your cursor will be inactive on the website, so all features are accessible via the keyboard.
It's an interesting site about what Google looked like over thirty years ago. There are also a variety of other display options, including:
Google Underwater.
Google Mirror.
And offline dinosaur game hack version
Who doesn't hate those random Windows updates. If you want to create a cool prank on your computer that simulates an update screen, then Fake Update is just what you need. When you log in, you will be able to choose from several loading screens. The site has options like:
Windows 98.
macOS.
Windows 7.
Windows 10.
Steam.
Just select one and it will automatically hide the cursor and start running the update, the process never ends.
Shady URL is a fun website that disguises your links as shady stuff. As you can see above, it turned Twitter into a very suspicious link. You can send these links to your friends and watch them freak out, especially if they are on a monitored network.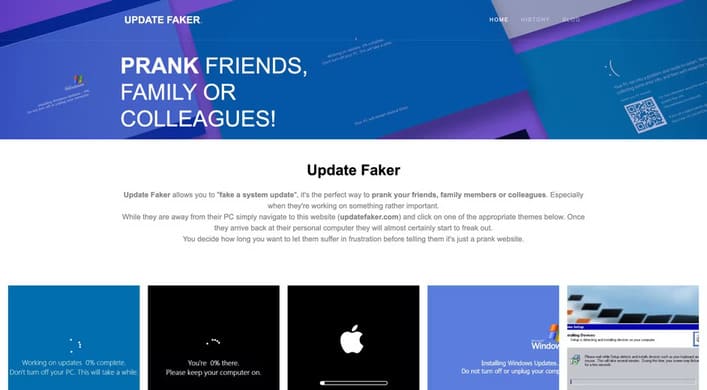 If you want to fake a system update, you should try Update Faker. Update Faker allows you to easily prank your friends, family members or co-workers by making it look like you have a computer update.
It allows you to choose from multiple operating system updates, including macOS, Windows 10, Windows 11, and even Windows 98. This is a very simple website that allows you to quickly select different update screens .