Today AI (artificial intelligence) is applied in many fields. One of the AI ​​products that AnonyViet has introduced before is: separate wallpaper online, online face transplant… Today we will experience a new technology that is automatically color the drawing by AI with Style2paints. With the characteristics of using Online on the Web, you will waste computer resources as well as installation time.
Join the channel

Telegram

belong to

AnonyViet

👉 Link 👈
Introducing Style2paints
Style2paints is an open source software that automatically colors drawings. With a drawing that only has pencil sketches, Style2paints will automatically choose the appropriate color and decorate the photo. Currently version Style2paints V4 with high quality output images. Style2paints will automatically separate layers according to AI calculations. These layers can be used directly in your drawing workflow. Different from other online coloring tools, the results of the application are not 'JPG/PNG' images but rather 'PSD' layers.
Data processing process
With input data including:
● The image needs to be colored
● (with or without) Human suggestion
● (with or without) color style reference images
● (yes or no) Light position and color
Will analyze output data by:
● Automatically color by detecting black lines
● Automatically color without lines
● Automatically color with colored lines
● Auto-rendering (separated layer)
● Automatically color
Works exactly like an artist's process
Most artists are familiar with the process of creating a work:
Phác thảo -> tô màu -> thêm chi tiết -> tô bóng
And the corresponding classes are:
lớp line art + lớp màu phẳng + lớp màu tuyến tính + lớp bóng
Style2paints V4 is designed for this standard painting process! In style2paints V4 you can automatically get isolated results from each step!
Address to use Style2paints:
How to use Style2paints to automatically color drawings with AI
If you want to carefully study how to automatically color, you can watch the complete video tutorial below:
https://www.youtube.com/watch?v=B6WEky9nY7Q
You can use Google search with keywords: Line art will result in sketch images without color.
Or visit the websites below to download sample images:
The example below will use this photo as a sample:
Visit our Online coloring website Style2paints. Server crashes often BUSINESS because there are many visitors. You should use it during off-peak hours. Main interface of the Website with functions of each tool: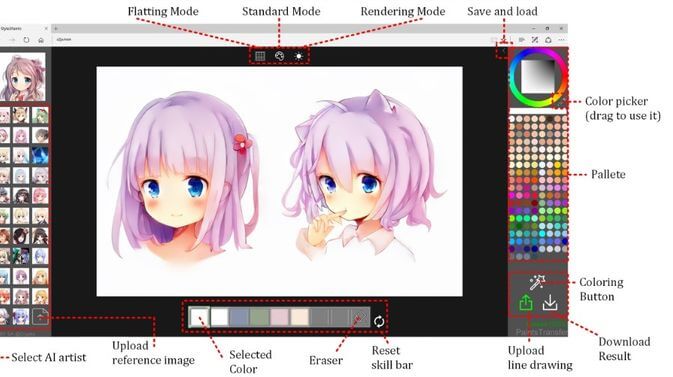 Automatic color selection mode for drawings
Use the Upload photo function:
Wait for 5 to 30 seconds and you will see the image colored in as clear as the image below:
You can then choose some other AI sample photos:
Now you will see the image is different:
You can zoom and move the canvas freely to examine the details:
You can make some modifications to this color by setting some hint points.
You can click the processing button to update the results.
You can use the ALT key to select a color anywhere in the canvas. This is very important.
You can also check the base color
Then click Render mode .
Wait for 5 to 30 seconds, you will get something like this:
You can change the color of the light:
Then process:
As a result you will receive:
If you want to modify these dumps you can use these circle to more light and shadow, and use cross to remove light and dark.
Then download:
Result:
Adjust the color yourself as desired
In basic terms, you can adjust the color and direction of the light in Rendering mode .
You can change the light and darkness of the photo.
You can use these circle to more light and dark.
You can use sign cross to remove light and dark.
Careful and careless mode
In the latest version, you have two coloring modes: Careful and careless.
In Careful: The AI ​​will draw carefully, and the results are sharp and clean.
In Careless: AI will draw in its own way and the results are stylized and harmonious.
You can save and load your cue points with this button:
When you click 'save' you will get something like:
You can copy these codes and save in notepad.
And you can load these codes by clicking 'load' and pasting these codes:
Q: Why can't I export my results?
A: Please use Edge/Chrome. Please Are not use firefox.