It's annoying when I receive all day invitations to play Candy Crush Saga, Farmville 2, Throne Rush… or news feeds from members I don't care about.
The convenience of facebook is undeniable when it helps us keep in touch with friends, make new friends…. However, its major drawback is that almost everyone can send event invitations, game invitations to everyone in their friends list.
If you find it unbearable, get rid of them by blocking annoying invitations like the instructions below:
Join the channel

Telegram

belong to

AnonyViet

? Link ?
Block any person on Facebook
The shortcut to Privacy is the padlock icon located in the top right corner of the screen. Here you can quickly change who can see, comment on your posts or block someone you want.
Select "How do I stop someone from bothering me" (How to stop a person from bothering me) and then type in the person's Facebook name or Facebook registration email. As such, this person cannot see anything about you on Facebook. If you are their Facebook friend, this option will automatically unfriend both of you.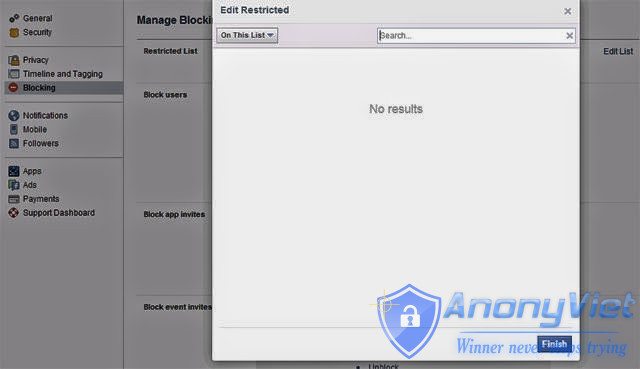 If you feel"not willing"unfriend someone, you can choose how, bring them in"blacklist – blacklist" so that they can only see their information and posts by. Go to Settings (setting), Blocking (block) then select Restricted List(limited list) at the top then add whoever you want
Block game invites
In addition to blocking a specific person, Facebook allows you to block apps. At the bottom of the Blocking section, just type the name of the application you want to block. From now on, this app can no longer access your Facebook information and you will no longer receive invitations from them.