If you use a personal computer, protecting your data is essential, in addition to protecting your computer against viruses from the internet. prevent others from plugging usb into computer and copying data illegally equally important.
Join the channel

Telegram

belong to

AnonyViet

👉 Link 👈
This article will introduce you to some portable software tool help block USB Ports quickly help you control the data that comes out (Quickly turn on and off with the tools, it's not difficult at all)
Block others from copying data from computer to usb
As mentioned above, the tools below are quite compact and feature-rich enable allow data to be copied to usb comfortable and off to prevent others from copying unauthorized data from a laptop or PC your.
1. USB Ports Disabler
USB Ports Disabler v1.0 has the function to prevent or block usb plugged into the computer to copy data and malicious software spread via usb.
This program works by disabling the usbstor service so Windows cannot detect and identify USB devices connected to the computer.
USB Ports Disabler is compatible with Microsoft Windows 108.1, 8, 7 and XP(32 64-bit).
Download USB Ports Disabler v1.0 here
2. USB Disabler
USB Disabler 1.1 This tool I use most often, because it is portable software so it is friendly, just leave it in a certain folder on the computer, when you need to block, click play and then open it and choose Disabled to block usb connection to computer. If you want to connect, click thường
3. Use USB Drive Disabler / Enabler
Use USB Drive Disabler / Enabler It is also a tool to help manage data from the computer via usb, you download the software and then install it on your computer and you will have 2 options to turn on and off the usb connection to the computer, so it is very convenient. Used for locking or unlocking USB connected to PC.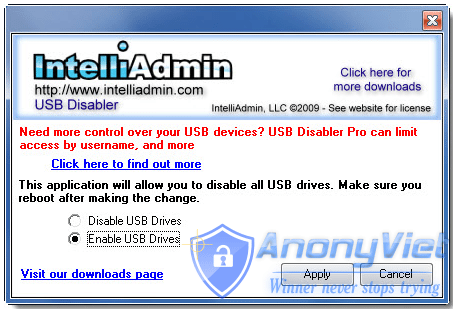 4. Disable USB connection with regedit
In addition to the above 3 tools, this 3 method is a bit more annoying, but I still want to introduce it to you.
1. You use the keyboard shortcut Windows + R and then type in regedit then enter to enter Registry editor
2. Next find the path
HKEY_LOCAL_MACHINESYSTEMCurrentControlSetServicesUsbStor
3. Double-click Start in (UsbStor) change the number 3 to number 4 and then save it.
Now anyone attaching a USB storage device to the computer Windows won't detect it and it won't show up in My Computer.
To let the computer (windows) show up the usb drive, change the value 4 to 3 in Step 3 Please.
So with the above 4 ways, hopefully you will control and protect your data from shady usb or people who want to steal your data!
AnonyViet – Wish you all success