Web design is an extremely broad field. However… do you sometimes feel like your design is as familiar as a minimalist hamburger-inspired menu? Surely you will get tired of the old designs. But the designers are all artists with heart. They want to push boundaries and create completely new things.
That's why I put together a list of 10 websites where you can get your design inspiration back. These websites will show you that humans have limitless creativity and can bring new designs to old, outdated things, like an e-commerce website or how to make images stand out. more on. Check out all these sites because maybe your design inspiration will follow.
10 websites to get you design inspiration
1. AWWWARDS
This site has become a legend in the web design community. This is a great reference when it comes to curating inspiring designs and collecting truly amazing pieces from around the world.
AWWWARDS is definitely the web design inspiration for you. They have gathered all kinds of web designs in collections. You'll find every design here, from bold typography to out-of-the-ordinary menus.
It is true that when one is looking for some great creative work, one can easily visit familiar websites like Dribbble or Behance. However, the websites included in AWWWARDS are on a whole different level.
2. Siteinspire
Siteinspire is another big name in the web design community. This website is completely dedicated to increasing website design inspiration. There are so many websites and designs out there, each of which is very unique and bold in its own way.
One thing I like about this site is that all this inspiration is very well categorized. Going a step further than AWWWARDS, Siteinspire lets you search for anything using their tag system. Find web design inspiration by design style, theme or background.
This tag system makes Siteinspire perfect for designers.
3. Land-book
Land-book has a simpler design than some of the other design inspirations on this list. But the Land-book's direct and no-nonsense approach leads to the ability to focus entirely on curated web designs.
I like that even though the Land-book has a fairly simple interface, the site offers a tag system that allows you to easily explore the content. One interesting aspect of this site is that when you sign up, you can add sites to the list and all Land-book members will vote on which design is the best. This is the strength of the community.
4. Brutalist Websites
This web design inspiration isn't for everyone. Brutalist websites featuring brutalist web designs, creating a range of completely unique creations.
Here's why it's not for everyone: brutalism is about breaking the rules of visual design, intentionally making something look rough. It's a trend that started in the field of architecture and has since moved into web design. This is a kind of combination of subtle and beautiful design, which can sometimes feel a bit fake or unreal.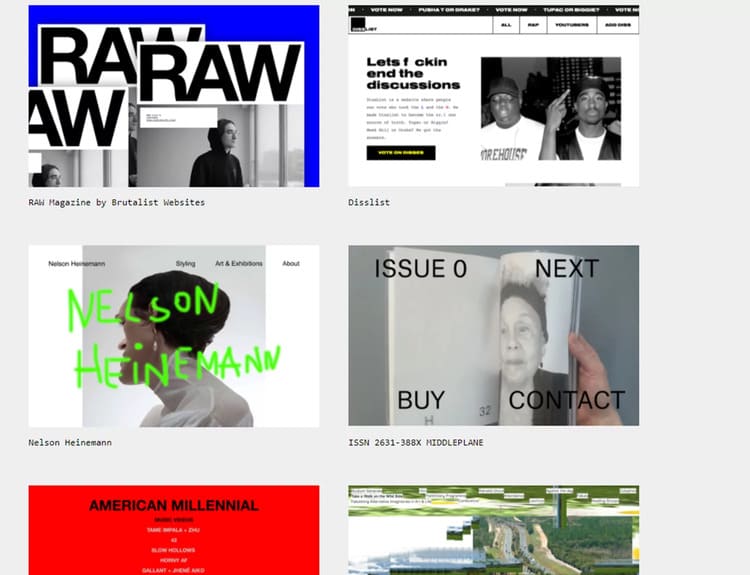 If you like brutality in web design, this site is for you. The websites are uniquely designed in their own right, but they give off an urban, youthful feel and are very bold in the visuals. If you think a bad user interface can lead to a good experience, then you should explore this site.
5. 99 Designs
99 Designs widely known as a design service that connects people with industry professionals. A slightly lesser known fact is that it also offers some serious web design inspiration.
While some of the other inspirations on this list are primarily focused on website design around the world, 99 Designs goes further and broader. You can find anything here, from cool logos and unique menu designs to great album covers and interesting infographics.
There are many aspects of web design to be found within the website, which makes it a great resource for designers. I like this site because it has a tag system so designers can explore any design style.
6. Designspiration
Designspiration Take web design inspiration to a whole new level. Designers can explore anything in the field of design. This is a site for everyone, from web design, photography or parcel design, to books.
You can sign up and use the site to create mood boards and see all the inspirational material. Like Pinterest, but more suited to those in the design community.
7. Webdesign Inspiration
Another great resource for designers is Webdesign Inspiration. The site is top quality and the navigation system makes it a lot more enjoyable to explore the content.
Webdesign Inspiration's card system is very comprehensive and detailed. This allows you to find exactly what you need. You can search for a style, an industry, a site type, or even a color. For example, search for all sites that are pink for example :v.
8. Best Website Gallery
Best Website Gallery is another site full of great design inspiration. Created in 2008 by David Hellmann, it is considered to be his own personal collection of photo markers. Today, it has grown to become an inspiration for many designers around the world.
The website itself has a simple user interface that feels casual. There are many tags to filter the results, from colors, styles to the framework of the site.
9. Admire the Web
Admire the Web should not be overlooked when we discuss web design inspirations. The website design itself isn't as invested or controlled as some of the others, but it still delivers a great experience. Finding relevant content is easy with the dual tag and category system.
What's special about this site is that the curated web designs are all framed by a light pink color scheme. This can be a bit distracting, but if you can get past that to focus on the designs, this could be a great resource for you.
10. Commerce Cream
When discussing e-commerce, it is not necessary to introduce Shopify. It's a huge platform containing thousands of online stores, with web designers creating amazing experiences for people all over the world. That's why I like Commerce Cream.
It's true that the navigation options are a bit limited here, but that's probably not a big deal. You can find design ideas or sell them on this website.
Conclude
Being creative is not always easy. Sometimes you may feel like everything is done, but it's not. You have to allow yourself to reach out to the outside world and see what amazing designs these designers have created. And when it comes to web design, the only real limit is our imagination.
Also, you can see more design articles here.