Feature Nearby Share is a remarkable improvement on Android and Windows operating systems, helping users to share data between devices quickly and easily. With this tool, you can share files, photos, videos, and more without using traditional means such as USB cables or email.
Join the channel

Telegram

belong to

AnonyViet

???? Link ????
What is Nearby Share?
The Nearby Share tool is a new feature introduced on Android operating system in version 11, making it easy for Android users to share files and content with Windows computers easily and quickly.
With Nearby Share, users can transfer files such as photos, videos, text documents and audio with other devices. This application uses Bluetooth and Wi-Fi connections to transfer data.
If before, users could only transfer files between Android phones, or transfer files between Windows computers, now, you can transfer files from phone to computer and vice versa. , in a very convenient way.
How Nearby Share works
Use Bluetooth to detect and identify devices
Use WiFi Direct to transfer data, so the file transfer speed will be many times faster than Bluetooth file transfer.
Necessary requirements when using Nearby Share
Before you start using Nearby Share, you need to make sure that your devices meet the following requirements:
For Windows computers, the application only works on 64-bit x86 platforms (most modern processors from Intel and AMD),
For phones, you must use the operating system Android from version 6.0 and up.
Both the Android phone and the computer need to be connected to the same Wi-Fi or Bluetooth network and be no more than 5m apart
The Nearby Share function needs to be enabled on both your Android phone and your computer, if you don't have the app installed on your computer, you can download it. HERE
How to use Nearby Share
Step 1: Click to select the file you want to share on your computer
Step 2: Click "Share"
Step 3: Select "Share Nearby". Wait for your phone to search for nearby devices.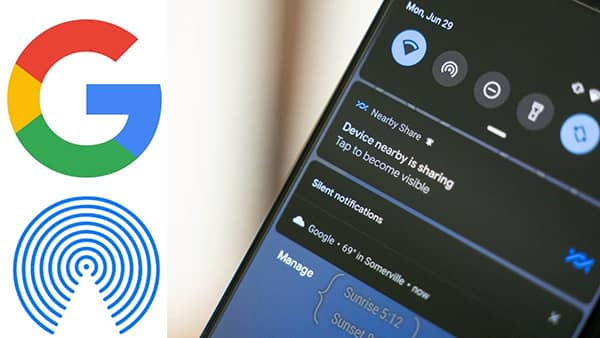 Step 4: When your computer is found, click it to start sharing files. On your computer, you will receive a notification from Action Center about the sharing request, you can click "Accept" to receive the file or "Decline" to decline.
Note: If two devices are signed in to the same Google account, no confirmation is required.
After selecting "Accept", the file will be sent from your phone to your computer.
Conversely, you can also send files from your computer to your Android phone by dragging and dropping the file to the icon in the taskbar, or choosing the share command from the right-click menu.
You can customize the file transfer object, which can be:
Receive from everyone: Everyone
Receive from contacts: Only receive files from people in your contacts
Receive from your devices: Receive only from your device
Epilogue
So I just showed you how to use it Nearby Share to transfer files from Android phone to Windows computer extremely easily and quickly. This file transfer is very useful for those of you who love to record videos, take photos with your mobile phone and want to edit your products on your computer without spending too much time connecting cumbersome. Good luck with your application!