This is the new Facebook Tut Checkpoint updated on December 31, 2017 based on the last update of Facebook. Recently, the tricker said that the Unlock 751 link has been fixed and is no longer accessible. But actually, it is only blocked in Vietnam and some other countries.
Join the channel

Telegram

belong to

AnonyViet

? Link ?
In this article, I will show you how to go to the 751 link to unlock your account. But first, I will explain what Checkpoint is for those of you who don't know. Attached is the reason why you get Checkpoint even though it's your real account.
What are Checkpoints?
This is the way Facebook uses to verify your identity and make your account more secure. When Facebook detects that your account is signed in by a strange browser or because your account is behaving differently, they will temporarily lock your account.
Because they think someone has unauthorized access to your account somewhere else. Or because they see unusual activities, they need to check to see if the hacker has compromised or not.
To unlock an account, you must prove you are the account owner. There are many forms of Checkpoint, but in this article, I will guide you to unlock the 72h checkpoint form.
Previously, Trickers often used the Contact 751 link to unlock the 72h Checkpoint account. But now, it's locked like I said above. So how to access?
How to access Link 751 when locked?
Do you know the country of Bhutan? The name sounds a bit strange, doesn't it? I'm sure you haven't heard much about this country. Because it is little known, perhaps Facebook missed and did not block the 751 link here.
Note
This TUT is for accounts without info and sent a photo Please. So you don't have to worry about the FAQ anymore!
Solution
I will spoof Bhutan's IP address and change the language to English (UK). At this point, Facebook will consider us as a citizen of Bhutan and will allow access to link 751.
You should use Hola utility of Chrome to spoof the IP address for fast. If you do not have Hola, go to the link below and install the free Hola utility into the Chrome browser. Please ignore the promotional link of 123link to support me.
After successfully installing Hola, go to Facebook and log out of your current account. Next is spoofing Bhutan's IP address with Hola as I do below.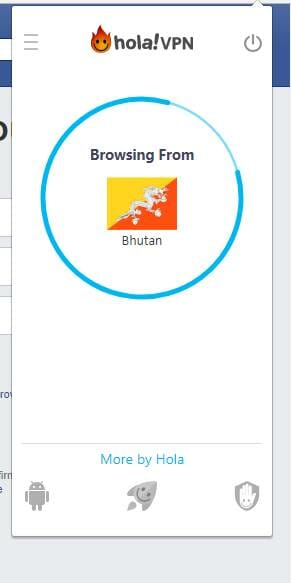 Wait for Hola to complete the forgery, log in to your Facebook account and checkpoint 72h. At the same time, go to contact 751 link to proceed with unlocking.
Please ignore link123 to support me.
As a result, I got to link 751 already. Now I will fill in all the information and wait for a response from Facebook.
Because the working time of Facebook employees is in the US time zone. So I suggest that when they work, send them to get results quickly. I hope this sharing of mine will be of help to you.
Thank you for watching.
Like Fanpage and follow website for quick updates on new posts!
Lmint.