DO YOU WANT TO BE STRENGTHEN AND ALWAYS TOP COMMENT IN A SIMPLE WAY?
Join the channel

Telegram

belong to

AnonyViet

? Link ?
WE WILL TEACH YOU HOW TO CREATE A DIFFERENCE ON FACBOOK.

How to Create Status with unique fonts on Facebook
With just a few simple steps, you have very different status lines and comments.
If you are a person who has a habit of walking around gossiping on Facebook. Surely you will see status lines, as well as comment lines with many strange characters. Have you ever wondered how they change the boring default font on facebook? Today we will guide you to make a difference on facebook. Let's find out together!
You go to the following website and then type in the status lines, comments that you want to change the font to
With a fairly simple interface. Type the text you want to change the font in, then press convert
The website has 19 font styles for you to choose from, each font is a different font. These fonts are compatible with all types of browsers, so there will be no font errors. Unless you're using a crappy Nokia.
After choosing the font you like, highlight Copy and paste it on Facebook via Facebook. Now post it and show it off to your friends.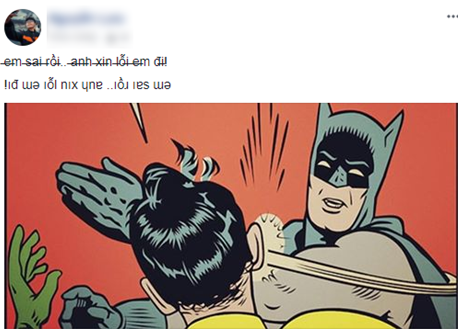 Create impressive status with EMOJI ART
When you want to make a Facebook impression on your timeline or chat messages with bears? with the sex council? Submit a piece of fresh, creative emoji artwork. These images will attract people to see them, can also help you attract likes, quickly to the "top". Your comment is sure to attract people surfing the newsfeed, you can even use it to confess to "Crush".
Boat shaped from flags. Ship Emoji Art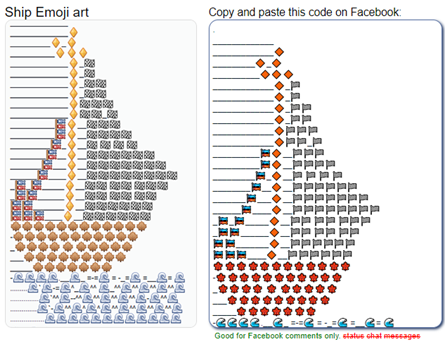 To create an emo-style status, go to the Emoji Art Website at the link below
The operation is very simple, just Copy and Paste and you have a quality work.
This is the result.. too good, isn't it?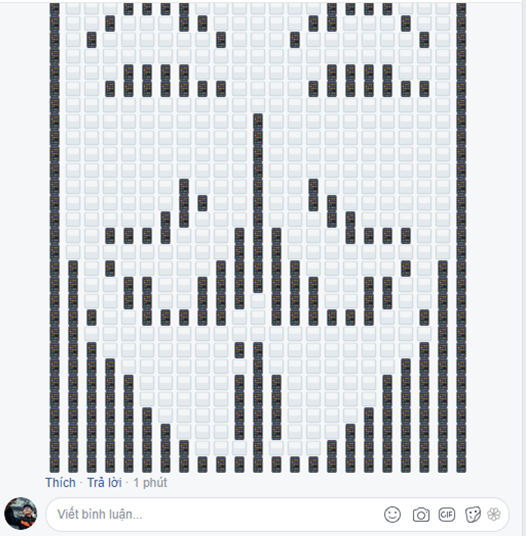 TEXT ART ON STATUS FACEBOOK (ASCII ART)
Boring comments, unattractive conversations. The art of text, images and icons will make you different, cool and fun while you communicate more clearly. Instead of just using words to express, inserting more eye-catchingly designed images and text will help the record score with everyone, especially with "Crush".
Just continue with the god combo Ctrl + C and Ctrl + V anyway. Your Facebook status is too good
In addition, it also provides us with Emotion new and unique.
Author: Loo Nguyen