The need to use laptops for work and study is increasing. Grasping the demand, currently on the market there are many places to buy and sell laptops with a variety of prices and designs. So Where to buy genuine Dell laptops ? This article will share with you 4 locations that specialize in providing reputable, quality Dell computers.
Join the channel

Telegram

belong to

AnonyViet

👉 Link 👈
1. Laptop3mien – Place to buy quality Dell laptops
One of the locations Buy and sell reputable laptops In Ho Chi Minh City that you should visit is Laptop3mien.
Although it has only just entered the laptop and computer components business market with 4 years of operation, Laptop3mien has created great trust among customers using the products here.
Product lines Dell laptops always receives the favor of customers at Laptop3mien thanks to its diverse designs and configurations, reasonable prices, and a reputable, peace-of-mind warranty policy.
With the motto of providing customers with the best shopping experiences, Laptop3mien constantly strives to improve skills and experience, and employees always ensure professionalism, friendliness and closeness.
The support policy for customers when purchasing products at Laptop3mien is also very attractive:
Products with manufacturer defects are supported for return and repair at the most reasonable cost.

There are many attractive offers and vouchers specifically for students.

Product warranty support from 12 – 36 months.

Free ship all over the country.

Supports installation of applications as required and free maintenance during use.
Contact Info:
Address: 221 Nguyen Van Dau, Ward 11, District

.

Binh Thanh

Website: https://laptop3mien.vn/

Email: [email protected]

Sales Hotline: 0818 6666 01

Warranty Hotline: 0828 6666 01
2. HC electronics supermarket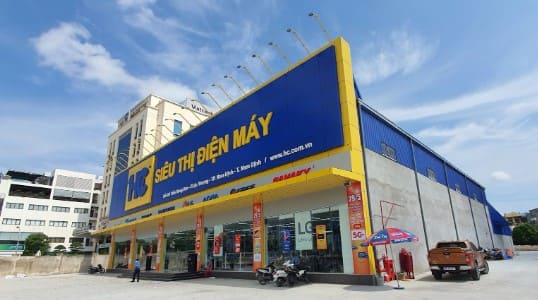 To answer the question "Where to buy genuine Dell laptops"You cannot miss HC Electronics Supermarket, this is one of the largest electronics supermarkets in the capital Hanoi. Besides selling Dell laptops, HC electronics supermarket also provides other high-end laptop models such as Asus, Lenovo, HP, etc. The supermarket's staff have many years of experience in the profession, are always dedicated to customers and are guaranteed to give you the most useful advice.
Contact Info:
Current branch addresses:
399 Pham Van Dong, Bac Tu Liem.
Phone: (024) 3750 1188
36 Pham Van Dong, Bac Tu Liem.
Phone: (024) 3755 1188
Phone: (024) 3664 1188
549 Nguyen Van Cu, Long Bien.
Phone: (024) 3968 1188
Fax: (024) 3968 1818
411 Tam Trinh, Hoang Mai.
Phone: (024) 3883 1188
Fax: (024) 3677 1818
No. 102 Thai Thinh – Dong Da.
Phone: (024) 3629 1188
Fax: (024) 3664 1818.
Km13, Luong No, Tien Duong, Dong Anh.
3. FPT shop
FPT shop system chain with more than 120 branches across the country, is the address to buy genuine Dell laptops favored by Vietnamese people. FPT attracts customers thanks to its large scale, professional customer care service, reasonable prices, enthusiastic consulting staff, and safe and reputable warranty policy.
Contact Info:
Addresses of some branches in Hanoi and HCM:
No. 290 Kim Ma Street, Ba Dinh, Hanoi.

Shop 8 Lang Ha, 54-K1 Thanh Cong, Ba Dinh, Hanoi.

Shop 267 Hoang Hoa Tham, Ba Dinh, Hanoi.

705 National Highway 22, Quarter 5, Cu Chi Town, Cu Chi District, City. Ho Chi Minh

121 Le Loi, Ben Thanh Ward, District 1, City. Ho Chi Minh

781B Huynh Tan Phat, Hamlet 4, Phu Xuan Commune, Nha Be District, City, Ho Chi Minh

etc…
4. An Phat
With more than 14 years of operation in the laptop business, An Phat Company is increasingly expanding its scale with a project center, amniotic distribution center and retail electronics supermarket with more than 100 employees on Thai Ha street, Hanoi. An Phat is always considered one of the leading reputable information technology companies in the North.
An Phat has agents spread across all parts of the country and is also an official agent and distributor of famous technology companies.
Contact Info:
Address: 49 Thai Ha – Dong Da District – Hanoi

Phone: 1900.0323 Key 2

Hotline: 0918.557.006

Email: [email protected]

Address: 158 – 160 Ly Thuong Kiet – Ward 14 – District 10 – HCM

Phone: 1900.0323 Key 3

Hotline: 0917.948.081

Email: [email protected]
The addresses that sell reputable, quality laptops at reasonable prices that we provide above have also partly answered your question. "Where to buy genuine Dell laptops?" Hope you will find the most suitable product for your needs.