Facebook Messenger
According to TheHackerNews, this new feature is called Secret Conversation, capable of 2-way End-to-End Encryption, ie the user's message content will be encrypted right from the sender's device before sending sent to the recipient. Decryption too, it is also done right on the receiver's device.
This ensures that strangers will not be able to peek into the user's messages. In addition, users can also set how long to see the message, after which the message will be automatically deleted from the system.
To enable self-destructing messaging, users need to do the following:
– Activate the Facebook Messenger application available on mobile devices
– When you want to text someone in self-destructing message mode, click on that person's name, then select Secret Conversation and switch it to On (on)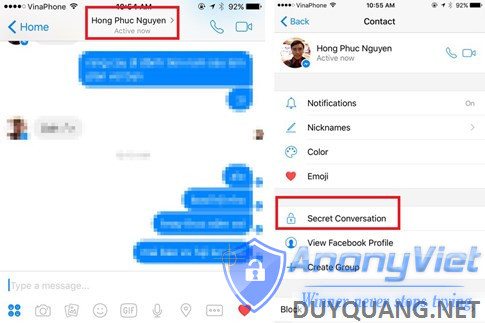 Action to activate super secure messaging mode
At this point, Facebook will return you a texting dialog box in super secure mode, you can message normally with your friends.
Secure messaging dialog is activated
If you want to set the message mode to self-destruct at any time, click on the clock icon located in the left corner of the screen. Here, you can set the self-deleting time frame from 5 seconds to 1 day.
Thank you for following!!