Grand Theft Auto DRAW is one of the games produced by RockStar Games. The story follows three criminals and their attempts to carry out attacks in the underworld besides being against the government and other forces. The game is designed in an open-world style that allows players to freely travel around, the countryside, the mountains, the desert and the fictional city of Los Santos, simulating the real-life city of Los Angeles.
Join the channel

Telegram

of the

AnonyViet

? Link ?
However, to play Grand Theft Auto V requires your computer to be configured at a good level (compared to the current one) which is understandable, with low-configuration computers it is difficult to fully experience the game.
Therefore, today AnonyViet will share with you mods that help reduce the game's graphics to a low level suitable for your computer configuration.
How to Play Grand Theft Auto V on a low-spec computer
Step 1: After downloading the mod file to your computer, just extract it normally.
Step 2: Identify the Graphics Card you use for the game.
Please go to the directory This PC/Documents/RockStar Games/GTA DRAW then right click on the file

settings.xml

=> Edit
Scroll down to the tag, copy the name of the graphics card in the middle as shown
Step 3: Identify the graphics card your computer uses.
Step 4: Please open the extracted mod file folder and select the appropriate configuration for the machine and rename the graphics card in the file Settings. And save (Ctrl+S) it again.
Step 5: Proceed to copy and paste over mod file settings.xml into the directory: This PC/Documents/RockStar Games/GTA V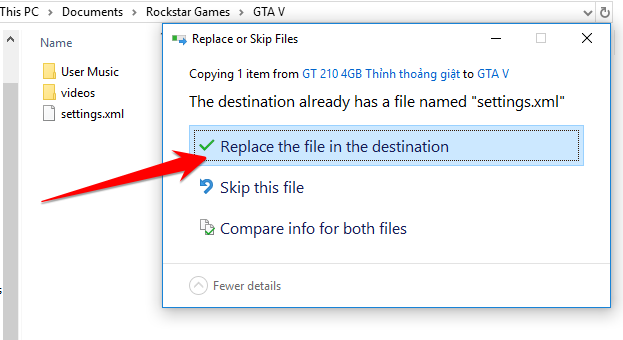 So we have completed the mod to reduce the game configuration for the computer. However, to increase the FPS, you must trade off the graphics that are not as good as the original. Some mods for extremely low and weak machine will reduce the configuration to the lowest and no people. From there your FPS will be increased significantly.
Download Mod to reduce GTA V's configuration
Unzip password: anonyviet.com
With this Mod Gta, suitable for computers with low configuration. You can completely experience the game without spending money on upgrading your computer. Wish you have relaxing moments with Grand Theft Auto DRAW.
AnonyViet wishes you success!!
Share :
N1412.