When watching Hollywood movies about hackers, you will see that they use USB sticks to process data. Normally, if you set a password for your computer, it is very easy to be attacked by Hackers. But if you have a USB key, your computer will be more secure and you will look more professional.
Join the channel

Telegram

belong to

AnonyViet

? Link ?
What do you think if the USB becomes your personal key to access your computer? Do you need a key to enter the house? Doesn't it look better… !
Why should you use this method?
In addition to this way of making you cooler, it also brings a number of other benefits. That is to limit your computer from being destroyed when you are away for a while, just unplug the USB, the keyboard, mouse and screen will be locked.
Just make sure USB

being beside

If you don't have a USB, surely your computer can't be used by anyone. If you lose your USB, you can

use password

to turn on the machine and set up another USB as the key.

Erase all data

Go back to the old USB and you're done.
The inconvenience here is that you have to plug in the USB to use the computer, so it will be your computer

takes a USB port

Please ! If you find this method works for you, use it! USB capacity

greater than or equal to 1Gb

okay okay?
How to lock and unlock your computer with USB
Software Introduction
I would like to introduce Predator is a software that supports locking computers by USB.
When the software is activated, if you remove the USB your computer will lock the screen and keyboard and will return to normal if you plug the USB back in. In general, when the USB is plugged in, then you can use the machine. Plug in the new key to be used.
How to download and install
Step 1: Download and install Predator
Step 2: After downloading, proceed with the normal installation, when the installation is complete, the software will send you a message as shown in the image below.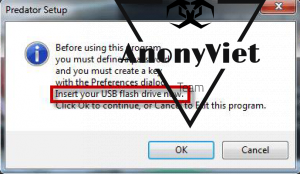 Step 3: You plug the USB into your computer and then select OK to set it up as the key. Then, the main export window of the software appears (as shown below):
Step 4: You choose create key to create a key
Step 5: You choose New Password, if you want to be more secure, you choose Always Require so that in addition to plugging in the USB, you have to enter a password.
Step 6: After completing the password setting, select the "Alarm" section to set the alarm mode. Click OK when finished.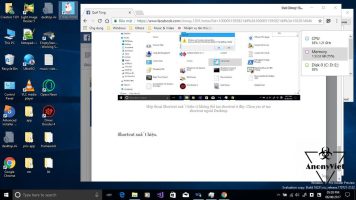 Note
If you lose or damage your USB, you can use a password to access the computer. The software locks the device when you remove the USB but does not close the running programs, but only makes the screen go dark and disables the mouse and keyboard.
Good luck
AnonyViet – Better & Better