You probably know that webcams used on computers are not always secure. You can be tracked by a stranger via webcam without even knowing it. So big bosses like CEO Facebook, Microsoft usually disable the webcam by covering it with black tape.
Join the channel

Telegram

belong to

AnonyViet

? Link ?
So, how do we know if our webcam is illegally activated or not? Today AnonyViet will guide you how to solve this problem.
Doing
Need to know name ( name ) of the webcam your device is using
The names of connected parts and equipment are displayed at Device Manager.
For the operating system

Windows 8 or 10

then you press the key combination "Windows + S" then type Device Manger search box.
In Windows 7 version, just press the key combination Windows + CHEAPtype "devmgmt.msc" In the small box that appears, type Enter.
Find item

"Imaging"

Devices" as shown below and then click it to display the names of recording devices.
Right click and click "Properties".
As in the picture, we can see that the computer is using the Logitech HD Pro C920 Webcam.
Select the tab "Details" (details) to view more information about the device.
In the "Property" click on the list and select the line "Physical Device Object Name" like the photo below.
Right click on the device name shown below the item Value and choose "Copy".
Tracing the app that is committing a crime
Completing the above steps, we begin to determine which application is using the Webcam
Please open the tool Process Explorer go up.
In the tool press the key combination Ctrl + F or choose "Find" > "Find Handle or DLL".
A rectangular box appears, right-click on the empty box filled with green border and select "Paste" to paste the name of the device you just copied.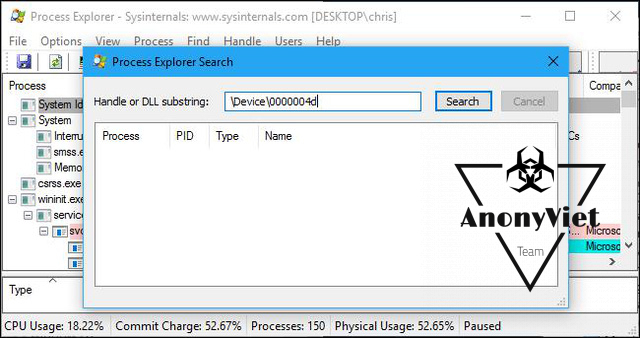 Click the "Search" button. The tool will help you find and list all the applications that are using your Webcam.
Note
However, in case an application used your Webcam 10 seconds ago and no longer uses it while you perform a search, that application will not be displayed.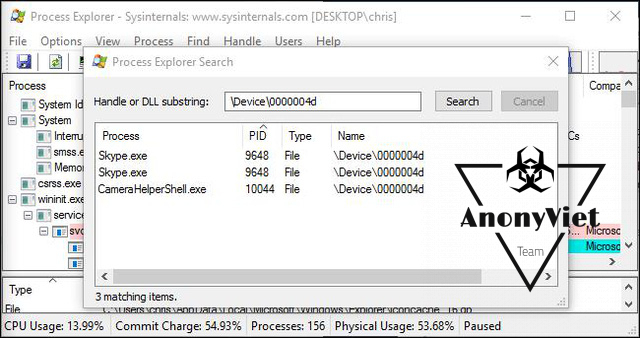 According to the case in the picture, the Skype voice call application with the CameraHelperShell.exe system is using the computer's Webcam.
If you want more information, right click on the name you want and select "Properties".
And you will see that CameraHelperShell.exe is one of the software related to Logitech brand Webcam being used. Assuming you've never heard of this brand, look up information about them to be sure.
The worst case scenario is that you are not sure about the source of that application or know that the application is not okay, right-click it on the "Process" list displayed, select "Kill Process" to temporarily stop the application. reuse. Finally, remove the application from your computer.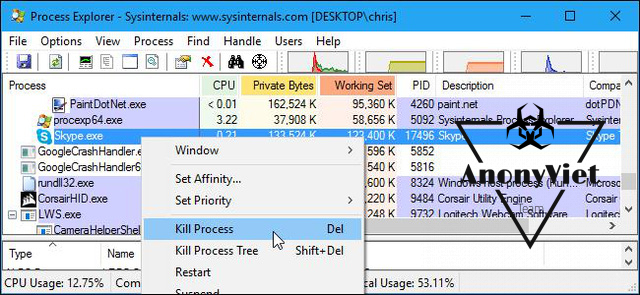 Good luck
AnonyViet – Better & Better.
#Lmint