Most of you need to create multiple Gmail accounts for different purposes. But Google is too tight control in creating new accounts. They require each account to provide a verification phone number, so creating multiple accounts will be very difficult.
Join the channel

Telegram

belong to

AnonyViet

👉 Link 👈
Create unlimited Google account with 1 phone number
Today, I share the secret to creating unlimited Google accounts with a single phone number. I used this method to create about 20 Gmail accounts for me personally. All of those accounts share the same phone number, so it's easy to manage.
Benefit
Use one phone number for 2-step login authentication for all accounts.
Receive unusual login notifications of all accounts on a single number.
No clutter of information and no fear of forgetting.
Note
This way can only register 4-5 acc per day. After the next day, you can register more.
Instructions for registering multiple Gmail accounts
You access the address below to go to the registration page.
The registration page will have an interface like the image below.

Enter your phone number and press Next.
Google will send a message to your phone with a link in the form https://g.co/gms/xxx. In there, xxx is any 3 security numbers.
Visit the link sent to your phone. You will be taken to the account creation page as shown below.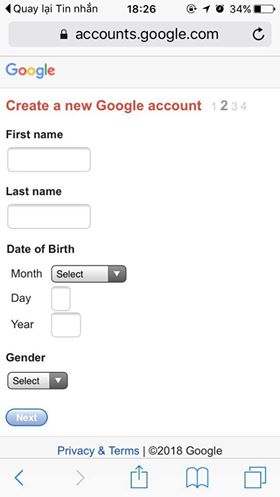 This step is simple, so I won't go into detail. You just need to fill in the information to create an account as usual. After filling in, press next Please.
Next is to name your Mail.
Set a password for the account.
Finally press finish You have an account right away.
If you are forced to verify your phone number again, please re-enter the number you just registered. Select Call mode, prepare to answer the phone and get the account active code.
As I noted above, I can only create 4-5 accounts per day. If you want to create more, you have to wait until the next day. If you find the article good, please share it with your friends to support me.
Monitor Fanpage to update more good articles every day.
Good luck
Lmint.