How to watermark Word Excel files is one of the ways to protect copyright and add a personal touch to your documents. Watermark is a lightly blurred image or text inserted into the background of a file, usually a logo, slogan, company or individual name. Watermarks can help you avoid unauthorized copying, modification or distribution of your documents. Today AnonyViet will guide you how to watermark Word and Excel files in the simplest and fastest way!
Join the channel

Telegram

belong to

AnonyViet

👉 Link 👈
How to watermark Word Excel files
How to watermark Word files
Step 1: Open the Word file that needs a copyright watermark, select the "Design" tab > Select "Watermark" > Select "Custom Watermark"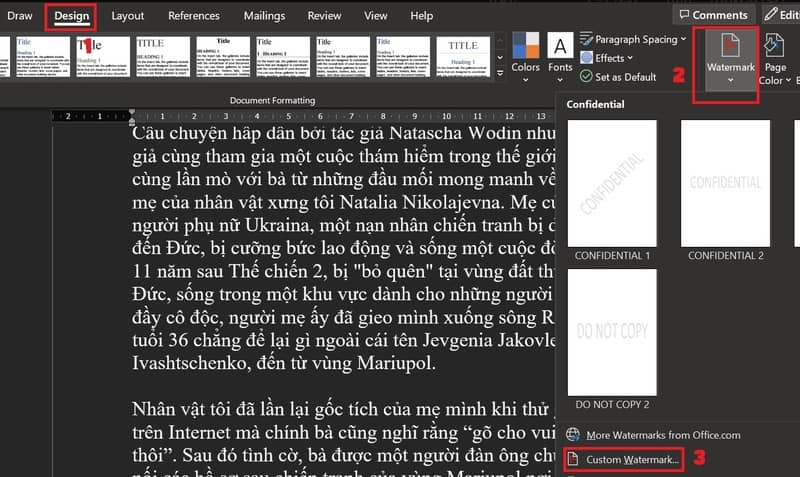 Step 2: Here you can choose watermark as image, logo or text
For example, here I will select the watermark as text and fill in the following options:
Language: Language
Text: Enter the copyright name you want to stamp here
Font: Font
Size: Font size
Color: Text color
Layout: You can choose "Diagonal" if you want the watermark to be diagonal, choose "Horizontal" if you want the watermark to be horizontal.
Step 3: Click "Apply"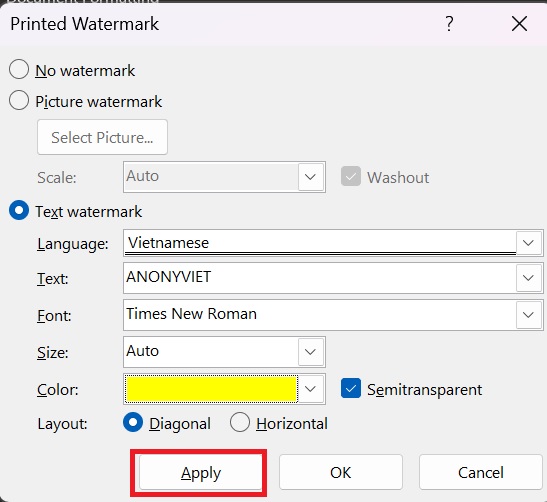 And as a result, each word page will be automatically copyrighted like this: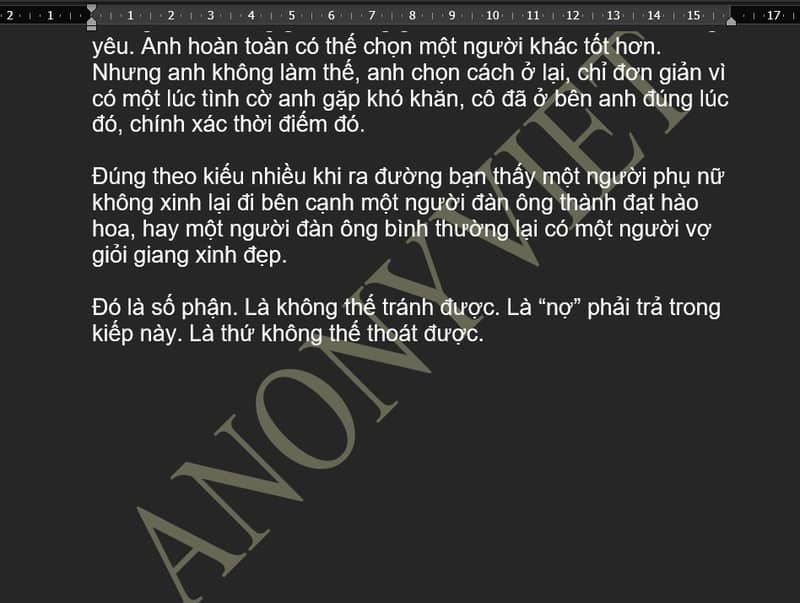 How to watermark Excel files
Step 1: Open the excel file that you want to copyright
Step 2: Select the "View" tab > Select "Page Layout"
Step 3: Click on the box that says "Add Header"
Step 4: Click "Picture" in the "Header and Footer" tab > Select "From a file" > Select the logo image you want as a watermark.
Step 5: You click on another location. Immediately, the watermark image will appear right in the middle of the page for you
Step 6: To format the size and transparency of the watermark, click on the middle box > Select "Format Picture" in the Header & Footer tab.
Step 7: On the Size tab, if you find the logo image is too big, you can click the arrow below to adjust the image size to be smaller, and vice versa.
Step 8: On the Picture tab, in the Color section, select "Washout" if you want the logo to be more transparent, "Black & White" if you want the logo to display only in black and white.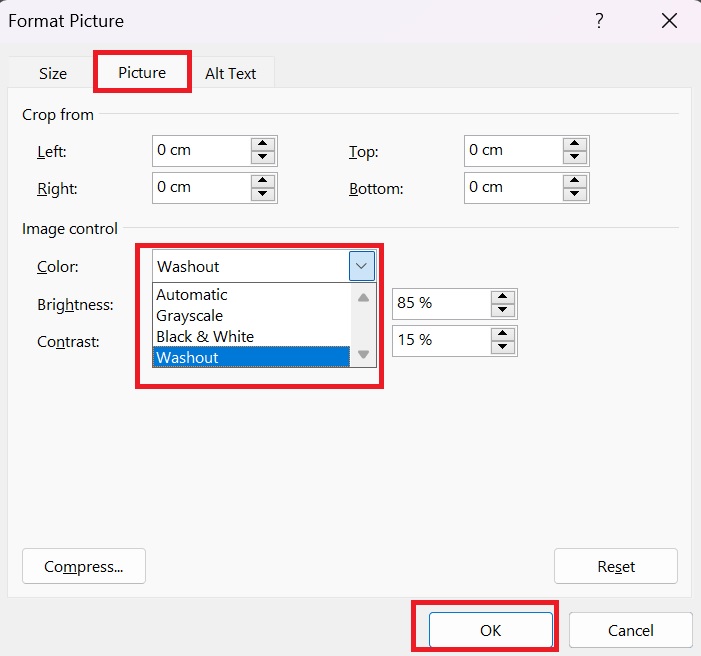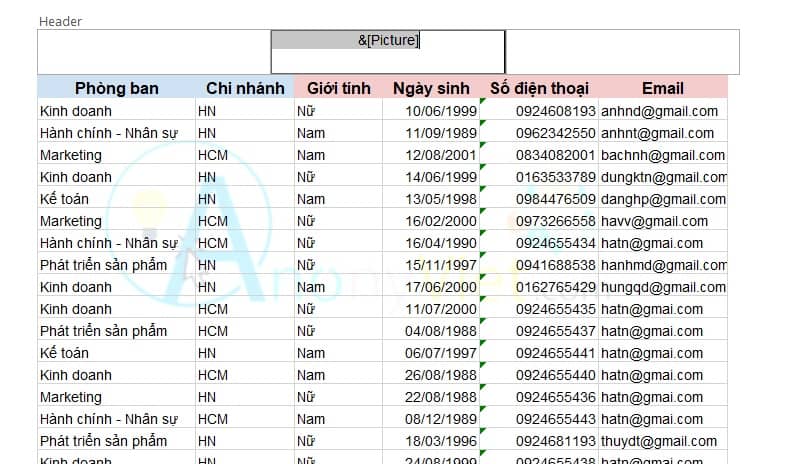 In addition, you can also align the watermark position as low as you want by placing the mouse cursor in the first position in the middle box, as shown: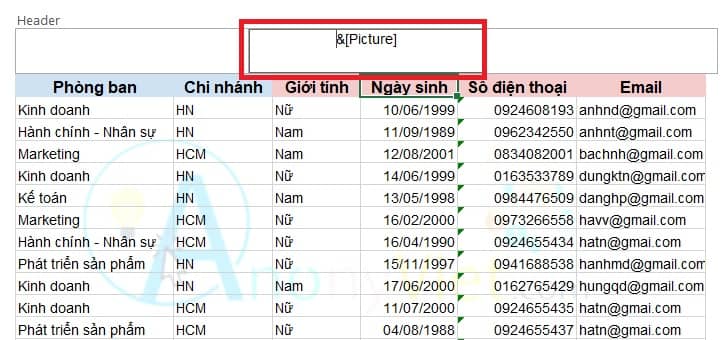 Then press Enter. The more times you press it, the more the watermark will recede. Click on another location to see the difference!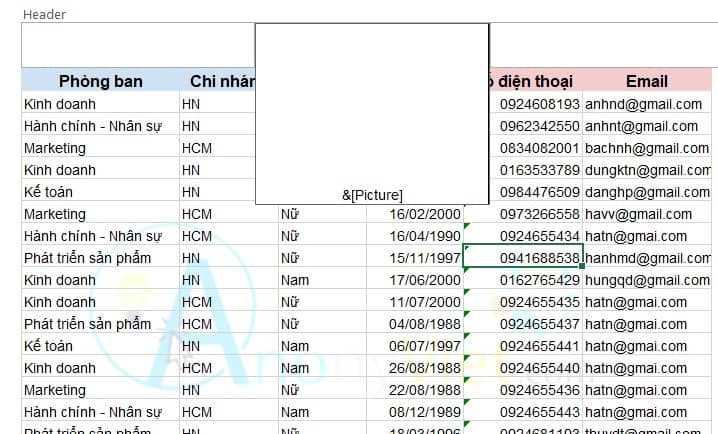 Epilogue
How to watermark Word Excel files is an effective way to protect copyright and prevent unauthorized copying of important documents. You can use your own images, text, or logos to create unique and impressive watermarks. Good luck!