Netflix is ​​a service that provides online television on the Internet. It provides copyrighted TV shows and movies. You can watch blockbuster movies that have just hit theaters after just a few days of release. Therefore, Netflix is ​​currently leading the world with more than 75 million users and over 190 countries. With Netflix Premium you will get unlimited viewing.
Join the channel

Telegram

belong to

AnonyViet

👉 Link 👈
Netflix's advantages are simplicity, user friendliness and support for many devices. With smart features, customized based on your entertainment preferences. You just need to create an account, choose a service package, and pay. You can log in to the website from your computer or use the app on your phone. Smart TVs today also have the Netflix application installed. Therefore, it is not too difficult for you to enjoy unique and blockbuster programs.
The special thing is that with one account, you can share with 5 users at the same time. Per user, you can pause a movie or show, watch it again, leave a review, and add titles to your watchlist. Netflix's algorithm then recommends shows and movies to you based on your viewing history and preferences. One of Netflix's newest and most notable features allows you to download shows or movies while connected to wifi to watch later.
Create a Netflix Premium account to watch copyrighted movies for free
Currently, there are some people selling 30-day Netflix accounts for 30k/acc/slot. But 1 account can have 5 users, the profit is up to 150k/acc. But AnonyViet will guide you Create a free account to enjoy blockbuster movies. By signing up for the trial program, you will get free access to Netflix Premium as a VIP account.
First you need Sign up for a Netflix account. You choose the highest package, Netflix Premium, to experience it. Scroll down to fill in Email and Password.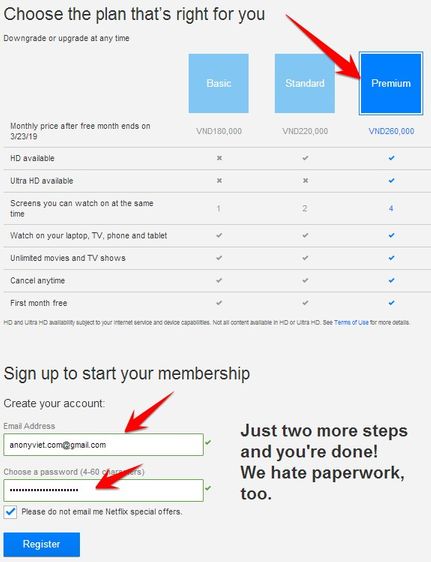 You need to create a VISA Card or MasterCard to fill in information. You can use these Virtual VISA creation application to create payment cards. AnonyViet recommends using it YOLO Card for free card creation. Should not use Viettel Pay because you have to spend 22k to create a card.
You need to deposit 30,000 VND into your account for Netflix to confirm the card's validity. Afterward money will be returned to your account after authentication is complete.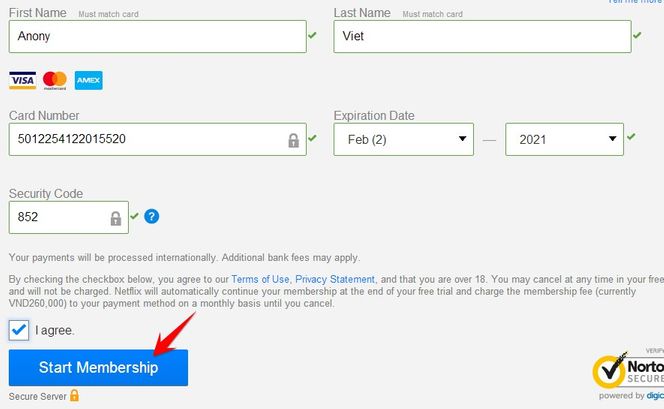 Note: If you use a real VISA or MasterCard card, you must cancel your Membership before the 30th day from successful registration. Otherwise, you will be deducted money equivalent to the Trial registered package. It is recommended to use virtual VISA to register and register multiple times.
According to: VIP account sharing association