When you take a photo and look at it on your phone or computer, it's very sharp and looks great when zoomed in and out, but when you post it on Facebook, it's blurry and the color is very bad. Because Facebook has it image compression algorithm into videos to optimize download speed and save bandwidth. This is beneficial for users and Facebook, but not everyone likes it. AnonyViet will guide you on how to post photos and videos to Facebook without blurring or losing quality. Images uploaded to Facebook are still clear and videos can be viewed in 4K.
Join the channel

Telegram

belong to

AnonyViet

👉 Link 👈
Normally, a photo with a capacity of 1Mb, when posted to Facebook, is only 100kb when downloaded. During the process of uploading photos, Facebook compresses them to reduce size and capacity. Similar to Video, you record Video in 4K quality but when viewed online it is only in SD quality. Looking at photos and videos that have just been uploaded is like feeling like you want to lose your emotions.
How to post Pictures and Videos to Facebook without blurring or losing quality
To not reduce the quality of photos and videos when posting on Facebook, you can use this tip. Friend Are not Post photos or videos directly from the Facebook application. Come in Album on phone to share on Facebook. Then the image or video will not be blurred or broken. This way Apply for chief image and Video so as not to lose photo quality when posting on Facebook.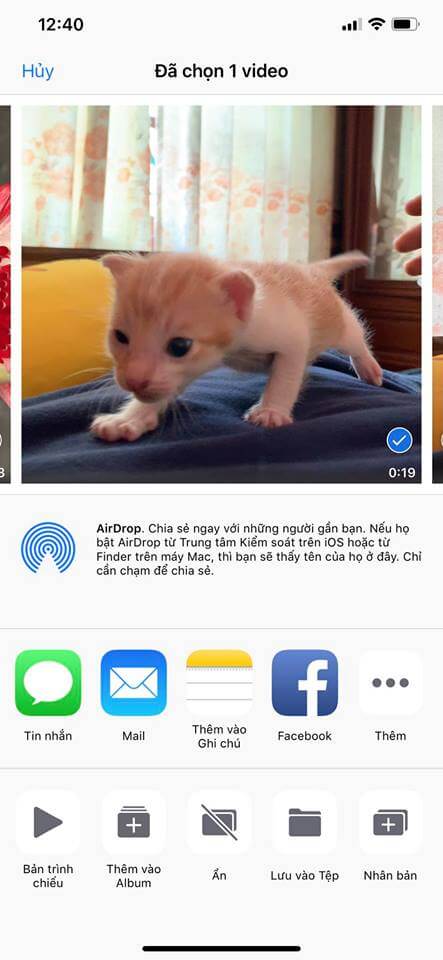 You wait a bit for the video to upload from your phone to Facebook. It may take a few minutes if the Video is long and the quality remains the same.
With this way of posting photos and videos, you can still write statuses, tag friends' names, and check-in… After the posting process is complete, you can watch videos on Facebook in many different resolutions. With a maximum resolution of up to 2160p, the video is very clear and uncompressed during posting to Facebook.
For Android you can do the same. So to ensure the image quality of videos posted to Facebook is not blurry, you just need to share directly from your phone's Album. Now you can post photos that are clear, have depth, and when zoomed in, they don't appear blurry. Wishing you high quality photo albums and videos on Facebook.
Enable HD Video posting on Facebook application
Facebook currently has the option to allow HD quality videos to be uploaded to Facebook. You just need to enable this feature right on your phone in the following way:
Post HD quality photos and videos using your Android phone
You touch Menu in the upper right corner of Facebook, scroll down and select Settings and privacy > Settings > Media, Turn on these 2 modes:
Upload photos in HD
Upload Video in HD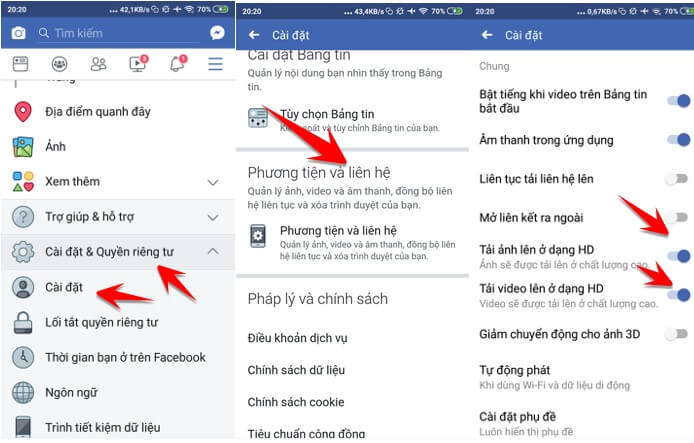 Post HD quality photos and videos using your iPhone
This method can be used for IOS devices such as Iphone, IPad. You will post high quality photos and videos with no broken, blurred, uncompressed videos on your iPhone. In addition to the instructions above, you can install in the Facebook App on iPhone as follows:
Step 1: In the Facebook app, tap the 3-dash button in the lower right corner.
Step 2: Scroll down to the bottom and you'll see the place Settings and privacy > Settings > Select Videos and photos.
Video Settings: select HD upload
Photo Settings: select HD upload