KBank or Kasikornbank is a new bank in Vietnam, however, this bank was established in 1945 and has been operating for over 70 years in countries around the world. On the occasion of opening the market in Vietnam, KBank is having a program to give away 200,000 VND when opening a new account. And especially you can withdraw money to other banks to withdraw cash easily.
What is Kbank?
​Kbank stands for KASIKORNBANK Public Company Limited operating in the field of commercial banking, securities and related business activities.
KBank was granted a license to establish a branch in Ho Chi Minh City on January 19, 2021 and this branch will be established in August 2021. KBANK's head office is located at Sun Wah Building, No. 115 Nguyen Hue, Ben Nghe Ward, District 1, Ho Chi Minh City, Vietnam.
How to instantly receive 200,000 VND from KBank
To receive the first 200,000 VND, you need to enter the code 0926139189 when registering for Kbank
Due to the need to promote the brand and find loyal customers, KBank is running a stimulus program to give users up to 200,000 VND for free. Conditions are extremely easy: register a new account.
Just need ID card, mobile phone, you can open an account at KBank and receive 200K into your account.
First on your phone you download the App K Pkus Vietnam (Android | iOS) and use this code when registering: 0926139189
Then proceed to register an account in the following steps:
Enter your phone number: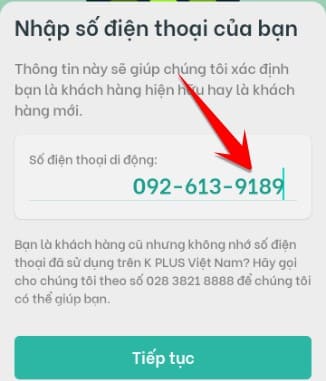 Next you need to enter the referral code: 0926139189 to receive a bonus of 100,000 VND to your account. If you do not enter the code = you will not receive the reward.
Next, you will do procedures such as taking a photo of your ID/CCCD, taking facial recognition, and creating a PIN. Note when entering the home address information section, remember to add the Place of issue, gender … the blanks you remember to add.
After that, a confirmation code will be sent to your phone number and Email. After completing the instructions, you will have to wait 2-3 working days for the staff to confirm the information.
If you find it too long, you can email Kbank directly at [email protected] to ask them to approve the account quickly. If you complete the above steps you will receive get 100,000 VND to your KBank account.
Money giving program in September 2022
In the month of August, the program takes place, create a new account and receive 100K in the account, you can withdraw cash or transfer and win prizes on iPhone
? Part 1: Get a bonus of 100,000 VND
when registering and opening an account via K PLUS Vietnam application successfully with a referral code: 0926139189
? Part 2: Extra special bonus of 40,000VND for customers Date of birth OR Year of Birth ends with 1 of the numbers: 1, 3, 5, 7, 9
Register to use, enter the referral code 0926139189 and open an account via K PLUS Vietnam app now to get 2 bonus points
For every bill payment transaction, or top up via K PLUS Vietnam, each transaction gets 1 bonus point. The more you use it, the more chances you have to win.
Maximum limit: 10 bonus points / 1 customer / 1 prize draw
So I have guided you to get 100K for free from KBank, in addition you can earn extra 40K CZK for each new referral, invite your friends and relatives to register with your referral code, then for each successful registration you will earn more 40K CZKEnough money for breakfast.