Now hovering on 3STeam, I see Uncle Le Minh Tri's post, I think it's quite good, so I post it for you guys. In this article, I will show you how to install genuine versions of Office 2019, 2021 and 365 safely.
Join the channel

Telegram

belong to

AnonyViet

???? Link ????
What is Office 365?
Office 365 is a version based on the Microsoft Office Suite, and you also have some additional options when you buy an account. One is Office 365 Personal, which gives a single user full access to every Office application. Another option is Office 365 Home, which is designed for families where multiple people will be using Office.
Office 2021 is sold as a one-time purchase, which means you have to pay a single fee up front to get the Office applications on one computer. However, you can't upgrade, meaning that if you plan to upgrade to the next release (e.g. Office 2023), you'll have to buy it again at a different price. Microsoft 365 is a subscription that includes online collaboration features and is fully updated to subsequent versions.
Microsoft 365 includes Office apps like Word, PowerPoint, and Excel. You also get extra online storage and cloud connectivity features that let you collaborate in real time. With Office 365, you'll always have the latest features, fixes, and security updates at no extra cost. You can choose to pay monthly or annually, and the Microsoft 365 Family plan lets you share Office with your family (up to 6 people) and you can use your apps on multiple PCs, Macs, computers table and phone.
How to install genuine Office 365
Step 1: You download the installation file here. (Password: anonyviet.com)
Step 2: Unzip the downloaded file and run Office 2019-2021-365.bat. Uncle Tri commits that this file was written by himself according to Microsoft's instructions and did not insert any advertising links or malicious software, you can read the file to verify so you can rest assured.
If you see this screen then press "More Info" and choose "Run Anyway".
Step 3: Select the architecture of the system. If you don't know if your system is running 32 or 64 bit, press Windows + R and run the command dxdiag then see the Operating System section.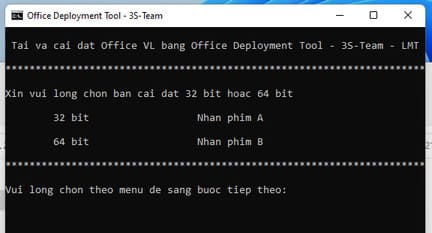 Step 4: Select the version of Office you want to install. In this article, I will choose Office 365.
Step 5: The script will then ask you what software you want to install. If you want to install any software, press Y and vice versa, press N.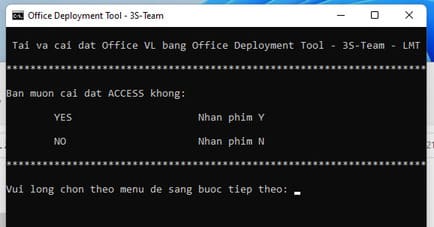 Step 6: Press Y to proceed with the installation of the software of your choice.
Step 7: Click Yes to run the Setup file.
Wait a few minutes to install the software of your choice. And here is the result.

Note that this script only installs Office, not crack. If you want to crack then read this post.