D-ID, a company specializing in AI video creation platforms. This innovative platform allows users to create highly realistic, human-like videos using artificial intelligence algorithms. The main goal of this technology is to help people protect their identities by creating videos with virtual characters that cannot be traced back to the original source.
The process of creating these videos is relatively simple. Users simply upload a photo of anyone's face to the D-ID platform, and the AI ​​algorithm uses these images to create a 3D model of their face. This model is then used to create videos that mimic the movements and facial expressions of the user. AI algorithms also create audio that matches the user's voice, the output video is as realistic as possible.
One of the main benefits of this technology is that it allows people to share their own videos without revealing their real identities. For example, if someone wants to share a video that talks about a sensitive topic, such as a personal opinion, D-ID can use D-ID to post an AI-generated photo and create a Talking Video. story from that photo.
Another benefit of the D-ID platform is that it can be used to create highly realistic training videos for businesses and organizations. For example, a company can use the platform to create videos of its employees as MCs talking about various topics, such as product demos or customer support.
While there are many benefits of this technology, there are also some potential disadvantages as AI algorithms can be used for malicious purposes, such as creating fake videos to spread misinformation or propagate.
How to make Video with AI talking face with D-ID
D-ID's AI technology helps you create highly realistic, human-like videos. Here are instructions for creating a Video with an AI talking face with D-ID:
Step 1: Please compose the content of the dialogue for the character in the Video to pronounce. For example, I will create a Video with a virtual character introducing AnonyViet's Website.
Tip: Content you can use ChatGPT Write your dialogue quickly. In ChatGPT I will type: "write 500 words about Information Technology Website". After having a paragraph for the virtual character to talk. We will enter the D-ID to create the character.
Step 2: Visit the page https://studio.d-id.com. Select Create Video. By default D-ID will provide some MC models for you. If you want to upload your own or your employee's mold, click the . button Add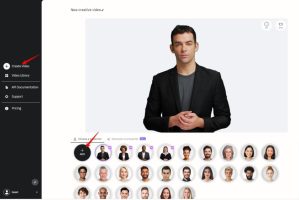 Step 3: I will upload the model image to be the MC for my Video. If Add another character, you need to register a D-ID account, click the Sign up button or quickly log in with Google.
Step 4: You will return to the original page, choose again Create Video and press the . button Add. I have been looking for a beautiful model to read the content for my Video. This photo will be used by an AI algorithm to create a 3D model of your face.
At frame Type your scriptplease fill in the copy of the content you have prepared in Step 1 enter. You will be limited to 3875 characters, to listen to the preview you can click on the picture icon speaker below. Icon clock is to choose the 0.5 interrupt location. Pen is the AI ​​that will create more content for you.
Languages: Choose Vietnamese for the character to pronounce according to Vietnamese
Voice: You can choose HoaiMy (female voice) or NamMinh (Male voice)
You can also save your recording by clicking the . button Audio. This audio clip will be used to create the audio for the video and the model's mouth will speak back to your sound.
Step 5: Once done, press the . button Generate Videos.
Step 6: The next screen will show the duration of the created Video and the number of Credits deducted (you will be given 20 free credits). Press the button Generate and wait for the AI ​​algorithms to create the video for you. This can take a few minutes, depending on the complexity of the video you're creating.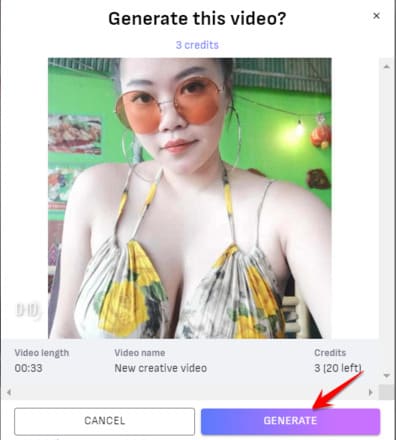 And this is the resulting Video created by D-ID. To make the video more realistic, you should choose a photo taken from the front, like a card photo.