Recently, Facebook has provided a feature to protect the profile picture for Indians. Because that party is passionate about human rights and personal privacy. However, in Vietnam you can also create a protective shield for your Facebook profile picture.
Join the channel

Telegram

belong to

AnonyViet

? Link ?
This article, is a guide on how to create an Avatar shield for a new account. To apply for your current account, please read the article: Share Source Code Enables Avatar Facebook 2018 Shield
What is a protective shield?
Protective Shield is a Facebook image security function. When enabled, others will not be able to intrude or download your profile picture. In other words, mark the copyright of the avatar, not to download and copy.
Why do you need a protective shield?
Honestly, shields will help you stay safer on this social network. Because it will protect your profile picture. Other people cannot create a fake nick of you and an impersonated RIP nick. You will not lose your nick for no reason anymore, so it will be safer for your account.
Instructions to make a shield to protect your Facebook profile picture
First, you need to download professional IP address spoofing software. It's not Chrome's HOLA anymore because Facebook already has a HOLA precaution. We will use the Hide My Ass software to spoof the IP address.
Download Hide My Ass
Remember to skip the ad to support me.
After downloading, please enter the license activation key. Here are some keys I'm currently using. If the key has expired, you can find more online.
License key HMA VPN Updated 04/26/2018
RYCPR5-KT4QFJ-5EL54W

WNMHFM-6CPDL2-5FC5YS

MA5BRF-9YXMW2-5FL5RA

VFYE2A-5H4DL2-5FL5A2

8N39Q2-UR9LK2-5FL5Y2

R83RRX-A8NMZ2-5FL5TN

WNMHFM-6CPDL2-5FC5YS

8BYUHG-KX35BJ-5FL5CA

TPUXWD-L5UR92-46L6D6
Activate the HMA software! then open it and select in the order as shown below.
We will be spoofing the Indian IP address as the current shield feature is only available in India.
Check if spoofing has been successful
After the connection is complete, go to the address below to check the IP again.
Hover over the map, if show INDIA then it means you have successfully Faked Indian IP.
Create a shield to protect your Facebook profile picture
After successfully spoofing the IP address, you change the facebook language to India. Close all current browser windows and reopen them. Then go to the Facebook.com homepage and scroll through the newsfeed for about 10 minutes. Remember to surf the news to avoid being detected by the BOT.
About 10 minutes later you go to the link turn on shield down here.
Remember to skip the ad to support me.
Go to the link Shield on will see the support interface as below. If your Fake IP India fails, you will not see it. Then turn off Hide My Ass and try again. This is the Facebook tutorial page.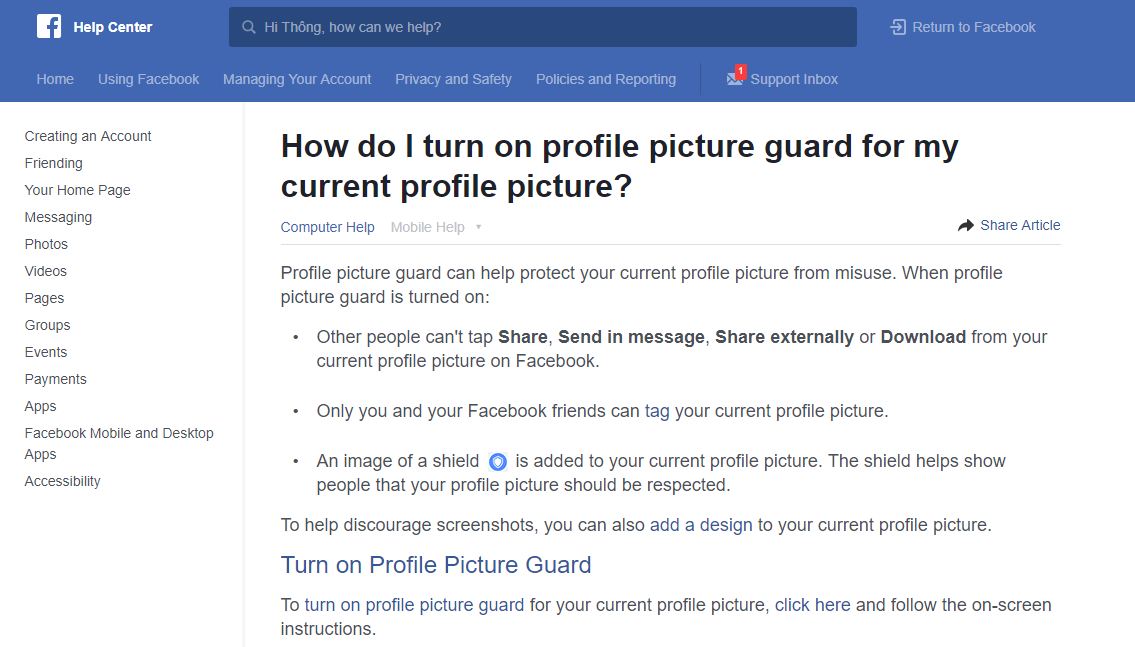 Upload your new Avatar and follow the instructions on the page above. Tap avatar then tap option → enable avatar protection.