ChatGPT is an openai Automated Bot that uses artificial intelligence to communicate with users. There are some people who speculate that ChatGPT will replace all the work of programmers because it seems to know everything in the world. You can give an exercise or a question, ChatGPT will answer you with 99% accuracy.
Join the channel

Telegram

of the

AnonyViet

? Link ?
However, registering for a ChatGPT account in Vietnam is limited, so you need a little trick to create an account.
Materials needed to create a ChatGPT account
VISA or MasterCard card, if you do not have a physical card, you can create a virtual card from Viettel Pay or App Vietcombank.
VPN software to Fake IP via USA: you can use extension HOLA or software Free VPN that I introduced
How to create a ChatGPT account in Vietnam
Step 1: Rent SMS
First you rent a US virtual phone number. The price is also quite cheap, only about 1$ to receive SMS verification of ChatGPT.
You can register at smspool.net (referral code: CsG2UqMKaq ) or sms-activate.org. Some people recommend creating an account in smspool to rent a phone number to receive OTP codes for convenience. After creating an account, go to Menu Deposit and deposit 1$.
You will be redirected to the payment page, use your VISA/MasterCard to deposit $1 into your account. After the deposit is complete, you go to Menu Quick Order
Service: OpenAI
Pricing Options: Select highest success rate
Select country United States
Press Purchase
After successful you will see the phone number on the right hand side. Use this number to receive OTP from ChatGPT. Remember this number, as in the picture below I rented the number 13186909848
Step 2: Create an OpenAI account to use ChatGPT
Now you turn on VPN and pass the IP over the USA (United State) up. Then go to the page https://chat.openai.com/ Press the button Sign up to create an account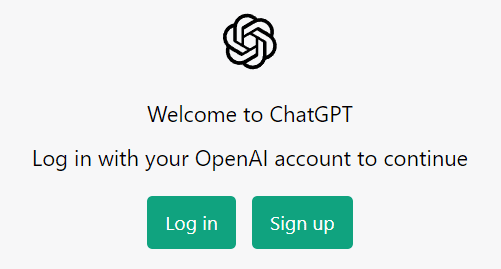 Enter your email address and account information, then confirm the email.
To the phone number verification step, you enter the rented phone number above, as in the article, you have rented the number 13186909848 then enter the phone number box, leave out the number 1, just enter 3186909848.
Go back to the smspool.net tab to get the OTP code.
Then back to Tab openai.com to enter the OTP. After successful verification, you will enter the main interface of ChatGPT.
How to chat with OpenAI ChatGPT
Once you have entered the ChatGPT interface, chat with the BOT by entering the content in the box below the bottom of the page. For example, I asked it to create a program to count from 1 to 10 in python
And the result is as follows: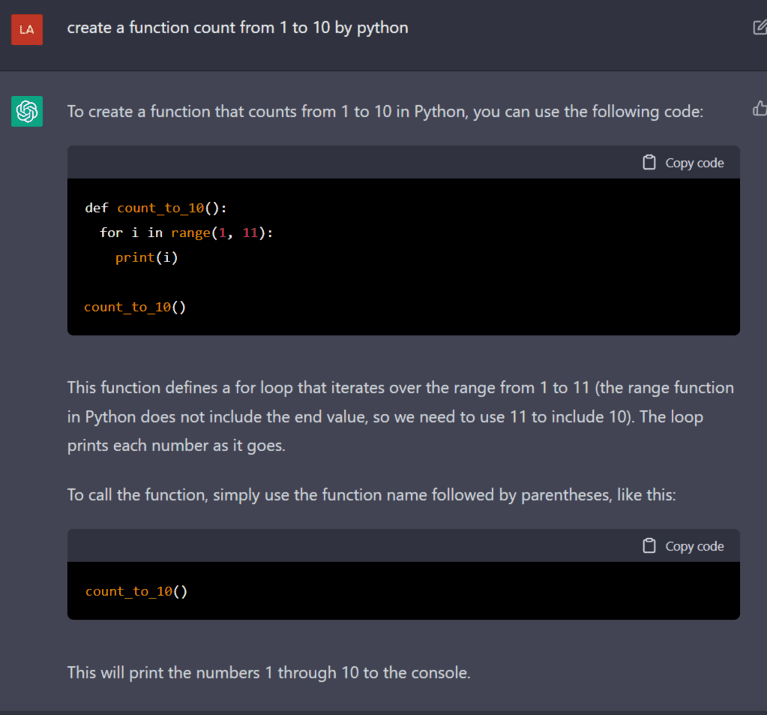 It's terrible isn't it guys, I don't know where the future of programmers will go when this ChatGPT is getting smarter and smarter. The reason that ChatGPT knowledge is more and more is because there are many questions coming to it and it will learn by itself until there are still people chatting with it. Thus its wisdom will increase over time.
Share ChatGPT account
Seeing everyone struggling to register for a ChatGPT account, BQT AnonyViet would like to share 3 free accounts for you to use and experience the divine level of this AI:
user: [email protected]
pass: [email protected]
---------------
user:[email protected]
pass: [email protected]
---------------
[email protected]
pass: [email protected]
Share Account ChatGPT is only for AnonyViet Fans, please copy or sell.
When using the Share GPT Chat account, you may encounter an overloaded AI, then just press F5 a few dozen times to be able to talk to it.