Note: For US businesses, having a US phone number will be easier to confirm
Join the channel

Telegram

belong to

AnonyViet

? Link ?
A confirmed Fanpage will usually be from a celebrity or a big branded business. So how will local small businesses verify to avoid user fraud? Fortunately Facebook has taken this into account and recently Facebook introduced a new feature that allows users to verify their Fanpage account. This feature will sooner or later be updated in Vietnam for synchronization, but now we need to wait a few more days.
Local businesses on Facebook when confirmed will be shown a gray check next to it, as shown below.

The condition to have a check mark is that you must be a local business Fanpage with 1 SPECIFIC ADDRESS and PHONE NUMBER, this is similar to Google Local.
>> IMPLEMENTATION STEPS:
1. Use your computer to go to your Fanpage (Not applicable for Facebook Apps on Mobile) -> Click the "Settings" Tab at the top right of the screen -> Then you Click "Edit" edit" in the "Page Confirmation" section.
2. Enter the phone number you declared on the Fanpage. Before clicking the "Call me now" button, make sure we can answer the phone right away.
3. Facebook will then call you and provide a verification code that you can enter on the next screen
4. At the last step, you will receive a confirmation message on the screen.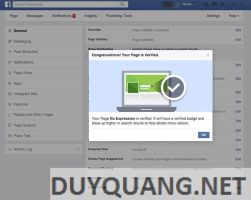 5. Go back to your Fanpage page, you will now see a gray check mark next to your Fanpage name.

Good luck!
Author: Le Thanh Sang
(Vinalink Media)