ChatGPT Power-Up Add-ons are useful tools to improve ChatGPT replies. These add-ons include features such as automating responses, improving spelling, and finding information to answer questions accurately and quickly.
Join the channel

Telegram

belong to

AnonyViet

? Link ?
With the help of Utility Aggregation, ChatGPT can provide more accurate replies to users quickly and efficiently. It also gives ChatGPT a boost and increases its ability to answer more complex questions.
If you want to use ChatGPT for free, you can use your own accounts share here.
WebChatGPT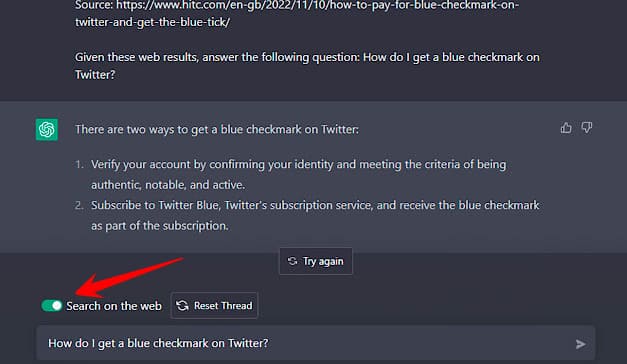 ChatGPT data is only available from 2021 or earlier, so there will be more wrong answers than now. 'WebChatGPT' is a powerful Chrome add-on that enhances your reminders with relevant web results!
This extension adds relevant web results to your prompts to ChatGPT for more accurate and up-to-date conversations.
This is an open source project, the source code is publicly available for all to view and contribute at https://github.com/qunash/chatgpt-advanced/.
ChatGPT for Search Engines

Combine ChatGPT answers with Google and Bing using "ChatGPT for Search Engines"! This will give you a more accurate answer. When the installation is complete, you go to Google and type the word you want to search, next to the results of Google and Bing, there will be a frame displaying the results of ChatGPT for you to compare.
Merlin – use ChatGPT without registering an account
I have a guide How to use Merlin? in the previous post. This utility helps you open ChatGPT on any Web site, just type the question phrase, Merlin will connect with ChatGPT to answer you right on that Web page, and especially without having to register for a ChatGPT account. use to be.
YouTube Summary
"YouTube Summary" is a free Chrome extension created by Glasp to automatically generate a summary of any YouTube video using OpenAI's ChatGPT!
Writer for GMail
A Chrome add-on for Gmail called "Writer for GMail" helps you use ChatGPT to create emails or respond to your suggestions.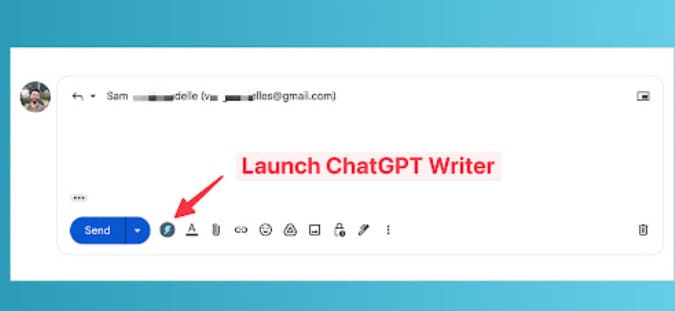 Kargo Google Sheet Extension
Kargo Google Sheet Extension is an OpenAI integration for sales and marketing.
Write sales emails, follow-ups, create google ads, blog posts at scale using AI-powered pre-built templates.
Provide input to our add-on and let the AI ​​auto-populate your spreadsheet
ChatGPT in Google Sheets™ and Docs™
ChatGPT in Google Sheets™ and Docs™ Use AI to get inspired, sketch, categorize, translate, edit, and summarize directly in a spreadsheet.
This add-on brings the AI ​​power of GPT-3 to Google Sheets™ by displaying two simple customization functions:
=GPT to get results in one cell
=GPT_LIST to get one list item per row
This add-on will help you achieve several tasks such as:
Generating blogposts ideas
Write an entire paragraph or procedure
Clean up lists of names, addresses, emails or companies
Sort the review list by sentiment analysis or feature classification
total evaluation
Write responses to online comments
Try different versions of reminders quickly
Work on ad copy (PPC, Google ads, Facebook ads)
Working on SEO metadata (title, description)
Working on landing page copy
Manage and clean up product catalogs for e-commerce stores (Shopify and Amazon)
Translation
Outline a piece of content
Expanding a piece of content
Write an email or blog
Summary notes
Translate content
Change the content style
AIPRM for ChatGPT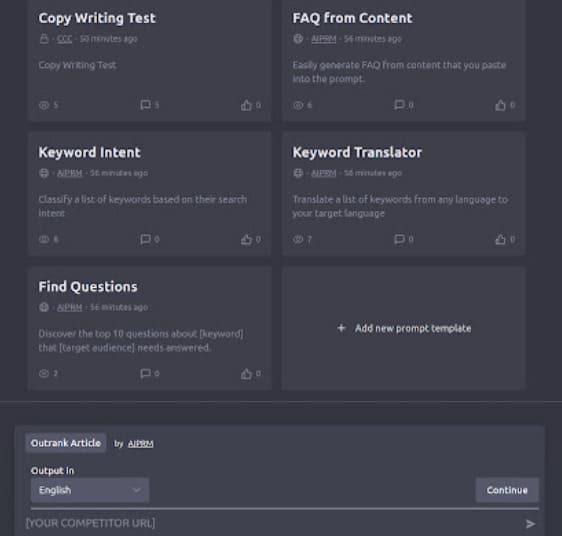 AIPRM for ChatGPT help add the list of question suggestion form for the SEOer brothers. With just one click, you can access a curated selection of ChatGPT reminders explicitly designed for a list of curated reminder templates for SEO, SaaS, Marketing, and more ChatGPT. These suggestion form will help you to optimize your website and increase its ranking on search engines.
Improve ChatGPT's ability to reply
Many sample question suggestions for ChatGPT to get the correct answer
Filter and search Reminders
Save your reminder
Share your Reminders with everyone
Edit your reminders
Delete your reminder
Vote for Reminders shared by others
Find the most popular Reminders that others have shared
See your name and link for the Reminder you shared.
Report problems with Reminders
Export the entire chat conversation
ScribeAI – ChatGPT & GPT extension for VSCode
Scribe AI is a ChatGPT-like extension for VSCode. Now you can have an AI chatbot like ChatGPT right in VS Code! Use it as an AI programming assistant that you can talk to to learn codes, modify and improve your Code, or comment on Code.
Special is that it can help you to transfer code from one programming language to another using AI.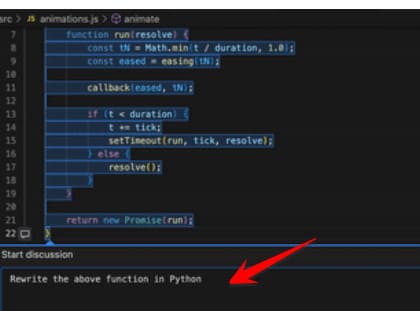 To use ChatGPT with VSCode, highlight the Code snippet and click the plus icon on the left to open a chat and start chatting with Scribe AI just like in ChatGPT! All your conversations are saved in the workspace so you can review them as notes.