Microsoft just announced the challenge Microsoft Learn Cloud Skills Challenge. In this challenge, you will learn and Free Microsoft Certification Exam. As far as I can see, this program is only available for certifications related to Azure and DevOps, but this is also a great opportunity for you to update your knowledge. You can add this certificate to your CV to increase credibility and get plus points in the eyes of businesses. Best of all, each certificate costs up to $99, so you'll have big words :v.
Join the channel

Telegram

belong to

AnonyViet

???? Link ????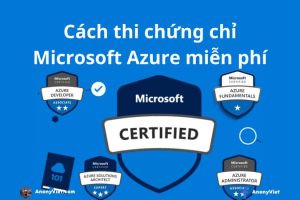 Details
The Microsoft Learn Cloud Skills challenge begins on May 23, 2023 at 16:00 PM UTC 23:00 PM Vietnam and ends on June 20, 2023 at 16:00 PM UTC Male.
You will be asked to provide an email address during the Microsoft Learn Cloud Skills Challenge registration process. Microsoft will contact you at the email address you provided to send more details about the free certificate.
You need to complete the required challenge of the certificate you want in the Microsoft Learn Cloud Skills Challenge to be able to take it for free.
You can only take 1 free certification exam, regardless of whether you complete all the challenges. You can redeem your coupon to take a Microsoft Certification exam, taken at an authorized Pearson Vue testing center or through the Pearson Vue online grading website by September 27, 2023 You will receive a coupon when you qualify and complete the Microsoft challenge.
Coupon redemption period starts June 30, 2023 and expires September 27, 2023, including registration and exam. The Coupon can only be redeemed once and is non-transferable so it will be void if you change, modify or transfer it in any way.
You must be over 14 years old to join the Microsoft Learn Cloud Skills Challenge.
Supported Microsoft Certifications
Currently, it is not clear whether the AZ-104 and AZ-204 certifications are required to complete the mandatory challenge. On Microsoft's homepage, it only says not applicable, so I will understand that there is no mandatory challenge. Those who are new to Cloud should get the AZ-104 certificate first.