This Android app programming course teaches you how to write a complete mobile app. Show you how to put it on Google's CHPlay store and earn money. You will be fully trained in the necessary skills.
Join the channel

Telegram

belong to

AnonyViet

? Link ?
Android and Ios are the two most popular mobile operating systems in the world. However, to put an iOS application on the Store you have to spend a lot of money. But Android is free and you can monetize the apps you write.
Course details
Teacher – Mr. Luu Quoc Tuan with more than 9 years of teaching experience in the field of mobile applications. Mobile programming is one of his strengths and is summarized into this course.
Teaching process in the course
Consolidate your knowledge of programming and OOP programming thinking (A must-have for all programmers).
Familiarize yourself with the working environment and Java language.
Learn the basic and general knowledge of Java (data types, variables, strings, arrays and handling methods in Java).
Learn about the core and lifecycle of the application.
Provides knowledge about the basic components that make up an android application (activity + intent + content provider + service)
Finally, how to publish apps to Google Play (Google's CHPlay Store) and how to monetize your apps.
You will also be taught how to name apps, SEO apps to the top of search results, monetize ads, and smart management.
Value of Android application programming course
The course is worth 699,000 VND at Edumall.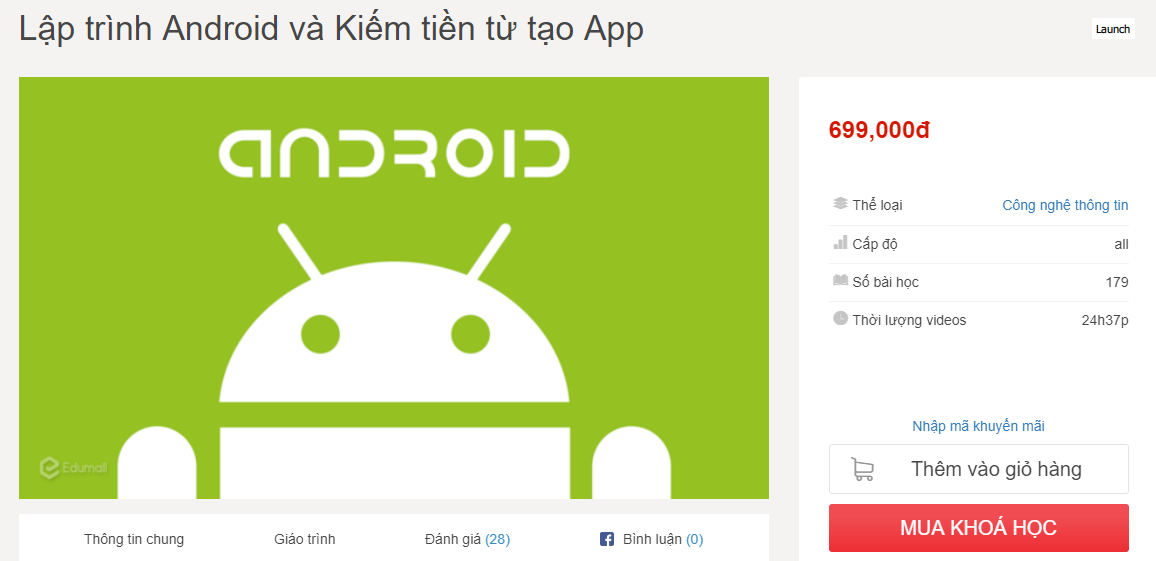 But you will be able to download and learn for free at AnonyViet.com
In brief
You will receive academic training through 179 high quality and intensive lectures.
After the course you will confidently write your own application.
You will know how to self-manage, earn money and write other applications according to your ideas.
You can even make Games for this operating system.
Download the course