Are you tired of waiting for 10 to 15 seconds, even 60 seconds in the ad page to be downloaded or redirected to the landing page? This is quite annoying and a waste of time. So for you to save yourself time, I will introduce you to the FastForward extension, it helps you block advertising sites there and go straight to the landing page in no time at all.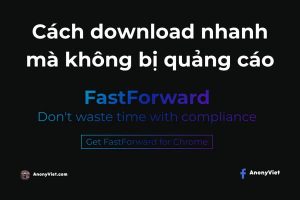 What is FastForward?
FastForward is a successor to Universal Bypass, an extension created for Chromium, Edge and Firefox that can skip time-consuming link shortening pages, so you don't have to waste time accessing them. destination link.
FastForward will avoid sites that make you wait 5 to 60 seconds to show ads (like adf.ly). Bypass sites that force you to do something like subscribe to a youtube channel, find a code, or follow someone on social media (examples: show.co and sub2unlock.com). Block sites from tracking information about you (such as bit.ly and t.co). It also helps prevent your IP address from being tracked by websites.
FastForward: Download without going to the ad page
Step 1: First you visit the website of FastForward. Then press "Get FastForward for Chrome".
Step 2: Select the browser you are using. If you use Edge or Firefox, FastForward is available on the Store, you just need to install it like any other extension. But I will guide you guys who are using Chrome.
Step 3: Click on the text "GitHub page" to download the FastForward file to your computer.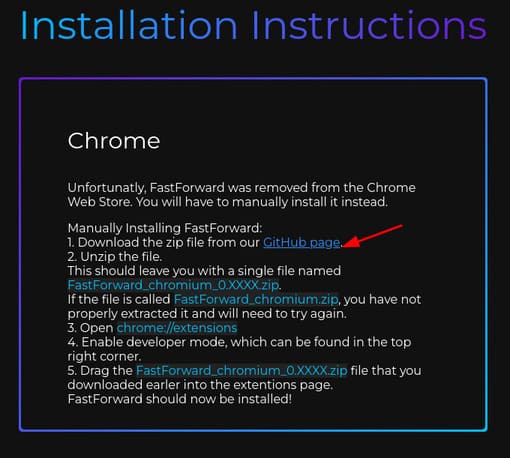 Step 4: Unzip the downloaded file.
Step 5: Next, visit the Chrome extension settings page or visit this link chrome://extensions. Then you turn on the mode Developer mode at the top right.

Step 6: Finally, drag and drop the extracted file into the Chrome extension page.
So it's done. Now when you want to download or access something, there is no need to go to an advertising website anymore.